Games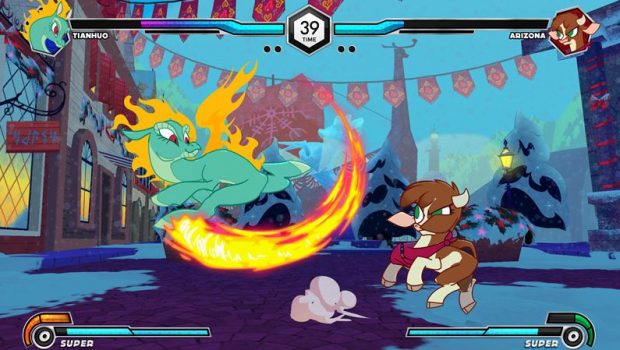 Published on November 1st, 2022 | by Adrian Gunning
Them's Fightin' Herds now available on PlayStation 4/5, Xbox One/XSX and Nintendo Switch
Modus Games and Mane6 have sent the hit indie 2D fighting game Them's Fightin' Herds stampeding onto PlayStation 4, PlayStation 5, Xbox One, Xbox Series X|S and Nintendo Switch. The release was accompanied by a new trailer showcasing the spirited four-legged fighters ready for action in the arena.
Watch the launch trailer here: https://www.youtube.com/watch?v=DwXiHEXMNVk
Them's Fightin' Herds: Deluxe Edition is available now from your favourite retailer. The Deluxe Edition features the Season 1 Pass, which includes four additional playable characters, four unique stages, four exclusive Pixel Lobby accessories and an exclusive palette for each character.Them's Fightin' Herds is a four-button, 2D fighting game featuring a cast of characters designed by Lauren Faust (producer and developer for My Little Pony: Friendship is Magic; creator, director, and developer for Super Best Friends Forever).
Tussle in Arcade and Local Versus Modes, practice in Tutorial and Training Modes, then dive into the game's many online matchmaking features (with GGPO rollback netcode) to test yourself against players from around the world. Or explore an episodic Story Mode that blends top-down adventure with fighting game combat challenges.