Comics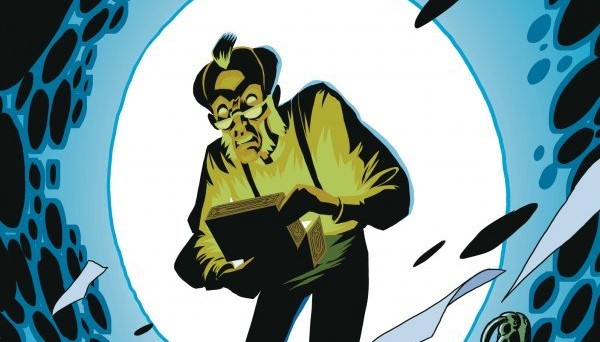 Published on July 18th, 2018 | by Dana Folkard
WITCHFINDER: THE GATES OF HEAVEN #3 REVIEW
Summary: Sir Edward Grey gets some revealing information.
4.2
Interesting developments
Sir Edward Grey meets with the mysterious Miss Panya, where he gets some valuable information regarding the strange connection to Aldous Sinclair and the Helipoic Brotherhood of Ra. Meanwhile, a number of paranormal occurrences have been unfolding around London, forcing Grey to direct his attention to who or what is causing this uproar.
This issue begins with Sir Edward Grey at Glaven Manor talking to the ancient Miss Panya, who recounts memories from her childhood, thousands of years ago in Egypt. Her story is a remarkable one, revealing some curious truths about her past and her subsequent rebirth. However, her reason for summoning Grey to the Manor isn't just for a friendly chat but more to do with their shared interests in Aldous Sinclair and his connection to the Helipoic Brotherhood of Ra. She reveals the power struggle that resulted after the death of their leader and how as revenge certain members leaked highly guarded secrets to Sinclair. With this knowledge he could harness energies beyond his control, which could unleash a catastrophic power upon the world. He must be stopped before it's too late! Panya wishes to help Grey, so she gifts him an ancient Tibetan dagger, said to have been blessed by Durga and able to vanquish demons. Cool! Grey then sets forth to investigate a number of paranormal sightings and unexplained murders that have recently unfolded around London.
Things keep getting more mysterious for Grey as he descends into the unknown. There are some major plot developments in this issue, focusing around Aldous Sinclair and his connection to the Helipoic Brotherhood of Ra. Grey is beginning to unravel the mystery behind his motivations, however, things are still shrouded as it appears that Panya is withholding certain details. I'm curious to know why she might be doing this, seeing as she wishes to eliminate this threat just as much as Grey. This naturally makes me cautious of her intentions, as I begin to question her role in this story. All of this mystery fosters a sense of unsettling unease as we venture into dark and ominous territory.
I'm also loving the fun dynamic that the new characters bring to the narrative. It's great to see Grey working alongside people again as they try and puzzle out the clues to this mysterious case. Grey comes across apathetic and lacking interest in his new companions, instead focusing more on the task at hand rather than joining in the banter. This is no doubt reflective of his past when he allowed himself to become close to people working in the field, only to have had them tragically taken away from him. Anyhoo, it makes for some fun and light-hearted banter as they trade ideas and theories as to what is going on.
D'Israeli's art comes with bucket loads of atmosphere, transforming this tale into a highly compelling and moody visual narrative. Miss Panya really stood out to me in this issue, with her heavily lined, mummified face. I loved how her skin appears to be pulled tight over her mouth, making her look somewhat terrifying as her mouth gapes open. I also really appreciate the high level of detail that is in each panel, with every square inch of the page filled with wonderfully drawn objects and settings. The hieroglyphs in Glaven Manor were particularly lovely and really helped to create an aura of mysticism. The colouring by Michelle Madsen is absolutely spot on, helping to amp up the overall mood of the issue. The palette is dusky and muted, which heightens the overall spookiness and ghoulish nature of things. I honestly believe that the colouring ties everything together in this issue, reaffirming that Victorian Gothic vibe that a Witchfinder story should always have.
Overall, I'm quite liking the direction the story is taking. There are some really interesting developments in this issue, and that coupled with the fresh dynamic that the new characters bring gives me high expectations of what's to come. I'm keen as mustard to read the next chapter as it ends in an epic cliffhanger!
I'm giving this issue 4.2 out of 5 stars!
---
COMIC DETAILS
CREATIVE TEAM: Mike Mignola, Chris Roberson, D'Israeli and Michelle Madsen
PUBLISHER: Dark Horse Comics
GENRE: Supernatural/Horror
PUBLICATION DATE: July 18, 2017
REVIEWER: Dana Folkard