Events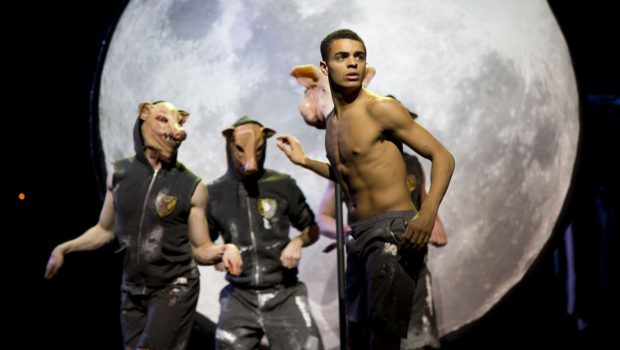 Published on August 9th, 2016 | by admin
Theatrical event of the year at Arts Centre Melbourne – Sir Matthew Bourne's production of Lord of the Flies
AN AUSTRALIAN PREMIERE EXCLUSIVE TO MELBOURNE 
"Fills me with optimism for the future of dance"
DAILY TELEGRAPH LONDON
"A vividly effective piece of theatre. Fascinating and brilliant."
THE SUNDAY TIMES (UK) 
MELBOURNE, TUESDAY 9 AUGUST 2016 — In what promises to be the theatrical event of 2017, Arts Centre Melbourne is bringing Matthew Bourne's production of Lord of the Flies to the State Theatre stage from 5 – 9 April.
An Australian exclusive, Lord of the Flies is an adaptation of William Golding's classic novel, transformed into a chilling, beautiful and hugely entertaining new production by Matthew Bourne's New Adventures & Re:Bourne.
Although published over 60 years ago, Lord of the Flies is still one of the most widely read and frequently examined works of 20th century literature. Golding's legendary characters are brought to life with raw physicality, emotional intensity and breathtaking performances by a cast of New Adventures professional dancers from the UK, professional dancers from Australia and remarkable young talent from across Victoria, who will be sourced through a large-scale and state-wide grass-roots community outreach program.
In this theatrical performance, the action is transferred from deserted island to deserted theatre as a group of schoolboys find themselves abandoned. With no adults around they start to make their own rules and create their own civilisation, before order breaks down and the story builds to an electrifying climax.
Following the outreach program across Victoria, up to 24 boys and young men will be invited to take up residence at Arts Centre Melbourne to join the ground-breaking professional production. A unique opportunity for Victorian-based boys and young men to work with both Australian and international professional dancers, choreographers and designers, the ambitions of this production are to change perception of dance as an activity for boys and young men, nurture young people and help discover the next generation of dancers and choreographers.
"All of us at New Adventures and Re:Bourne are absolutely delighted that Arts Centre Melbourne will host the first international presentation of Lord of the Flies. Everyone at the Arts Centre has firmly embraced the values of this project and we are proud and honoured to have forged this unique international collaboration." said Sir Matthew Bourne.
"This is the first time the Matthew Bourne's Lord of the Flies will be seen outside of the UK, a testament to the international reputation of Arts Centre Melbourne and Victoria's standing as a creative state," said Martin Foley, MP, Minister for Creative Industries.
"The show will be even more than a must see production from one of the world's most exciting choreographers. Through its extensive community outreach program, it will be an experience that will change the lives of many boys and young men across the state."
"Arts Centre Melbourne prides itself in bringing people together for remarkable experiences and this collaboration ticks all the boxes – for the participants, the local dance sector and the wider community, as well as the audiences who will see the results when the work reaches the stage. We are so delighted to be working with Matthew Bourne and his team on this powerful production, bringing to life through dance William Golding's influential work that continues to have such impact today. This is an extraordinary opportunity for Victorian boys and young men, many of them from backgrounds or circumstances where pathways to performance are limited," said Claire Spencer, CEO, Arts Centre Melbourne.
The workshops will be led by two Community Dance Artists, trained by the New Adventure & Re:Bourne team to facilitate fun and inspiring dance-theatre experiences. For the participants, these workshops will be extraordinary experiences in themselves, but those with the most potential (regardless of their background or experience) will be encouraged to deepen their involvement and audition to be part of the full production in early April 2017, forming the Young Ensemble and joining professional dancers from the UK and Australia.
Arts Centre Melbourne will work with over 25 community partners in Greater Melbourne and regional Victoria including youth support organisations, cultural organisations, sporting groups, health & community service providers, local councils, indigenous cultural and community groups, secondary schools and dance & physical theatre training institutions.
After the workshops, Arts Centre Melbourne will be maintaining connections with the boys who don't go on to be part of the production, and will invite them to be part of future participation projects at Arts Centre Melbourne. A legacy fund will also be established that will financially support participating community groups to further dance and physical theatre opportunities for young people in their area
Sir Matthew Bourne
Sir Matthew Bourne OBE is widely hailed as the UK's most popular and successful choreographer and director. For close to 30 years he has been creating and directing dance for musicals, opera, theatre, film as well as his own highly successful, award-winning companies.
Matthew is the creator of the world's longest running ballet production, a five-time Olivier Award winner, and the only British director to have won the Tony Award for both Best Choreographer and Best Director of a Musical. He has been recognised by over 40 international awards, including following Dame Margot Fonteyn as only the second dance recipient of the Hamburg Shakespeare Prize for the Arts and being the first recipient, in the arts category, of The British Inspiration Award. He was Knighted in the Queen's New Year's Honours List in January 2016. 
Matthew Bourne's New Adventures & Re:Bourne
Mixing popular appeal with a ground-breaking, unique theatrical language, wonderful dancers and high-quality production values, New Adventures is one of the great success stories of British theatre.
Under Matthew Bourne's inspired leadership New Adventures has notched up numerous international awards and a staggering 10 Olivier Award nominations. In 2016 the Company won the Stef Stefanou Outstanding Company Award at the National Dance Awards.
Over the past 29 years New Adventures has created 11 full-length productions and a triple-bill of short works. In 2016 Bourne is creating his 11th full-length production The Red Shoes, based on the classic Powell and Pressburger film with music by Bernard Herrmann. This award-winning repertoire has inspired and thrilled over four million people worldwide in the last decade alone. Perhaps best-known for its now legendary Swan Lake with its corps de ballet of menacing male swans, New Adventures intriguing twists on the ballet classics also includes Nutcracker!, Sleeping Beauty, Cinderella, The Car Man based on the opera Carmen, and Highland Fling based on La Sylphide set in contemporary Glasgow. Bourne has also been inspired by film and literature in his innovative productions of Edward Scissorhands, Dorian Gray and Play Without Words.
Investing in the future of dance and theatre, Re:Bourne, the charitable arm of New Adventures, was formed in 2008. It has delivered over 2,000 workshops engaging more than 35,000 young people and created over 30 bespoke education projects with theatres and communities across the UK. In 2014, a national tour of Lord of the Flies visited 13 cities, engaging over 8,000 young people in dance activity, many for the first time, delivering 80 performances and reaching some 75,000 people as audiences. New Adventures is included in the syllabi of all the UK national performing arts examinations including at BTEC, GCSE and A levels.
In 2010, the New Adventures Choreographer Award was launched, a biannual prize for emerging choreographers. The award has established itself as one of the sector's leading platforms for choreographic talent.
"5 stars. Extraordinary"
The Telegraph London 
"The great accomplishment of the production is its seamless integration of amateur and professional dancers … an impressive achievement"
The Guardian, London
"Ballet haters should be prepared to have their prejudices blown away. This is real theatre worth travelling miles to see"
The Independent, London
"Bourne has established an unequalled track record for finding fresh, funny, individual talent. He may bring back his productions year after year, but they look different every season"
The Guardian, London
Arts Centre Melbourne and Bank of Melbourne present in partnership with Matthew Bourne's New Adventures & Re:Bourne
Lord of the Flies
5 – 9 April, 2017
Arts Centre Melbourne, State Theatre
Based on the novel Lord of the Flies by WILLIAM GOLDING
Music by TERRY DAVIES
Sound design by PAUL GROOTHUIS
Lighting design by CHRIS DAVEY
Design by LEZ BROTHERSTON
Choreographed by SCOTT AMBLER
Adapted and directed by MATTHEW BOURNE and SCOTT AMBLER 
Arts Centre Melbourne extends our heartfelt thanks to our supporters who have directed gifts to Lord of the Flies.