Comics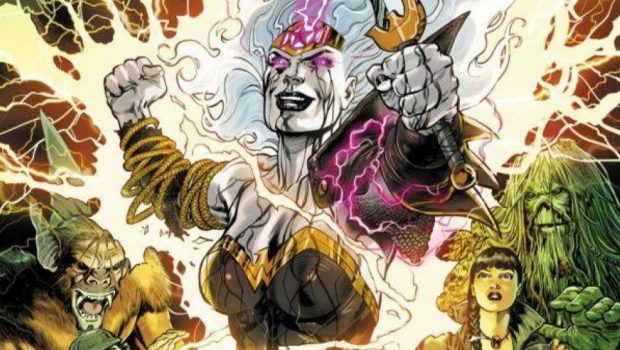 Published on October 10th, 2018 | by Andrew Bistak
The Witching Hour #1 Review (Wonder Woman & Justice League Dark)
Summary: The Witching Hour #1 (Wonder Woman & Justice League Dark) is a bewitching read as it explores a darker side to Wonder Woman
After the epic conclusion of Just League Dark #3 which saw Wonder Woman mysteriously transform into a deity in order send the Upside-Down man back to the Otherkind, writer James Tynion IV follows up on the repercussions for the DCU in this limited crossover series. The comic begins with Diana as a child who stumbles upon an outlawed Themysciran occult ceremony as conjoined Amazon Witches call upon the Witch Goddess Hectate. Unfortunately the princess is caught and is branded with arcane energy, the symbol of Hectate on her forehead and is witch-marked.
Back in the present, Diana and Zatanna informs her Justice League teammates of what occurred, including the fact that Nabu is in control of Doctor Fate and has gone rogue… and to make matters worse, magic is being destroyed in the world. However Diana fails to disclose that an otherworldly force empowered her to send the Upside-Down Man back to his nightmare and needless to say, the world's greatest detective is very concerned. So while the Justice League decides to investigate the threat, the memories of Diana and Zatanna's visit to the Hall of Justice are wiped by the goddess Hectate.
As our two magical heroines return to their headquarters, they are joined by Bobo, Man-bat and Swamp Thing before Diana is once again possessed by the powers of Hectate who wishes to replace magic in the world with her own 'brand'. She also needs the powers that was imbued into Diana as a child and unable to face a goddess, the team flees as they come across John Constantine who boldly states that 'we're all going to die'. So while this issue touches upon the return of the Otherkind, it also explores this new treat to the world of magic and one that is more powerful than you can possible imagine.
Final Thoughts?
All in all, another strong issue from Tynion who expands on his journey through the magicverse of the DCU that is perfectly illustrated by Jesus Merino.
Recommended!
Gallery