Films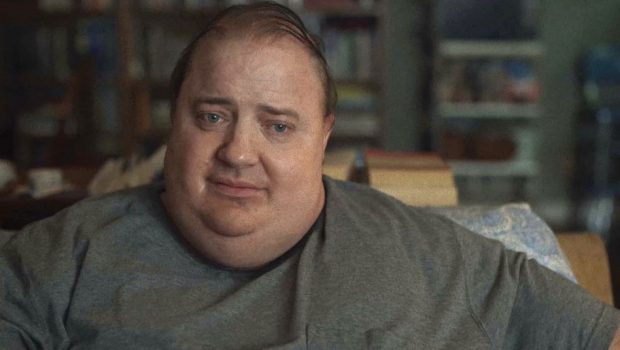 Published on February 12th, 2023 | by Damien Straker
The Whale – Film Review
Reviewed by Damien Straker on the 12th February 2023
Nixco and Madman Films present a film by Darren Aronofsky
Screenplay by Samuel D. Hunter based on 'The Whale' by Samuel D. Hunter
Produced by Jeremy Dawson, Ari Handel, and Darren Aronofsky
Starring Brendan Fraser, Sadie Sink, Hong Chau, Ty Simpkins, and Samantha Morton
Cinematography Matthew Libatique
Edited by Andrew Weisblum
Music by Rob Simonsen
Rating: M
Running Time: 117 minutes
Release Date: the 2nd of February 2023
Darren Aronofsky, the fearsome director Mickey Rourke once praised for challenging his actors, now wants us to see the best in people. This eye-opening artistic transition or descent is appropriate for this era of uncertainty and unrest. Between the grizzled edges of his grunge filmmaking (as seen in Requiem for a Dream, 2000, The Wrestler, 2008, and Black Swan, 2010), the filmmaker has always dramatised characters undergoing physical and mental deterioration.
Sentimentality has never featured into this difficult, psychological equation. Now Aronofsky's thematic goals are undermined by an act of generosity as blinkered as The Whale's protagonist. He has adapted Samuel D. Hunter's 2012 play but mistakenly allowed the author to develop the film's screenplay. As such, a potentially gripping display of physical decline is marred by a soppy narrative about a character's resistance to seeing people at their worst. The result is a clunky and imbalanced chamber piece that lacks the director's reliable visual instincts.
The film's awards hype has centred on Brendan Fraser's transformative performance. By donning heavy prosthetics, he plays an obese man named Charlie. The film is staged entirely within Charlie's Idaho flat where he sits on his couch marking essays for his college students. He chooses to hide his appearance from them by switching his camera off during video calls. He also opts to leave twenty dollars in his mailbox rather than allowing a pizza delivery man to see him. Since he struggles with his weight and mobility, Charlie depends on his friend, Liz (Hong Chau), a nurse, to care for him.
She is frustrated by his refusal to hospitalise himself when suffering chest pains. He lies by telling her he cannot afford healthcare. Charlie is further embarrassed when a New Life missionary named Thomas (Ty Simpkins) stumbles in on him while he is watching gay porn. Over several days, the two men develop a platonic understanding that reveals Thomas' troubled family history. Charlie's efforts to see the best in people are challenged by his abusive teenage daughter, Ellie (Stranger Thing's Sadie Sink). While open to Charlie writing her school essays for her and accepting his money, Ellie is still aggrieved by how Charlie had an affair with a male student. The relationship ended his marriage to Mary (Samantha Morton) and reached a tragic climax that caused Charlie to nearly eat himself to death.
Contrived story revelations aside, the biggest surprise is Aronofsky's visual reduction. His films are defined by their complex audio-vision that immerses us into a character's fractured psychology. The Whale largely forgoes employing sophisticated formal choices. The story opens with a rare outdoor image where an extreme long shot sees someone exit a bus. The prologue is odd considering the story's claustrophobic setting. Aronofsky then cuts to a Zoom video call where Charlie and his students discuss Herman Melville's novel 'Moby-Dick'. The camera zooms in on a black square in the middle of the screen where Charlie is speaking. The square, mirrored by the film's narrow 4:3 aspect ratio, reflects Charlie's physical confinement and how he impacts the people around him who are bound by anger and regrets.
Sadly, the rest of The Whale is lacking the same level of stylistic invention. The film is largely shot without colour or memorable imagery. Most scenes, bar some dispensable cuts to a beach, are so dim and lacking subtle applications of light one may not realise Sadie Sink has red hair. Aronofsky's films are often visually muted. However, the desaturated colour grading is overly removed from Charlie's positive disposition, particularly his inability to dismiss people because of their character flaws.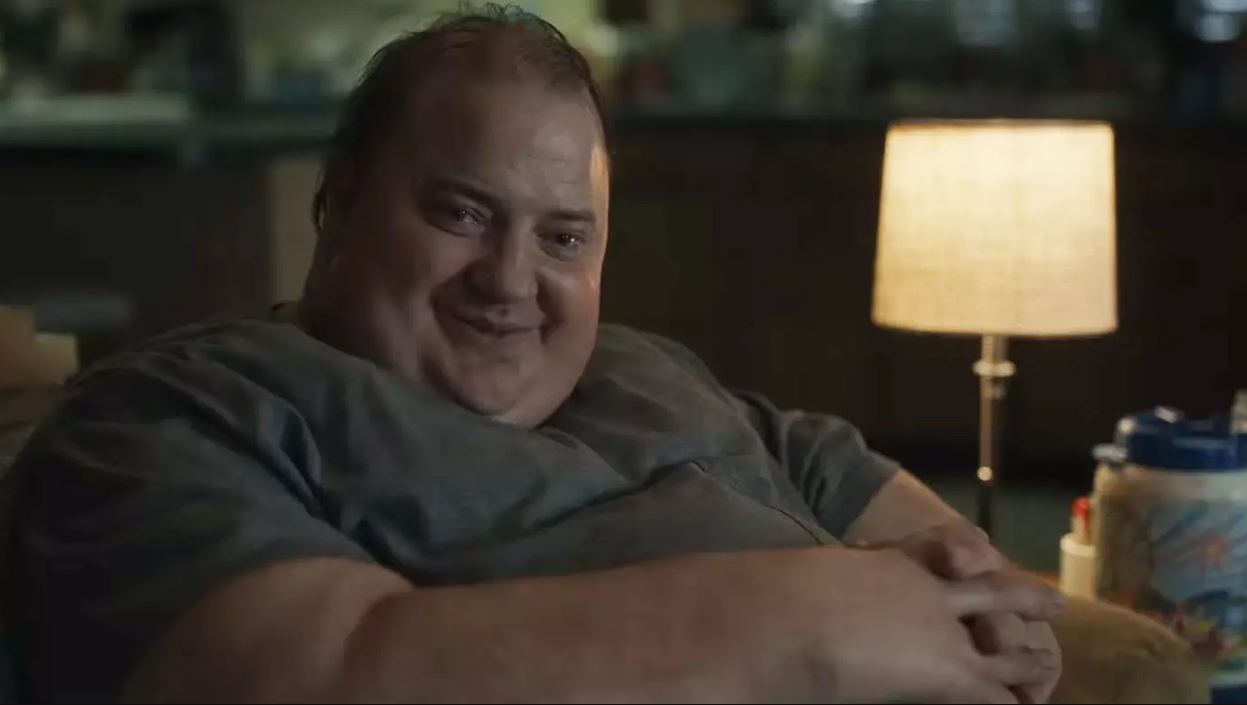 Dim visuals aside, Hunter's screenplay unfavourably resembles a first draft. While stage plays are dialogue-driven, films utilise expressive phrases, looks, and gestures. Restricting The Whale's plot to one setting means grievances and backstories are revealed with blisteringly impatient, leaden exposition. At one point, Ellie berates Charlie by saying: 'I'm not spending time with you. You're disgusting!' She then decries how he left the family after sleeping with his student. Her dialogue typifies how the characters amplify their inner thoughts and protests in loud, blaring monologues.
Hunter further underestimates the audience by painting his characters with thick, violent brushstrokes. It is not dramatic enough for Charlie to be fat and unwell. Rather, his enormity must mark a death sentence. In rare agreement with his writer, Aronofsky photographs Charlie hastily diving into a bucket of chicken. Later, he is framed without his shirt on so each layer of his bulging stomach is visible.
Similarly, one must consider how Ellie's abrasiveness never breaks Charlie's optimism. His daughter is so appalling Ted Lasso would be discouraged. With more breathing room, contrast, and levity, their personal skirmishes might have worked. For example, Aronofsky could have staged some lighter moments with Ellie in the past and then cut back to the present-day conflict. Instead, the 'show, don't tell' rule is disbanded and within five days the characters incredulously exorcise their demons. 'People are amazing', he whispers. If Ellie is any indication, they are also toxic and insufferable.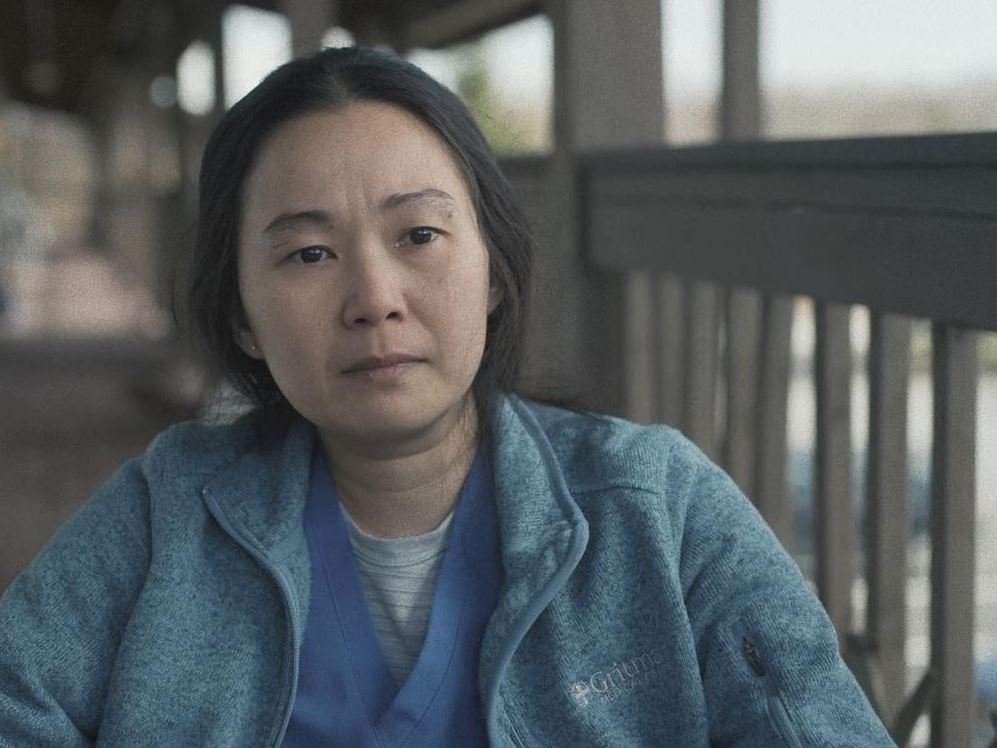 Fortunately, some of the actors transcend the lumpy screenwriting. Brendan Fraser is excellent in using his eyes to convey the deep volumes of regret haunting Charlie. As mentioned, Charlie is uniquely optimistic, which admittedly saves the story from wallowing in misery. He knows he will die because his fitness will never improve. His choices have ostracised too many people to mend fences. His last act is pressing people to believe in themselves. A Dead Poet's Society (1989) moment involves pleading with his students to write honestly. Similarly, when Mary shows him something abusive Ellie has written online, he argues, 'she's not evil. This is honesty. She's a strong writer!'. Fraser effectively uses his voice to express Charlie's process as he preferences positive affirmation.
Following strong turns in Downsizing (2017) and The Menu (2022), Hong Chau's performance is pitched at a perfect level that resists the film's extremities. She makes us understand Liz's frustrations with caring for someone who has given up on himself. There is also a surprise about how exactly she fits into Charlie's life that is interesting. Sadie Sink injects a staggering amount of anger into her work. Yet Ellie is a dispiriting Millennial caricature and written as large as the whale from Moby-Dick.
She is a cruel, abusive, and lazy brat who plays with her phone while Charlie reviews her schoolwork. During one exchange, Charlie tells her she has written the title of Walt Whitman's poem 'Song of Myself' incorrectly. Yet she insists her title is better! The character's abrasiveness offers no credence to Charlie's tolerance. There is also an incredibly cheesy moment where he begs her to revisit a strong piece she wrote years ago. He squeals: 'it's a good essay!'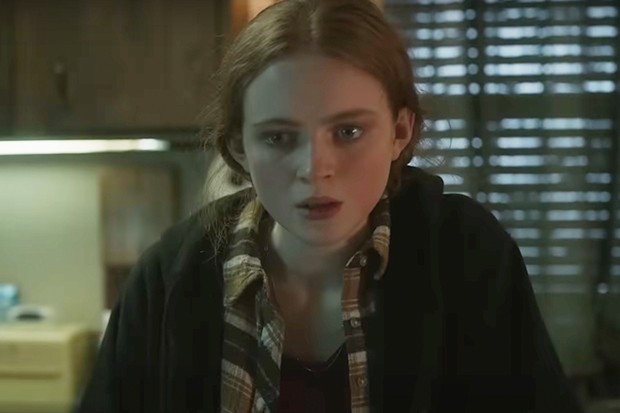 Her later developments with the missionary Thomas are contrived, especially considering his corny dialogue, such as 'God is ready to help you'. With thorough rewrites of its own, the idea of Charlie's optimism countering Ellie's bleak resentment might have worked. Instead, what is portrayed is too determined to draw a reaction from the audience and too imbalanced to validate Charlie's unbreakable positivity. Samantha Morton appears late in the film, but her part does not land many emotional beats.
Aronofsky's fascination with physical and mental deterioration clearly drew him to this character who eats himself to death over past mistakes. The brutal premise is intriguing and acted with great commitment and expressiveness by Fraser and Chau. However, Aronofsky's imprint is undercut by the story's theatrical design and sentimentality. The thesis that a dying man can still change the people around him is the type of emotional cliche this filmmaker has avoided.
Aronofsky's visual style has also rarely been as uninspired as it is here. He even closes the film by recycling an iconic image from his two best films. Additionally, the dark setting hosts personal exchanges that rely on obvious, clunky dialogue. Within these moments, it is hard to accept that Charlie's patience withstands Ellie's cruelty. Evidently, The Whale is too contained for its conflicting creative visions and the grievances this well-meaning but blinkered protagonist must resolve.
Summary: A clunky and imbalanced chamber piece that lacks the director's reliable visual instincts.