Comics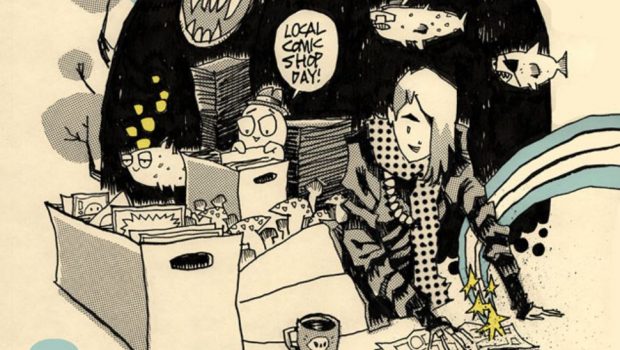 Published on October 23rd, 2021 | by Admin
THE WALKING DEAD DLX #27, FRIDAY #1 & GRRL SCOUTS: STONE GHOST #1 JOIN LINEUP OF EXCITING LOCAL COMIC SHOP DAY
Image Comics is pleased to announce three exciting Local Comic Shop
Day editions to join the lineup of releases for next month's celebration of the Direct Market comic shops: The Walking Dead Deluxe #27, Friday #1, and Grrl Scouts: Stone Ghost #1. These three special LCSD editions will not be reprinted—so don't miss out and be sure to support your local comic shop on Wednesday, November 24 (and every day!)—and visit the Local Comic Shop Day website for more information about the event.
Robert Kirkman, Charlie Adlard, and Dave McCaig's The Walking Dead Deluxe #27 Local Comic Shop Day edition (Diamond Code AUG219266) will feature a foil treatment on the cover logo. This is a key issue in the series that readers won't want to miss out on—Welcome to Woodbury, home to the series' most heinous villain… The Governor.
Ed Brubaker and Marcos Martín's Friday #1 Local Comics Shop Day edition (Diamond Code AUG219265) presents the first issue of the genre-defying, post-YA masterpiece by award winning creators. Friday Fitzhugh spent her childhood solving crimes and digging up occult secrets with her best friend Lancelot Jones, the smartest boy in the world. But that was the past. Now she's in college, starting a new life on her own—or so she thought. When Friday comes home for the holidays, she's immediately pulled back into Lance's orbit and finds that something very strange and dangerous is happening in their little New England town… This is literally the Christmas vacation from Hell, and they may not survive to see the New Year.
Jim Mahfood's Grrl Scouts: Stone Ghost #1 Local Comic Shop Day edition (Diamond Code AUG219267) will feature a new cover by Mahfood. This new miniseries sees Mahfood's return to his creator-owned GRRL SCOUTS universe. Join Dio, Turtleneck Jones, and Gordi as they face off against the sinister and unpredictable evil of The Teeth! Hilarious, over-the-top, psychedelic adventure will ensue, you guys! Packed from cover to cover (no ads!) with completely unique and eye-poppin' Mahfood art, including bonus comics and behind-the-scenes fun!