Films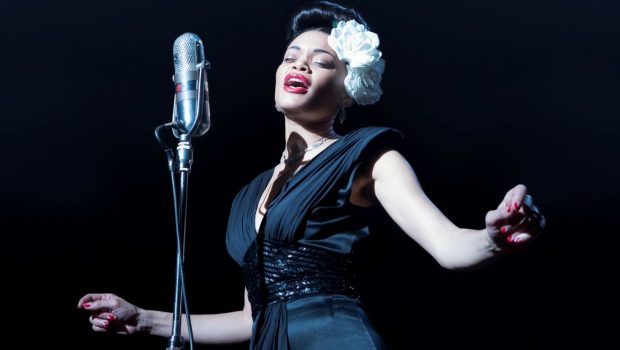 Published on May 5th, 2021 | by Damien Straker
The United States vs. Billie Holiday – Film Review
Reviewed by Damien Straker on the 5th of May 2021
Universal presents a film by Lee Daniels
Produced by Lee Daniels, Jordan Fudge, Tucker Tooley, Joe Roth, Jeff Kirschenbaum, and Pamela Oas Williams
Screenplay by Suzan-Lori Parks based on 'Chasing the Scream: The First and Last Days of the War on Drugs' by Johann Hari
Starring Andra Day, Trevante Rhodes, Garrett Hedlund, Leslie Jordan, Miss Lawrence, Adriane Lenox, Natasha Lyonne, and Rob Morgan
Music by Kris Bowers
Cinematography Andrew Dunn
Edited by Jay Rabinowitz
Rating: MA15+
Running Time: 130 minutes
Release Date: the 22nd of April 2021
Andra Day's soulful performance as the tortured jazz singer Billie Holiday, who died at forty-four, is the lone reason to watch this middling biopic. Her wounded physicality as the woman who famously recorded the 1939 protest song 'Strange Fruit', a precursor to the civil rights movement, is incredible. Holiday's song draws from the 1937 poem 'Bitter Fruit' by Abel Meeropol and rallies against lynching people of colour. The poem was written after Meeropol saw Lawrence Henry Beitler's photograph of two black men being hanged in Indiana.
There is a potentially great film to be made about Strange Fruit's importance and Holiday's artistry opposite her drug addiction and the imposition of racist law enforcement. Others have tried to dramatise her life. Diana Ross played Holiday in Lady Sings the Blues (1972). In this instance, director Lee Daniels and screenwriter Suzan-Lori Parks fail to ensure their narrative is as compelling as Day's performance. Their themes are recycled from prestigious Oscar dramas. Comparisons to the Ray Charles biopic, Ray (2004), are already being made.
There is also a broader question to be answered about who is responsible for Billie's untidy form. Unlike the Ross film, this is not an adaptation of Holiday's autobiography. Instead, it is sourced from the chapter 'Black Hand' in 'Chasing the Scream: The First and Last Days of the War on Drugs' (2015) by British writer Johann Hari. The film is also produced by Tucker Tooley who mostly specialises in developing thriller films.
Additionally, the film's production company, Roth/Kirschenbaum Films, mostly crafts big budget fantasy features, including Alice in Wonderland (2010). Evidently, Billie's development was overseen by different creative voices without a cohesive plan. It accounts for its unfocused form, which stumbles between exploring addiction and racial politics. The only consistent element throughout is Day's compelling performance.
In the film, Holiday tells her story to an ignorant white radio host (Reginald Lord Devine) who asks her insensitive questions about race. A reoccurring memory is Holiday persistently singing Strange Fruit. This is despite animosity from the police who deem the song too political and target Holiday's drug use. Knowing the song's power, she continues performing it in 1947 at the Café Society in New York. Her performance sees her hounded and eventually arrested.
While battling the law, Holiday meets Jimmy Fletcher (Moonlight's Trevante Rhodes). He claims to be a soldier and quickly tries romancing her. Yet it is revealed that he is working undercover with the FBI to spy on Holiday. The man leading the mission is Harry Anslinger (Garrett Hedlund) from the Bureau of Narcotics. He is partly responsible for starting the War on Drugs. While Holiday's imprisonment fails to quell her rebellious nature, her star power suffers under the weight of her heroin addiction. The drug leads her into abusive and dangerous corners.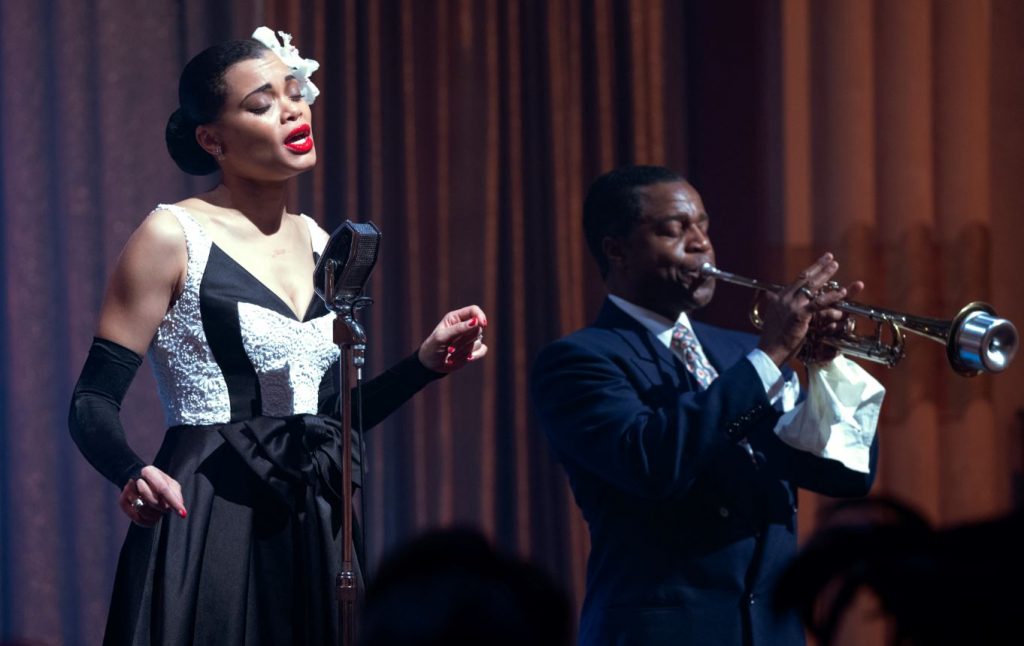 The clumsy way Daniels structures Billie typifies some of his unconventional filmography. He has made some interesting films featuring black characters. Precious (2009) remains his best and most authentic work because of the power of its raw performances. It was about a young woman bullied by her abusive mother. The Butler (2013) was a harmless misfire about a black butler who served numerous American presidents.
Comparatively, nothing about Billie's stylistic choices is well realised. Daniels makes strange creative decisions, such as transitioning the opening of scenes from black and white to colour and employing odd tonal shifts. One attempt at levity is when Jimmy finds Holiday grieving in a church. Yet it is revealed that it was only her dog that died. The most baffling decision though is a misplaced dream sequence.
While high, Holiday transforms into a little girl and leads Jimmy into her abusive childhood. It is a strange time to offer exposition about Holiday's life. Fortunately, the film's production design is undeniably handsome, particularly the retro décor of the clubs and the elaborate costumes by Paolo Nieddu. However, these qualities are undermined by Billie's overlength and hazy storytelling, attributable to the uneven writing and direction.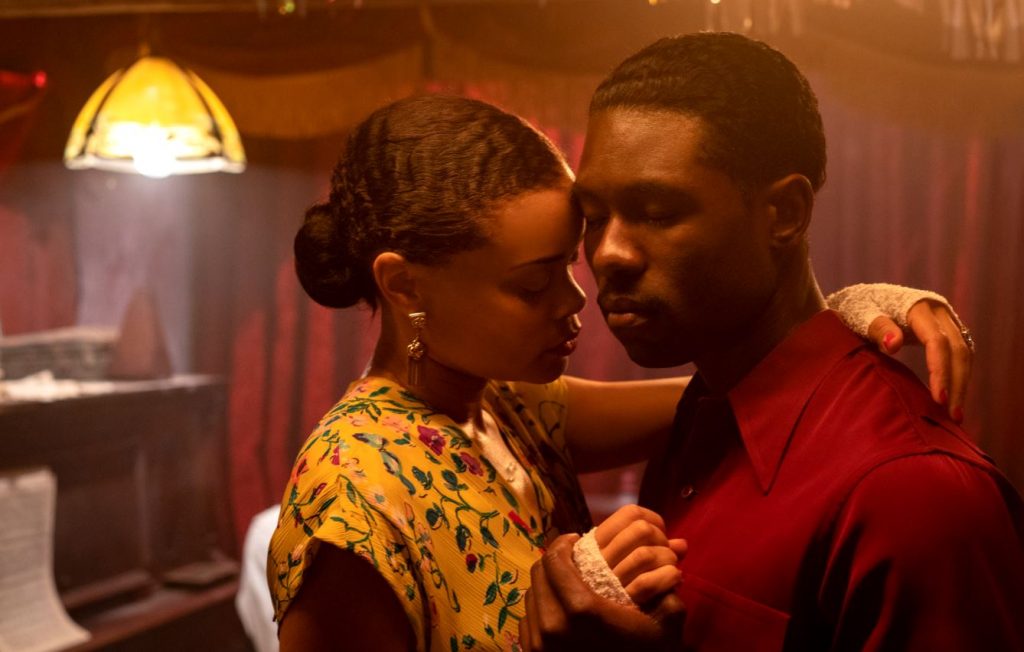 Billie's script lacks the creativity needed to subvert its predictable biopic cliches. As a story about drug addiction, new avenues for the subject matter are rare. Holiday's heroin addiction is unsurprisingly characterised as a pattern of self-destruction. She surrounds herself with terribly abusive people who prolong her worst habits. The self‑destruction mirrors her persistence with Strange Fruit, a commendable act that still marginalises her.
As a study of Holiday's relationships with men, Billie is equally confused and unsatisfying. The dull way the men are written and performed pales against Day's remarkably authentic work. The script's most problematic feature though is the framing device. Holiday's recollections are meant to be told exclusively from her viewpoint.
Yet the structure collapses in her absence. Bizarrely, there are scenes of Jimmy at home and the police sneakily collaborating. Casually discarding the framing makes the plotting as shadowy as the dank jazz clubs. Consequently, Billie's artistic decisions fail to distinguish it from similar prestige films about tortured artists.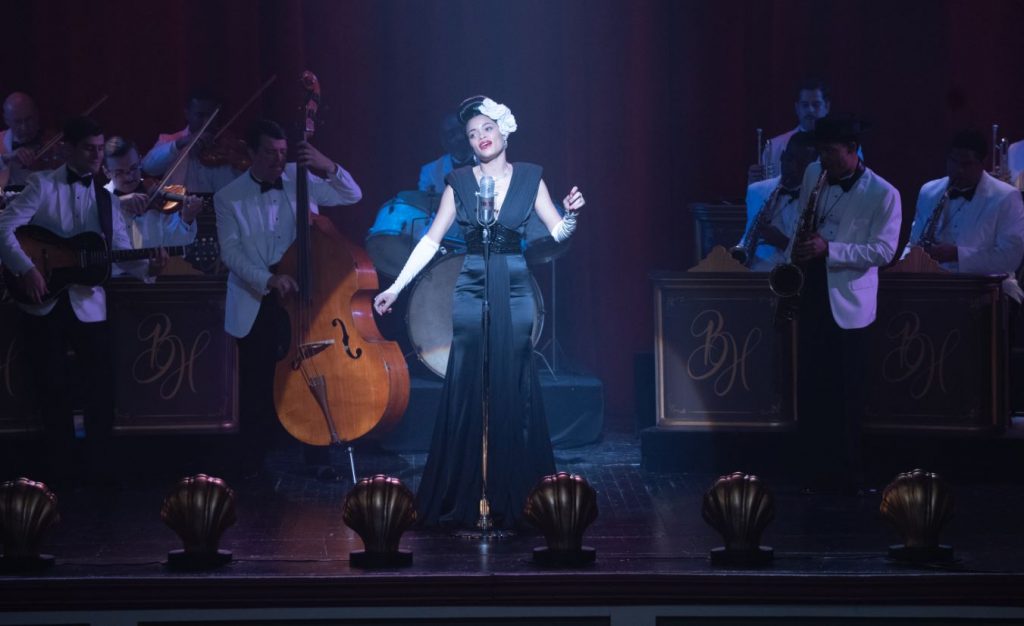 What salvages proceedings is Andra Day's monumental, star-making performance. Her talent was immediately noticeable early in her career. She was discovered as a singer in 2010 by Stevie Wonder's wife. She was also noticed by director Spike Lee who then worked on her music videos. This mediocre film is infinitely better when she is on camera. Her compelling physical presence is visibly tortured but also immeasurably gritty. Her rough, smoky voice provides the edge she needs to confidently deflect her enemies on both sides of the law.
Remarkably, Day lowered her weight, changed her voice, and performed her own singing. Rather than lip synching to pre-recorded tracks, she was recorded live. It is particularly brave when performing a song as iconic as Strange Fruit. While unlucky not to win the Oscar, it is the start of a promising acting career. The other actors fail to match her performance. Garett Hedlund and Trevante Rhodes are hampered by their characters being opaque and one‑dimensional. Billie never illustrates them as much more than clichés from similar stories.
Aside from Day's performance, The United States vs. Billie Holiday is a forgettable biopic. It is regularly sunk by its convoluted form, specifically the confusing framing device that muddles the narrative's placement of scenes. Incoherence aside, similar themes from other biopics are revisited but without reigniting our curiosity.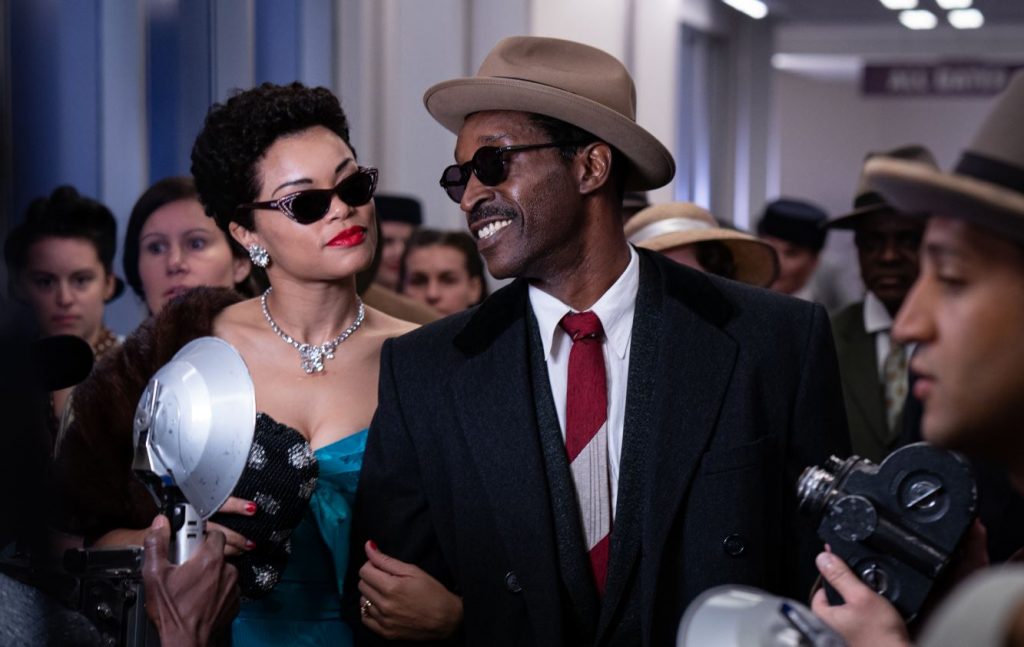 The film would have benefitted from a more experienced screenwriter to enrich the side characters. Outside of Holiday, no one else warrants our investment. Thankfully, Day is excellent throughout this otherwise uneven film. If Daniels rediscovers the affecting work from early in his career, Day should be there again to help him soar.
Summary: Andra Day's soulful performance is the lone reason to watch this otherwise middling biopic.