Comics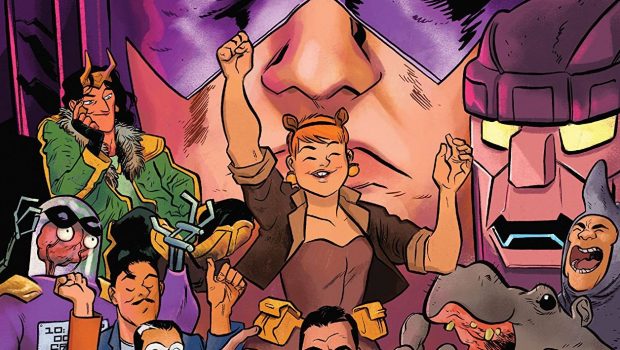 Published on November 16th, 2019 | by Tim Chuma
The Unbeatable Squirrel Girl #50 Review @ryanqnorth @derek_charm
Summary: Conclusion to the multi-year Squirrel Girl storyline. Fans will like it, but anyone else will wonder what is going on.
Just as Squirrel Girl and her friends seem to be beaten by Dr Doom and his stolen Iron Man suits Galactus appears to save the day. "FRANKLY, IT'LL BE A RELIEF TO FINALLY DEVOUR SOME OF YOU" is Galactus' answer, but Squirrel Girl is having none of this and they have a conference on the moon.
Whilst on the moon they have a serious conversation about the nature of their relationship and the future. Galactus even mentions his Deux et Machina in the context of the story and promises he won't devour anyone this time.
Given this is the 50th and final part of the current Squirrel Girl storyline I feel like I have missed something. Coming from the more serious stories to this one does feel a bit annoying so I would guess you would have to be a fan of this character and series already to pick this one up.
Not that there is anything wrong with the story or the artwork, it just feels like it is part of a bigger story you need to have been following for some time to make sense of it. This storyline has been going for at least five years so that makes sense.
Some familiar characters make an appearance including a reference to Squirrel Girl making friends with Thanos and then getting him counselling. Again this is something you would get more out of if you were a fan of this series and character already.
Comic details:
Writer: Ryan North
Art: Derek Charm
Cover: Erica Henderson