Films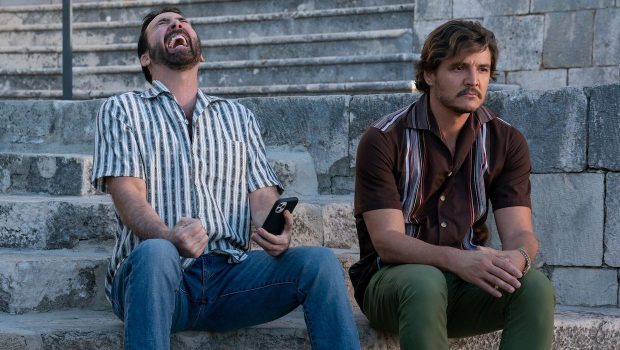 Published on April 21st, 2022 | by Tim Chuma
The Unbearable Weight of Massive Talent Review (2022)
Summary: Nick Fuckiiiiiiiiiiiiiiiiiiiiiiiiiiiiiiiiiiiiiiiiiiiiiiiiiiiiiiiiiiiiiiiiiiiiiiiiiiiiiiiiiiiiiiiiiiiiiiiiiiiiiiiiiiiiiiiiiiiiiiiiiiiiiiiiiiiiiiiiiiiiiiiiiiiiiiiing! A-Wooo! Cage!
4
Nick Cage smooches good!
Nicolas Cage plays Nick Cage a popular actor who still can't get it together and is hated by his daughter and short on money. When his agent Harry Fink (Neil Patrick Harris) suggests he attend a rich person's birthday party for one million dollars he initially rejects the offer but then changes his mind when he is turned down for a role.
The rich person Javi Gutierrez (Pedro Pascal) is a huge fan and after some initial reluctance the two end up becoming good friends. However, Nick is pulled off the street by CIA agents who have been tailing him with an offer he can't refuse. It seems Javi is the head of a weapons smuggling cartel and has kidnapped the daughter of a politician.
I was in two minds as to whether this would be any good as it is basically just Being John Malkovich but Nicolas Cage has been in Adaptation so this movie is in on its own joke but not annoyingly so. There is no mugging for the camera and Nicholas Cage is playing a fictionalised version of himself and also a younger version of himself in Nicky who acts as his ego during the movie.
Nicolas Cage says he didn't actually want to watch the movie as it would be too meta even for him, but did end up doing so due to the studio asking him to watch to see if he wanted anything taken out of the movie.
There are references to a lot of his movies in the script and there were meant to be even more including re-enacting several of his most famous roles but the sequence did not fit into the third act. Supposedly it will be in the streaming and home releases.
Pedro Pascal as Javi was really great in this role and it is good to actually see his face in the role. He really is a Nicolas Cage fan and the two feel like they are friends during the movie. Even though he is supposedly the bad guy, he does have an innocence to him that comes out later in the movie.
While you certainly would not want to watch this if you were not a fan of Nicolas Cage, it certainly does help if you are. Some of the quotes are going to get annoying after a while if people start using them too much. There is one in particular that even turns up in the trailer, but that has not happened as yet so we are still good to go.
A fun movie and something you will get more out of if you are a fan of movies so you can get all the references as the people who were behind me at the screening did.
Trailer
Film details:
Director: Tom Gormican
Writers: Tom Gormican, Kevin Etten
Starring: Nicolas Cage, Pedro Pascal, Tiffany Haddish, Sharon Horgan, Paco León, Neil Patrick Harris, Lily Mo Sheen, Alessandra Mastronardi, Jacob Scipio, Katrin Vankova, Demi Moore, Anna MacDonald
Country: USA
Length: 107 min
Genre: Action/Comedy