Comics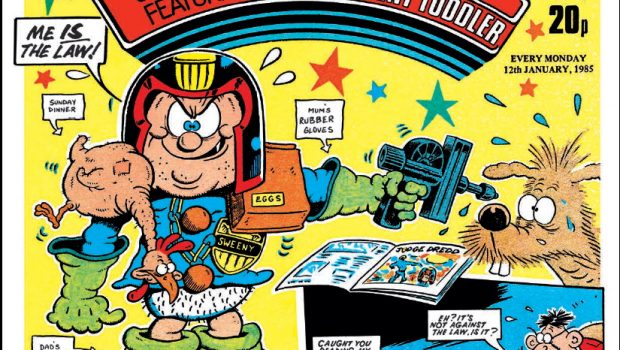 Published on November 6th, 2021 | by Tim Chuma
The Treasury of British Comics Presents: The Tom Paterson Collection (2021)
Summary: Well worth picking up even if you have not heard of this artist as there is plenty to look at and heaps of interesting characters.
A collection of the work of Tom Paterson who is famous for his work in English magazines Buster, Whoopee!, Jackpot, Whizzer & Chips, Oink! Including the characters Sweeny Toddler, Calamity James, Buster, Grimly Feendish, The Knumskulls, Bananaman and Dennis the Menace. There are also mini interviews from other artists and some unpublished work.
The cartoons in the collection date from the early 1970s through to the 1990s and even if you did not buy any of the original magazines you would be familiar with the artwork style as a lot of these characters were very popular at the time and had other licences based on them.
His work has also been a big influence on a lot of other artists so things you enjoy would have been influenced even if you did not realise.
From the front covers of the various magazines in the book I can see that the magazines were sold in Australia and I do remember seeing Viz and other magazines for sale in the news agent back in the day.
The stories are aimed at younger children but the collection will be looked upon fondly by people who grew up reading the magazines the work was published in. Reminds me of the toilet at the Drunken Poet near Vic Market in Melbourne that has UK comics used as wallpaper.
There are a lot of interesting characters in this book and I would recommend it even if you do not know the work of this artist as it very creative and you never get bored looking through it. Something you can pick up and put down and read in bits over a longer time period as there are enough pages.
Well worth picking up if you are a fan of the UK published comics from this era or want a big hardback comic collection to read through other than the usual DC or Marvel stuff.
Book details:
Author: Keith Richardson, Tom Paterson
Languages: English
Format: Hard Cover
Category: Children's Fiction , Contemporary
Publisher: Rebellion
Publication Date: 25th November 2021
Pages: 192