Comics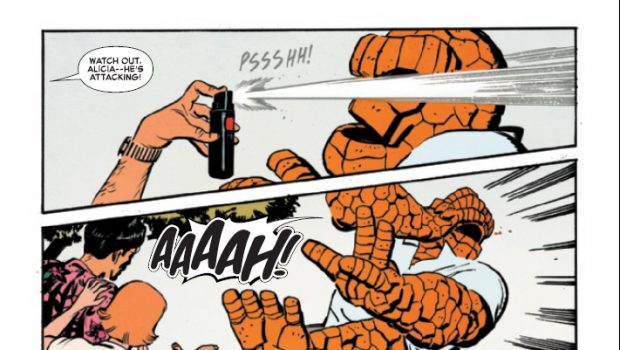 Published on November 17th, 2021 | by Tim Chuma
The Thing #1 (2021) Review
Summary: Ben Grimm gets his time to shine in this story about some nefarious plot he has to foil. Worth a look if you are into this character.
Ben Grimm is having a rough time of it arriving back from a fishing trip off the coast of South America to find his partner has broken up with him and his friends are off at a conference in Russia. Later on the street he gets pepper sprayed by his ex's new partner and smashes a car by accident, leading him to get arrested and put in a cell that even Thor could not escape from. He ends up getting out by using his noggin rather than fists for once only to find he was about to bailed out by Dr Reed who flew back just for that purpose. Meanwhile a mysterious figure is plotting something and plans to use the Thing for something wicked.
This is a new storyline so it is the best place to start without having to have a whole lot of knowledge beforehand. There are a couple of characters I had not heard of before but it would be easy enough to find out who they were.
I enjoyed the artwork in this one as it seems very retro and fits well with this character as he is always characterised as someone who is more reliant on brawn than brains.
I would recommend this one if you are a fan of this character and want to see him in his own storyline.
Comic details:
Writer: Walter Mosley
Penciler: Tom Reilly
Cover Artist: Tom Reilly
Publisher: Marvel
Published: November 10, 2021