Comics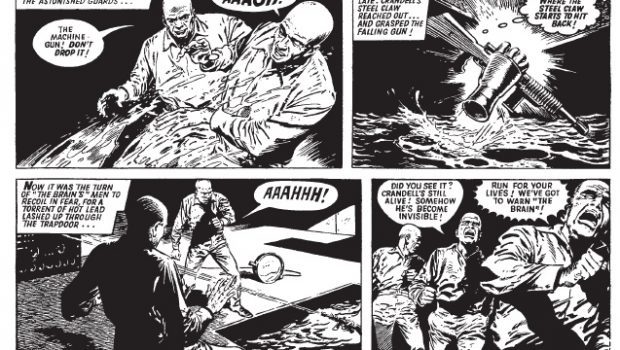 Published on November 13th, 2022 | by Tim Chuma
The Steel Claw: Reign Of The Brain (2022) Review
Summary: One for people who still remember this character from back in the day or who have heard of it and want to know more. If you like crime stories then I would also recommend it.
A reprint of the first two serialised stories of the Steel Claw, a classic British comic book character from the 1960s. The Steel Claw was a scientist who had an accident in a lab that means any sufficient electric shock renders him invisible for a short time except for his artificial hand.
For some reason he is always getting into trouble due to this but also he seems to want to get his fix of electricity at every occasion. Surely going invisible does not solve every situation? You still have to pay tax Mr Invisible Man!
Shadow Squad stands in for MI5 in these stories and they end up doing a deal with him that they will take his name off the most wanted list if he just does "one last job" for them, which actually ends up being two in this edition.
Reading serialised stories is a lot different than having an entire comic to read in one go or a graphic novel. It does encourage you to pick it up and put it down after you read one bit of it so you can stretch it out longer. Also you want to be able to enjoy all the detailed artwork as there is a lot in here from a black and white publication.
The story and characters may seem a bit old fashioned these days as they are but for anyone who still remembers this comic when it first came out or who has heard of it and never been able to read it is worth checking out.
Comic details:
Artists: Jesus Blasco, Tom Tully
Writer: Tom Tully
Genre: Crime/Thriller
Originally serialised in Valiant 28th September 1963 – 4th April 1964 & 11th April 1964 – 19th September 1964.
Format: Black & white, 114 pages, hard cover
Publisher: Rebellion
Published: 9th of November 2022