Films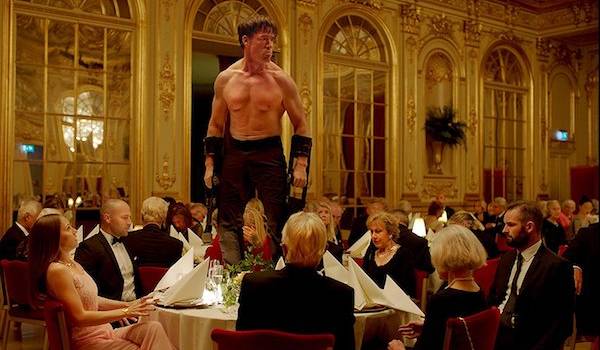 Published on March 1st, 2018 | by Damien Straker
The Square – Film Review
Reviewed by Damien Straker on the 1st of March 2018
Nixco presents a film by Ruben Östlund
Produced by Erik Hemmendorff and Philippe Bober
Written by Ruben Östlund
Starring Claes Bang, Elisabeth Moss, Dominic West, Terry Notary and Christopher Læssø
Cinematography Fredrik Wenzel
Edited by Ruben Östlund and Jacob Secher Schulsinger
Running Time: 142 minutes
Rating: MA15+
Release Date: the 1st of March 2018
The career of Swedish filmmaker Ruben Östlund is blossoming. He started his filmography making documentaries about skiing. He then received wide acclaim for his film Force Majeure (2014). It was about a father who discarded his family by believing a controlled avalanche was a natural disaster unfolding. His cowardice during this incident came under scrutiny.
Östlund's latest film, The Square, won the prestigious Palme d'Ore award at the Cannes Film Festival last year—a major achievement for a forty-three-year-old. Östlund visited several museums as research for setting the film in a Stockholm gallery. Similarly, several real-life incidents also feature in the plot. He observes them with exaggerated humour, cynicism and briefly violence to maximise his social commentary.
The film is peculiar, funny and baffling, but never superficial. It delves into class, power and cowardice in a similar vein to Majeure. The narrative's oddities are paired with Ostlund's purposeful formal decisions that underline the ideas surrounding ethics. They are presented vividly over the film's generous but rarely dull running time of 140 minutes.
The shape of the narrative is contradictory. It is linear and coherent, but also feels spontaneous and unpredictable. It's about Christian (Claes Bang), a hilariously downtrodden art gallery curator. One morning, he wakes up on a couch hung over. He is ill-prepared for his interview with Anne (The Handmaid's Tale's Elisabeth Moss), an American reporter.
During their meeting, he struggles to explain a major art project's mission statement. The project has a square outlined outside and a message that reads: "The Square is a sanctuary of trust and caring. Within it we all share equal rights and obligations."
Through several bizarre episodes, it's apparent that few people in the building are equal. Christian becomes romantically involved with Anne, which has complications. She argues he doesn't know her name and questions if he sleeps with women by using his status as power.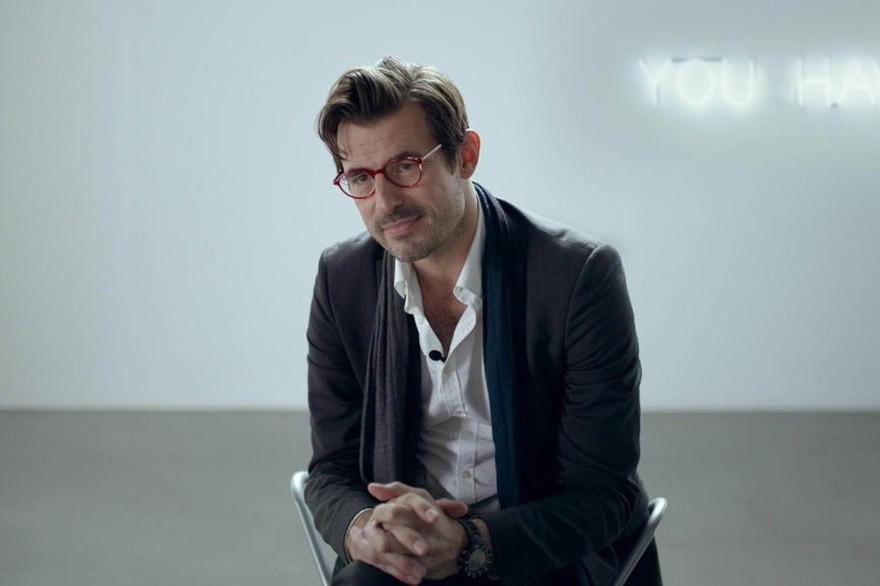 Christian also has his wallet and phone stolen while helping someone in the street. He enlists one of the gallery's staff, Michael (Christopher Læssø), to hunt the thief. There are also strange incidents inside the building, including a hilariously distasteful marketing campaign that turns viral, and the weirdest piece of performance art in history.
The square itself is a political and ethical construct rather than simply a physical place. It represents people's sheltered nature as they hide from realities outside their comfort zones and social classes. The gallery captures these isolated properties. It is a cold, lonely place, full of large open spaces, white walls and quiet staff marginalised on the edges of the rooms.
One of the strangest artworks includes a piece made of small dirt mounds. On the back wall a message reads: "You have nothing". This suggests that outside one's own life, people have limited agency to change the world. The isolation is further echoed in the gallery's exterior shots where crowds of people ignore each other as they bury themselves inside their phones.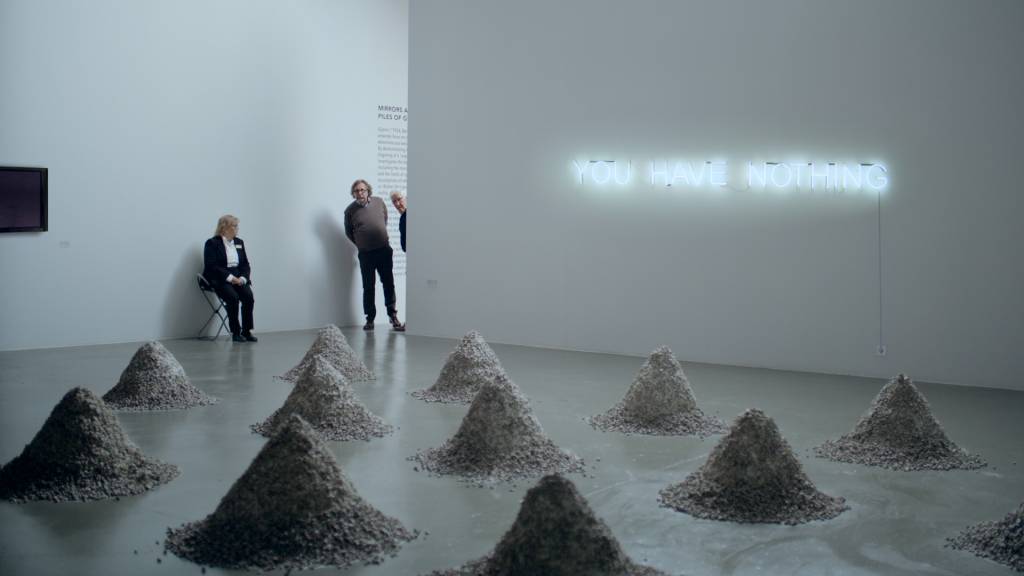 To interrogate familiar binaries of rich and poor, the powerful and helpless, Östlund deprives Christian of positive agency outside his square. His choices result in funny, dire consequences, stressing the difficulty of positive change outside one's social class. One small example is that after Christian generously offers to buy a beggar woman a roll, she demands it has no onions.
In the film's best sequence, Östlund satirises the insecurities of the wealthy and powerful when fighting for social change. Christian and Michael print out fifty copies of a letter demanding his stolen goods be returned. They decide to post them in every letterbox of a lower-class apartment block where his phone is located. They drive to the building, pump loud music, and declare justice. Their overconfidence is hilarious.
The reality of their situation dawns once they park outside the building. One man must post the letters inside the creepy building while the other minds the car. Their argument humorously shows their insecurities outside their comfort zones. Christian vainly argues he shouldn't enter because he'll be recognised. The audience is left alone in the car with Michael, and then taken inside the eerie building as Christian delivers the letters.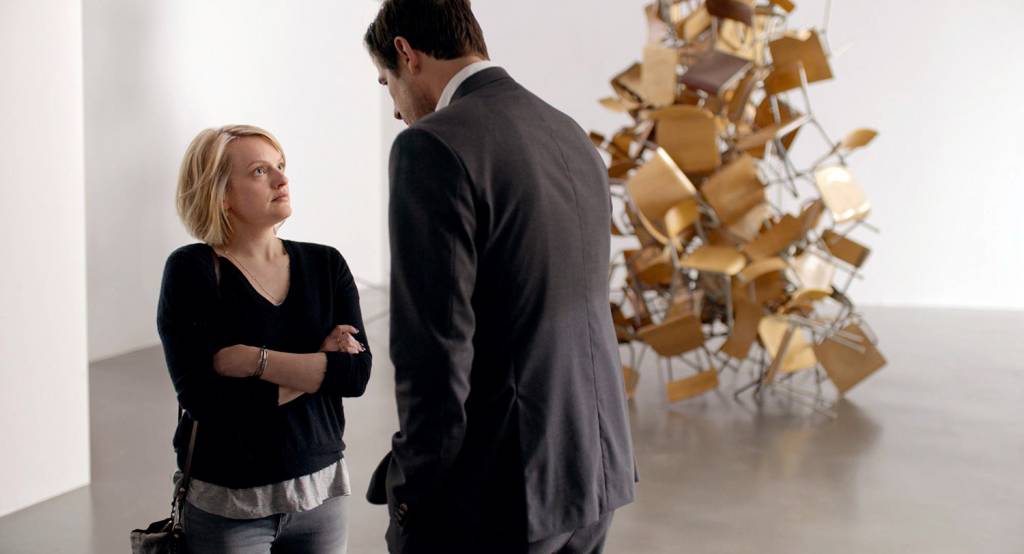 The tonal shifts from comedic to fearful show how an unfamiliar social situation or environment affects our emotions. It's a brilliant sequence in using a location to reveal character and how it reflects difficult social conflicts, such as justice and theft. The letters result in an unexpected adversary for Christian, further showing the negative consequences of change outside of one's square.
Östlund is a stylist who employs audio-vision to enhance the film's thematic ideas. The camera is planted on Michael face inside the parked car. We hear the diegetic sound of the impending traffic off-screen, which perpetuates his fear of the outside world. The building's shadowy architecture is photographed from a top-down shot, highlighting the spiral construction. The spiral and the creepy flickering lights stress the disorientation of an unfamiliar social class.
Another powerful scene demonstrates the nihilistic outcomes of confronting social outsiders with antagonism. In a lavish dining room, populated by glamorous observers, a shirtless man gallops inside imitating an ape. The room is saturated with gold colour tones and filmed from a wide angle, showing the social space's depth being shared awkwardly between conflicting social classes.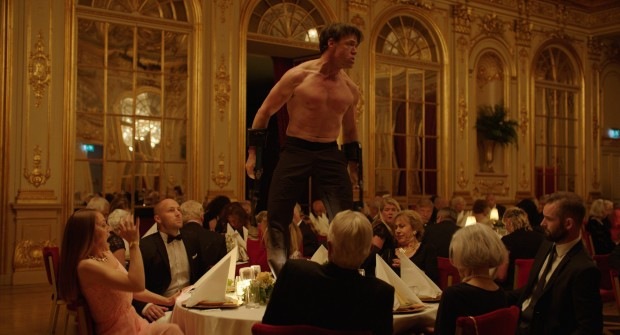 The observers are told if the ape-man senses fear he'll approach their table. The images of the wealthy bowing their heads and avoiding eye-contact underlines Ostlund's dilemma: neglecting social outcasts leads to conflict but action results in violent consequences. This sequence is one of the most memorable in recent times. Like the letter scene, it effortlessly switches from hilarious to disturbing, reflecting changing emotional registers when facing social realities.
The sound further complements Östlund's thematic spine. A girl's scream, weird animal noises, daunting traffic and loud rumblings inside the museum, are all kept off-camera. They imply that danger exists outside of people's comfort zones or squares and makes them fearful of helping others and facing reality. Sometimes it's simply funny and weird, such as bizarre creaking sounds from a stack of chairs while Christian and Anne argue.
Östlund visualises internal fears through careful symmetry. The characters are framed in singular medium shots during conversations with a static frame, including an unbroken take of Christian as he addresses Anne during their interview. The static frame shows the characters exist inside their structured universe, defined through their social labels. The way he switches from Swedish to English to speak to her also typifies moving from his comfort zone.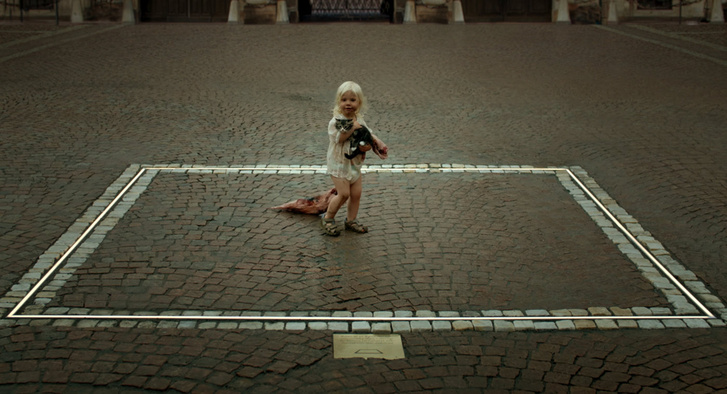 The film's ambiguity renders it imperfect. For example, why does Anne have a pet monkey in her house? Why doesn't Christian trust her when staying in her home? It's also strange that actor Dominic West (The Wire) only features in two scenes as an artist. Likewise, the film's end scenes feel fragmented compared to the rest of the narrative as though Östlund struggled to end the film.
Perhaps the pet monkey and the ape-man show Christian is haunted by primal instincts, the temptation to exploit his power in relationships as he moves away from his square and positive choices. Christian isn't bankrupt though. He reflects someone desperate to be moral but whose actions impede him in hilarious ways. Even after he apologises to the media for the disastrous marketing campaign, he is accused of supporting censorship. A lose-lose world exists outside the square, prompting people to resist social change.
Christian's animal instincts are relieved by the belated company of his young daughters. The film's ambiguous ending, a car ride with his two girls, gently favours self-reflection and family over failed attempts to shape the world. Family is the most difficult square a person works within, but easily forgotten as wide-ranging social issues come to the fore. If the world's problems seem unsolvable, home is a good place to start.
Summary: The film is peculiar, funny and baffling, but never superficial. It delves into class, power and cowardice in a similar vein to Force Majeure.