Films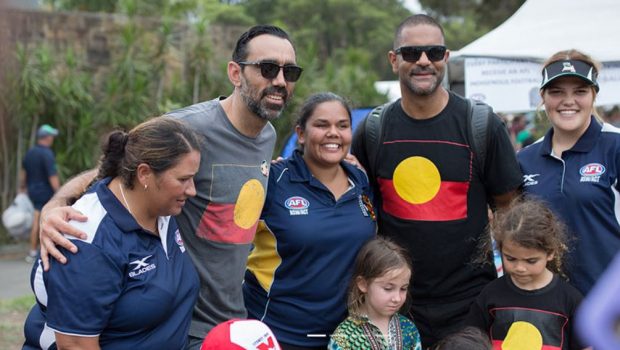 Published on July 26th, 2019 | by Damien Straker
THE SPORTING WORLD WALKS TOGETHER WITH THE AUSTRALIAN DREAM ON A PATH TOWARDS RECONCILIATION
NBA star Ben Simmons boards THE AUSTRALIAN DREAM as Executive Producer and national sporting organisations unite in support of the film.
Ahead of the world premiere of THE AUSTRALIAN DREAM, which will open the 2019 Melbourne International Film Festival on August 1 before its national cinema release on August 22, Australian NBA star Ben Simmons has joined the film as an Executive Producer.
Producer John Battsek commented, "Ben Simmons' involvement is a huge opportunity for the film and our goals for it. When we discussed the project with him, he was moved and motivated to help broaden the conversation about Adam's experience and the issues the film focuses on. Ben will help take the film to an international audience and show that the film is relevant beyond Australia, with racism in sport and culture being a global issue".
In Australia, leadership groups from national sporting organisations including the AFL, Cricket Australia, the National Rugby League, Rugby Australia, Netball Australia and Athletics Australia have viewed the film and reflected on its importance in expanding the conversation around walking together on a path towards reconciliation. Many of these organisations are now working to incorporate the film into their own Reconciliation Action Plans.
Several of the national sporting bodies have provided statements reflecting on THE AUSTRALIAN DREAM:
"THE AUSTRALIAN DREAM reflects a story of a man, his people and his country. It is a story of the consequences of speaking out, standing up and being proud – from the voices and actions of support, but also the loud voices of racism and prejudice that focus on one man in a concentrated way that very few have had to endure. The film presents courageous truth telling by Adam Goodes in the context of our history in Australia, led by Stan Grant's thoughtful and open invitation to better understand what we need to do to heal and take the next important steps on the path to reconciliation."
Tanya Hosch – General Manager, Inclusion and Social Policy
AFL
"THE AUSTRALIAN DREAM is a powerful and confronting documentary which presents an enormous opportunity for all of us to reflect and learn from what happened to ensure this doesn't happen again to any athlete or person on and off the field. It's an opportunity for us all to be open, not fearful or defensive and to start a conversation about what we all can do to promote reconciliation as a united front.
The film shines the light on a problem we all face, across all sporting codes and more broadly society and we recognise that while Australian Cricket has done and continues to do some great initiatives, we have a strong appetite to do more and the film provides the impetus to continue to walk the reconciliation path."
Courtney Hagen – Indigenous Engagement Specialist
Cricket Australia
"THE AUSTRALIAN DREAM is truth telling in its purest form. It shines a light on the dark side of our national history, its direct impact on our First Nations peoples past and present and painfully dissects the personal trauma delivered to an Australian of the Year and national sporting icon in Adam Goodes. Stan Grant's work is compelling and confronting and is required viewing for all Australian's as we continue on the path towards true reconciliation in Australia."
Mark Deweerd – General Manager, Indigenous Strategy
NRL
"THE AUSTRALIAN DREAM is essential viewing and a remarkable film. It highlights an uncomfortable part of our society and illustrates the need for all sporting codes to unite and walk together to solve this alarming issue."
Adam Thomas – Head of Diversity and Inclusion
Rugby Australia
"Athletics Australia views the journey of reconciliation as extremely significant. As a Federation we have therefore embarked on our Innovate Reconciliation Action Plan, which will guide our journey. We believe that Adam Goodes' story THE AUSTRALIAN DREAM will help the Australian public not only understand the impact racism has on all communities, but also help people embrace the cultures of Aboriginal and Torres Strait Islander people."
Sean Dixon – Diversity and Inclusion Manager
Athletics Australia
SYNOPSIS: 
THE AUSTRALIAN DREAM is a documentary that uses the remarkable and inspirational story of Indigenous AFL legend Adam Goodes as the prism through which to tell a deep and powerful story about race, identity and belonging.
For the first time Adam reveals his profoundly emotional journey in his own words, and asks fundamental questions about the nature of racism and discrimination in society today. Walkley award-winning writer Stan Grant and BAFTA award-winning director Daniel Gordon join forces to tell this remarkable story of one of the most decorated & celebrated players in AFL history. A man who remains a cultural hero; the very epitome of resilience & survival, who continues to fight for equality and reconciliation.
THE AUSTRALIAN DREAM is an Official Australian / UK Co-production by GoodThing Productions and Passion Pictures. Principal production investment from Screen Australia in association with Lorton Entertainment, the ABC and Film Victoria.
THE AUSTRALIAN DREAM is distributed in Australia and New Zealand by Madman Entertainment, a leading independent film and television distributor with a strong specialisation in the documentary space, having distributed six of the last twelve Academy Award winning documentaries.