Games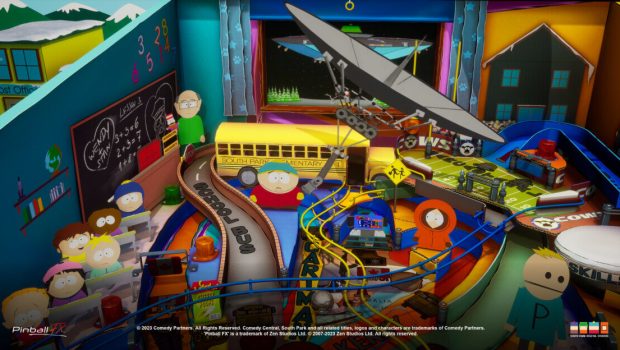 Published on October 13th, 2023 | by Adrian Gunning
The South Park Pinball 2-Pack Returns to Pinball FX Today!
Zen Studios, the badass creators of the acclaimed Pinball FX series, are about to kick the pinball world right in the nads with the resurrection of the South Park Pinball tables on Pinball FX. Brace yourselves, you cheeky pinball addicts and South Park maniacs, because it's time to dive headfirst into thecrazy universe of South Park with the South Park Pinball 2-pack available on PlayStation, Xbox, Nintendo Switch, Steam and the Epic Game Store.
South Park: Super Sweet Pinball and South Park: Butters' Very Own Pinball Game  come back to life on Pinball FX today! Experience the South Park mayhem, immersing yourself in the hilarious universe of the iconic TV show. From classic characters, like Stan, Kyle, Cartman, Kenny and more, to 3D toys and game modes inspired by memorable moments, these tables will serve up more excitement than a visit to City Wok.
"We're more pumped than Cartman at a buffet to bring back South Park Pinball," said Mel Kirk, COO at Zen Studios. "We know the South Park fanatics have been drooling for this moment, and we're happy to deliver an experience that's pure South Park awesomeness to Pinball FX."
Hold onto your butts, because for $9.99 you can snag these legacy release pinball tables to be transported into the outrageous world of South Park or join the Pinball Pass subscription for $14.99 per month and get unlimited access to a motherflippin' library of over 80 pinball tables on PlayStation, Xbox, and the Epic Game Store.
This is the pinball comeback of the century so, get ready to flip, laugh, and shout, "Oh my god, they killed Kenny – with a pinball !" For more information please visit zenstudios.com.
About Zen Studios:
Zen Studios is a leading global producer and publisher of interactive entertainment software for all major digital game platforms. Recognized as one of the premier gaming studios in entertainment studios, including Lucasfilm, Marvel Entertainment, NBC Universal, Funko and FOX Digital Entertainment.
Zen's Pinball FX franchise has defined video game pinball excellence since 2007, and critically acclaimed titles like Circus Electrique and Operencia: The Stolen Sun have proven its devotion to creating captivating RPGs. Zen Studios joined Saber Interactive in November 2020. For more information on Zen's library of titles, visit zenstudios.com.