Films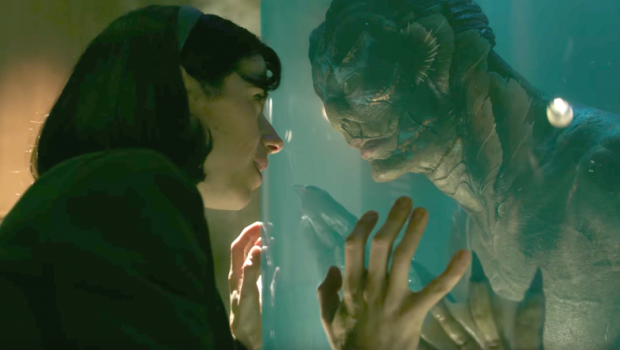 Published on January 25th, 2018 | by Damien Straker
The Shape of Water – Film Review
Reviewed by Damien Straker on the 25th of January 2018
Fox presents a film by Guillermo del Toro
Produced by J. Miles Dale and Guillermo del Toro
Screenplay by Guillermo del Toro and Vanessa Taylor
Starring Sally Hawkins, Michael Shannon, Richard Jenkins, Doug Jones, Michael Stuhlbarg and Octavia Spencer
Music by Alexandre Desplat
Cinematography Dan Laustsen
Edited by Sidney Wolinsky
Running Time: 120 minutes
Rating: MA15+
Release Date: the 18th of January 2018
The most memorable aspect of Guillermo Del Toro's fantasy romance, wedged between an aquatic monster and a mute woman, is the film's villain. The brilliant character actor Michael Shannon is a nasty government administrator of a science laboratory. He possesses the type of cold-faced stoniness that makes you want to hide under your seat. The benefit of a creepy, powerful villain, from whom audiences will reel as he lays down his baton to wash his hands, is that his emotional heft filters throughout the entire film. A dangerous villain, unburdened by leading stars, ensures we care for the safety of the characters because they seem regularly endangered by grotesqueness and menace.
The Shape of Water deliberately places love and marginalised people in peril to become a deeply affecting and subversive fairy tale. Set in the US in 1962, it is about Elisa (Sally Hawkins), a mute orphan who can only hear and rely on sign language to communicate. She lives in an apartment above a cinema and is friends with a gay artist Giles (Richard Jenkins) who designs commercial posters. Elisa is a janitor and always protected by her co-worker Zelda (Octavia Spencer). They're employed to clean the corridors of a government facility where there are strange occurrences.
One day, the facility's administrator, Richard (Shannon), stumbles from a chamber with his hand bloodied. The two women are ordered by a scientist, Dr. Robert Hoffstetler (Michael Stuhlbarg), to clean up the blood, including Richard's fingers! Within this chamber, Elisa discovers the aquatic monster (Doug Jones). It lies in a tank with chains cast around its neck. She and the monster share an immediate connection. She discovers it is responsive to eggs and classical music, leading her to fall for the creature. She secretly plans to free it from the facility. Meanwhile, Hoffstetler has his own complicated motivations for keeping the monster alive.
Along with filmmakers Alejandro González Iñárritu and Alfonso Cuarón, Guillermo Del Toro is one of Mexico's most famous directors. He is an auteur of fantasy and imaginative cinema. He's made powerful films (Pan's Labyrinth), fun ones (Hellboy II: The Golden Army), and some duds (Pacific Rim, Crimson Peak). His peers love him, particularly women including Jessica Chastain. He co-wrote this film with Vanessa Taylor, whose resume includes Divergent, Hope Springs and Game of Thrones. They've resisted overinflating the film with special effects and elaborate sets. It is surprisingly slow and contained, employing a few sympathetic characters and locations to examine the small details of the character's lives, leading to one of the director's best efforts.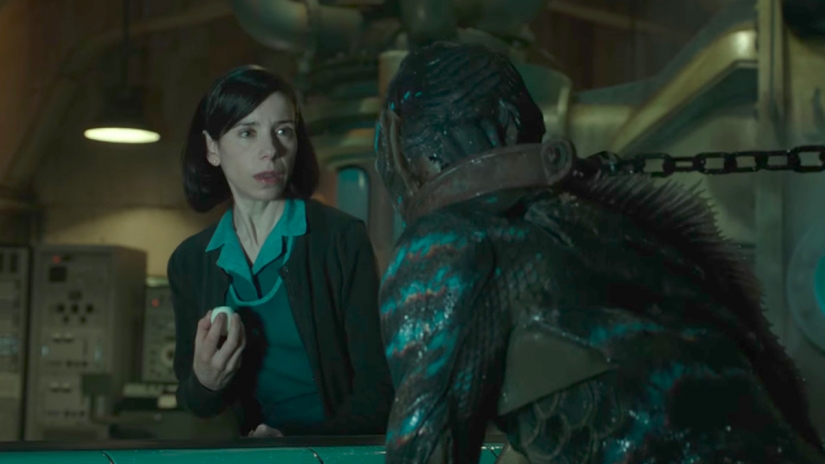 The central thesis and the unusual title's meaning is that love is comparable to water. All the positive characters are marginalised people who are united by love and friendship. Like water, love washes over them and is undiscriminating. It is the propeller that energies their lives and will to live—an idea represented by the film's fluid and unbroken tracking shots. Elisa envisions her life as a Hollywood musical, tap dancing to mimic old movies on her television set, and freely masturbating in her bathtub as an egg timer ticks away. Her bond with the water creature is taken seriously too. It's funny at times but not deliberately camp like Hellboy and Abe singing together.
The relationship is born from their collective alienation and kindness. A simple visual motif, where Elisa brings multiple eggs to the creature, visualises her growing emotional connection. Similarly, a funny apartment scene sees water bursting through the rooms and beneath the floorboards as though the creature has enriched everyone's lives. The parallels of isolation shared between humans and the creature are elegantly displayed. In a wide shot, the camera crabs past a set of windows as Giles and the creature look into the rain, reflecting their desire to be free.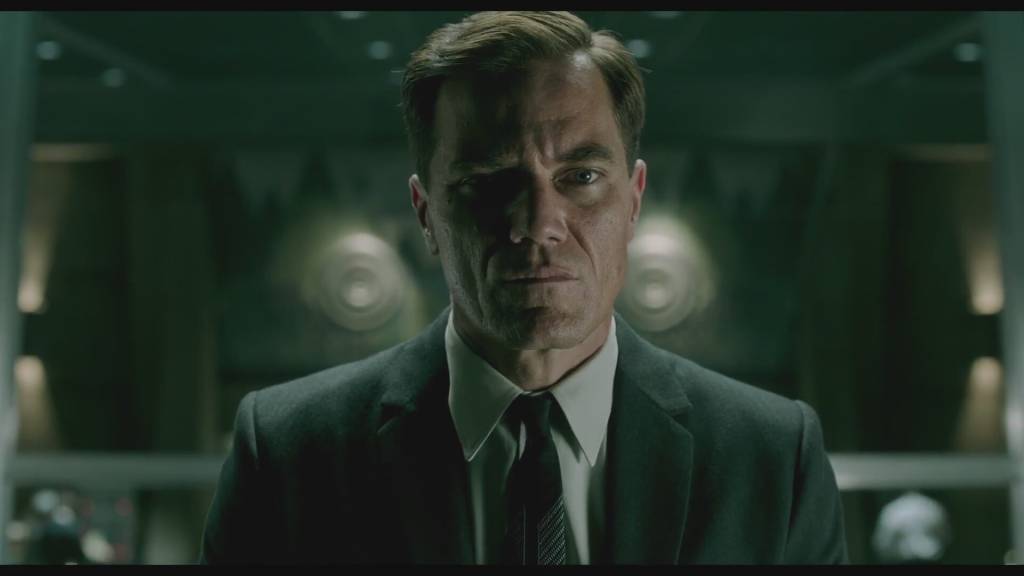 The other characters are intoxicated by the promise of love. Giles is a gay man whose artistic work is scrutinised by his superiors, who insist he make the expressions on his posters happier. He also encounters a man working at a diner, which takes a surprise turn. Additionally, Zelda is concerned for Elisa's welfare and ensures her time sheet is punctually stamped. We also learn Zelda's husband is a lazy bum, and through one pivotal action, spineless. The film's villain, Richard, doesn't love anyone. He is a cruel, violent man who never shies from shocking the creature with his baton; his fingers also start turning black after being reattached, further perpetuating his ugliness.
Del Toro riskily delves inside this man's cruelty. There is an unnerving scene where Richard is invited upstairs by his wife to sleep together. Yet he describes his desire to buy a new car, and covers her mouth as they are having ugly, awkward sex. He treats people dogmatically, comparable to how a machine or a car is operated—a sharp contrast to the fluidity and naturalism of water. Many of the film's closed spaces reflect the conflict between the organic and mechanical. The cracks in the bathroom wall of Elisa's apartment highlight the decline of neon-lit retro decor, and consequently old-fashioned romances (even with a fish), in favour of cold, grey industrialised rooms at the facility.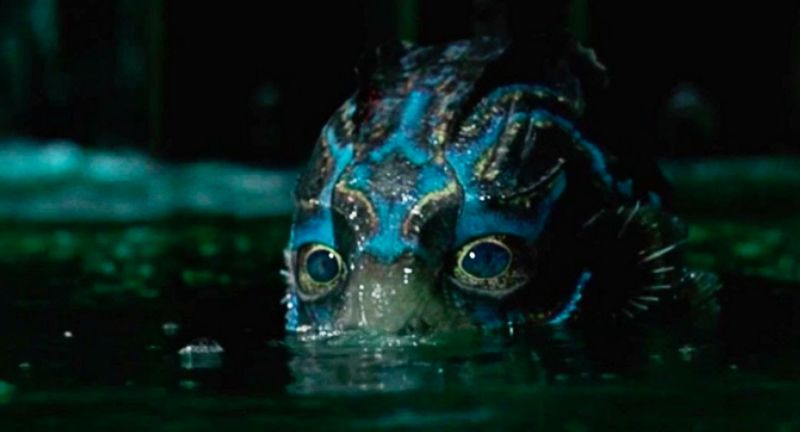 We understand the personalities of the characters because of the high-quality writing and the performances. Sally Hawkins is one of the most likeable working actors and every emotion of Elisa is expressed through her body language. It's as subtle as drawing her arms close together while walking to reflect her meekness and fear. Richard Jenkins and Octavia Spencer also prove to be likeable and funny supports, and by the end we care for both characters. The film's most memorable performance is from Michael Shannon. He dissolves into this character's skin-crawling glower with intimidation, particularly when he chillingly propositions Elisa with creepy sexual innuendos.
The Shape of Water offers the best qualities of Del Toro's filmography. It has strong visual flair but doesn't smother the narrative. The film emphasises its characters and their day-to-day lives so we understand their emotions in themselves and to each other. They are more than chess pieces shuffled between set pieces. They encompass how love permeates throughout this retro world, saving people from being fatally wounded by repressive Cold War paranoia. Del Toro is reflecting on how emotions are old fashioned and anew, as though he feels contemporary America is bereft of romance as marginalised people are sidelined. In the end, the film's rather predictable triumph over adversity is moving. Del Toro takes the central relationship seriously, and the weight of the villain makes us care for the characters and hope they'll be buoyed by their friendships.
Summary: Del Toro takes the central relationship seriously, and the weight of the villain makes us care for the characters and hope they'll be buoyed by their friendships.