Comics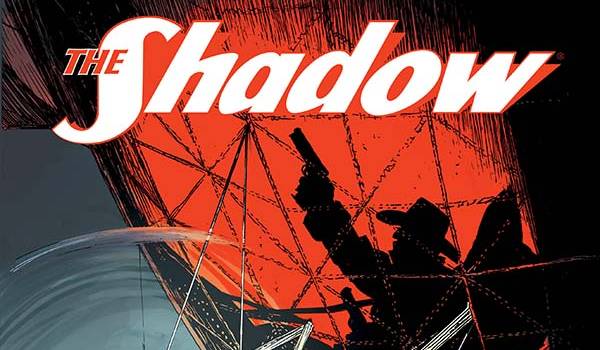 Published on May 11th, 2018 | by Chris O'Connor
The Shadow: Leviathan TPB Comic Review
Summary: For decades The Shadow's laugh struck fear into the hearts of evil doers, but in modern times he has seemed silent. A severely burned man exhibiting great strength but no memory shows up at a hospital and his nurse thinks she knows who he might be.
The Shadow's presence has seemingly faded away in modern times leaving only a legend. But for those he helped he will never be forgotten. When a horribly burnt man shows up at the hospital Mary Jerez is working at exhibiting great strength despite his injuries, she wonders if he might be the man who saved her from a school shooting a number of years ago. It is possibly important to note that this story does use a school shooting as part of it's set up and that may be traumatic for some readers (images used in this review are from that section).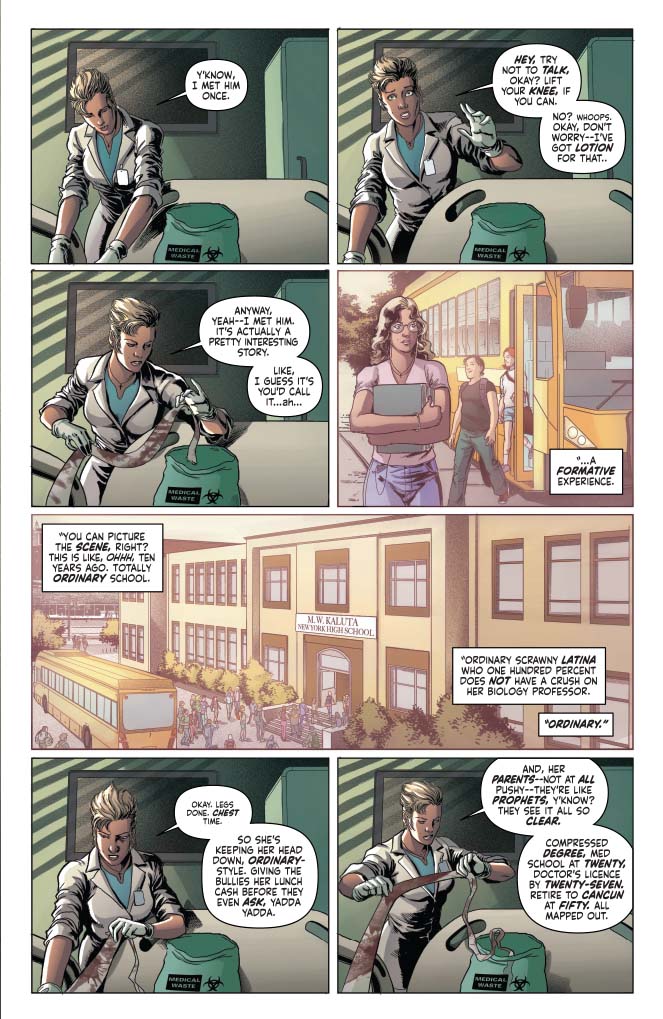 Writing
There are a lot of story elements here coming together to form a compelling tale. Flashbacks show us The Shadow we are most familiar with, The Shadow fighting crime in the early to mid 1900's. But The Shadow has gone quiet for some time now though not completely forgotten. When a news report sparks a spate of would be vigilantes (and criminals) using the image of The Shadow for their own ends things get very heated in Manhatten. The question still remains, is The Shadow still alive and what has become of him? The way The Shadow is brought into our modern world is very clever and plausible. The use of the internet to spread the revitalized interest in The Shadow and the notion of him going "viral" is an interesting idea. But beyond bringing The Shadow into modern times, we get to see how his actions impact the people he touches and the repercussion of some of those choices. Sometimes in an effort to do the right thing, we might do the wrong thing and to see that act played out over time is quite an emotional rollercoaster.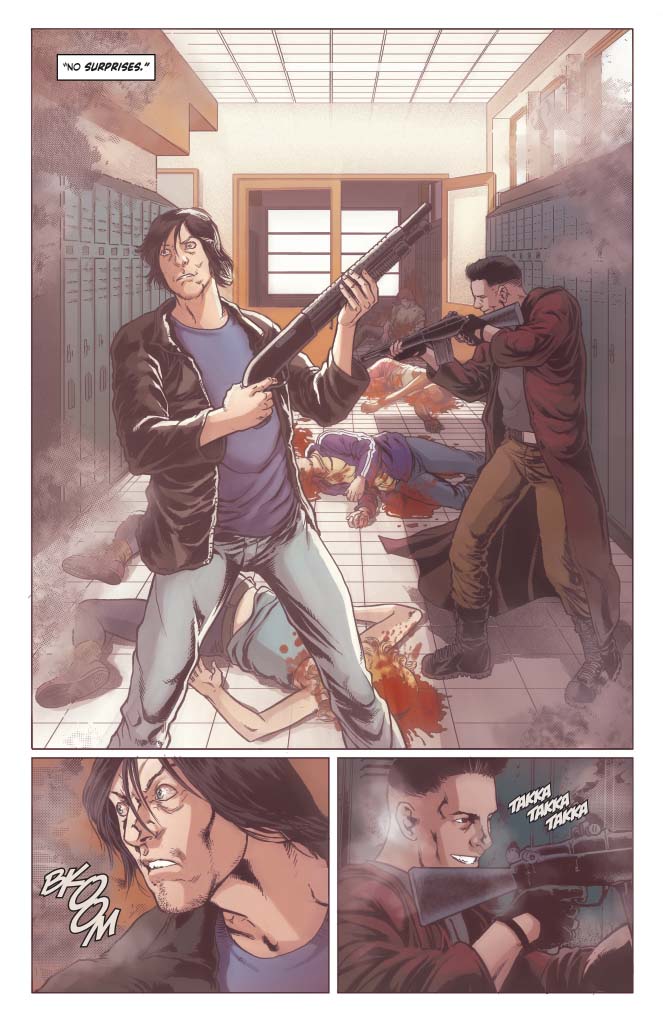 Artwork
I recently reviewed a Batman/The Shadow crossover and made a comment about the art having a certain "look" to it that didn't quite sit with me. I couldn't put my finger on what it was and now looking at this title I'm not sure I'm much closer to figuring it out though I do prefer the art here. I think part of it is perhaps the notion of "less is more", a bit more of the finishing touches here I think were left to the colouring rather than trying to add all the shading and "character" through the line work. The colouring seems a bit neater too… possibly less levels of shading but it gives it a cleaner look.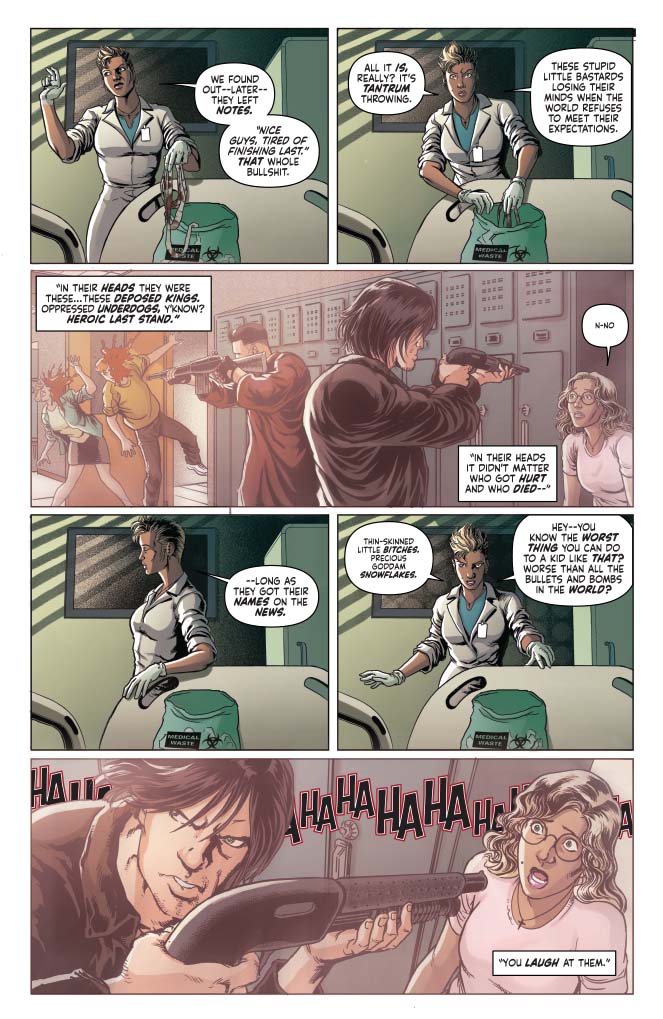 Final Thoughts
It's interesting seeing The Shadow working in modern times in a world full of mobile phones and their cameras, the internet and chat rooms and forums. When your main stock in trade is mystery and being more of an unseen force, things like social media can destroy your "image". But The Shadow still knows what evil lurks in the hearts of men and more importantly still knows how best to tackle evil… even if it means taking a hard look at himself and his own actions. I was quite taken in by this story from the beginning and loved the way it ended so I would not hesitate to recommend this to fans of The Shadow or people who like a good crime fighting hero story.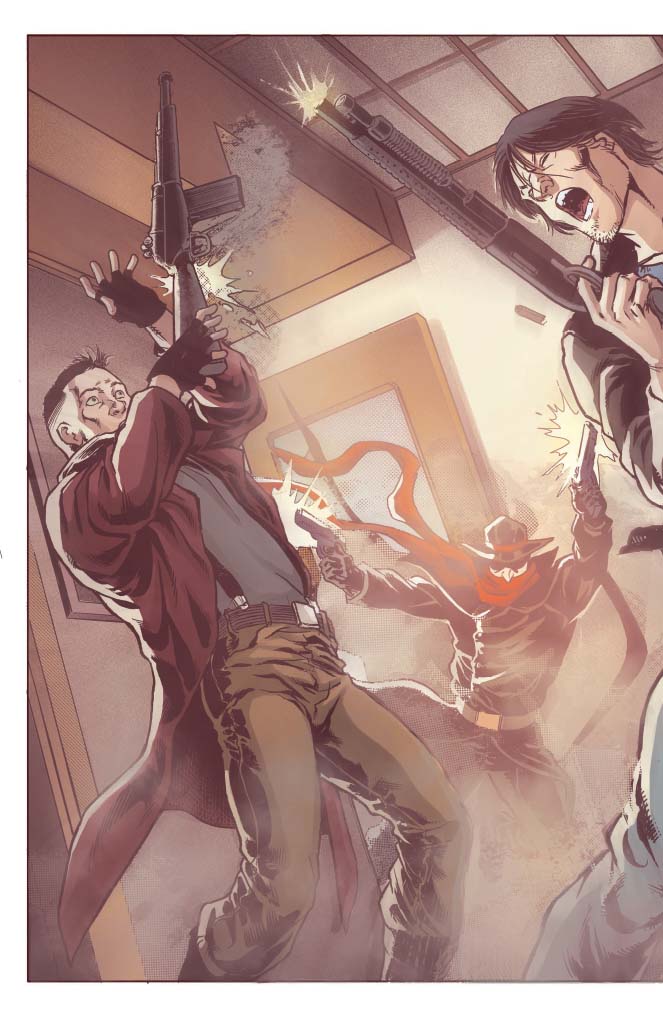 Publisher: Dynamite
Writer: Simon Spurrier, Dan Watters
Artist: Daniel HDR
Cover Artist: Michael Kaluta
Genre: Crime/Mystery
Format: 152 pgs, FC, TPB
Release Date: May 2018