Comics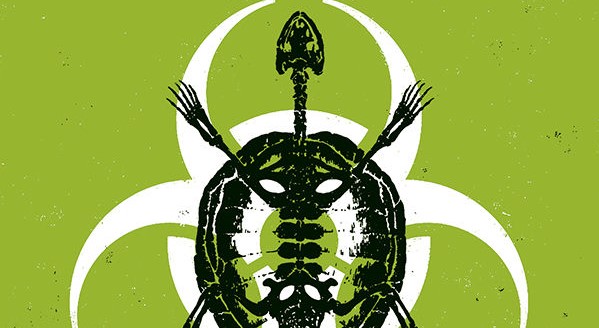 Published on September 12th, 2018 | by Dana Folkard
THE SEEDS #2 REVIEW
Summary: Love blossoms whilst the world is falling apart.
Lola enters the lawless wilds of Zone-B. Astra is kidnapped and finds herself on a dissection table. The bees know something is up and decide that it's time to leave. The world is falling apart but love is as strong as ever. The Seeds #2 sure does pack a punch!
This issue begins with the lovesick Lola entering the luddite-controlled Zone-B. Discarding all of her tech, she bravely passes through the fence to be with her alien lover, Race. Once inside, they make the journey to the underground bunker where the aliens are harvesting seeds. Race's boss disapproves of their union and wants Lola gone, believing that it will only cause problems and distractions. Their fate is unknown, but do they really care? Their love is developing, whilst the Earth is fading, and that's all that matters to them.
Meanwhile, we see Astra back at the office preparing the next phase of her plan. Armed with a variety of gadgets, her camera and a wad of cash, she bribes her way into Zone-B. She needs watch out though, as she's a walking "hotspot" equipped with prohibited tech in a tech-free zone. Unfortunately for her, she doesn't get far before she is knocked out and captured. Waking, she finds herself strung up on a dissection table, however, thanks to a sympathetic alien, she narrowly escapes after taking a series of photos. The end is coming, the bees are leaving and Astra is putting the pieces of the puzzle together, figuring out the truth behind it all.
This story is full of layers. Weaving, interconnecting and fragmented, all the little pieces of this tale are beginning to come together. There is a lot in this issue that I don't go into detail over, mainly because I want to avoid spoilers, but also because Ann Nocenti and David Aja do such a wonderful job at creating a beautiful and poetic narrative that must be read to be fully appreciated. The art and storytelling work hand in hand to deliver a complex and highly engaging story that flows in an effortless way. Aja's striking art fills the gaps in the fragmented storytelling, offering glimpses into events that are unfolding parallel to the ones that the dialogue is focused on. I like the cohesion of these two elements, as they work together in a seamless way. It's clever and makes for some compelling reading.
This story is also "buzzing" with a political charge, as Nocenti delves into some interesting notions surrounding ethics and the larger consequences from the choices people make. Each one of these developments feeds into the greater narrative, helping to form and shape the story in a really interesting way. The one thing that connects everything is the bees. The bees are smart and intuitive and they know something is about to happen. They are key to what will transpire in the future. All I can say is that I'm keen to piece it all together as the next two issues come out.
Aja's art speaks for itself, and like I mentioned earlier works perfectly alongside the story. The graphic, street art quality of his art is eye-catching and dramatic. I really like the mix of realism and retro pulp as we see an interesting combination of heavy inking and Ben-Day dots throughout. This helps to create an interesting sense of depth and texture, whilst also framing certain scenes in striking silhouettes. It all comes together to create a newspaper or tabloid-like aesthetic. Clever, considering the subject matter.
Overall, this is an excellent chapter of The Seeds. Big things are on the horizon, quite literally, and I'm looking forward to where things will go from here. Don't miss out on this story, as it's something special.
I'm giving this issue 5 out of 5 stars!
---
COMIC DETAILS
CREATIVE TEAM: Ann Nocenti and David Aja
PUBLISHER: Dark Horse Comics/Berger Books
GENRE: Science Fiction/Graphic Literature
PUBLICATION DATE: September 12, 2018
REVIEWER: Dana Folkard