Comics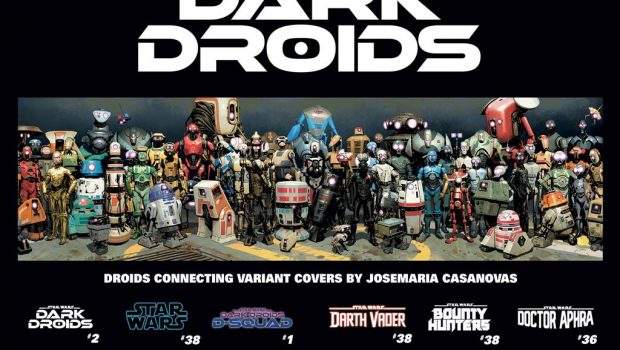 Published on June 8th, 2023 | by Adrian Gunning
THE SCOURGE ASSEMBLES ITS' ARMY OF CORRUPTED DROIDS IN JOSEMARIA CASANOVAS' CONNECTING DARK DROIDS VARIANT COVERS
Across Star Wars storytelling, droids have served a variety of roles ranging from loyal sidekicks to deadly enemies, but after this summer, fans will never look at them the same way again! Starting in July, STAR WARS: DARK DROIDS is an all-new Marvel Comics crossover event that kicks off when a new threat is unleashed throughout the galaxy, corrupting droids, cyborgs, and everything in-between! The saga will bring horror to the galaxy far, far away as droids of all allegiances and roles unite for a bold new purpose, causing chaos for the Rebellion and the Empire alike!
The highly-anticipated epic will be told across a main event series, STAR WARS: DARK DROIDS, as well as tie-in issues of four ongoing series that are currently bridging the gap between the films The Empire Strikes Back and Return of the Jedi: STAR WARS, STAR WARS: DARTH VADER, STAR WARS: DOCTOR APHRA, and STAR WARS: BOUNTY HUNTERS. Announced last week on StarWars.com, the event will also include a spinoff series, STAR WARS: DARK DROIDS – D-SQUAD. Written by Marc Guggenheim with art by Salva Espín and David Messina, the four-issue limited series will see R2-D2 reunite with his team of droid heroes to combat the menace that's dominating their kind.
Fans can see just how chilling things will become in Josemaria Casanovas' new connecting cover. The six-part piece will adorn all six STAR WARS: DARK DROIDS installments in August and spotlights a breathtaking lineup of iconic droids, all with glowing violet eyes and lenses, indicating that they've been tragically compromised by the malevolent entity known as the Scourge!
"This is one of the most impressive connecting covers I've ever seen," Editor Mark Paniccia said. "Josemaria put his heart and soul into these along with many, many hours. I love this collection of droids! Every one of them is somebody's favorite!"
Check it out in all its terrifying glory below and be on the lookout for more STAR WARS: DARK DROIDS news in the weeks ahead! For more information, visit Marvel.com.