Comics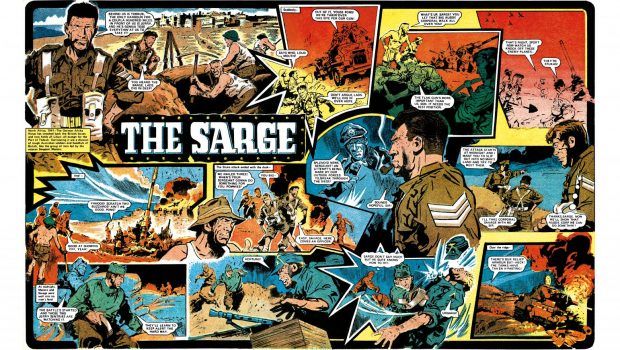 Published on May 16th, 2022 | by Tim Chuma
The Sarge Volume 1 (2022) Review
Summary: More old-fashioned than I am used to in the storytelling department, but still good in terms of art and interesting plotlines and well worth checking out if you are a fan of war stories.
Originally serialised in Battle magazine from 25th June 1977 – 18th March 1978, this is a reprint of the original stories of the character The Sarge who seems to have started out as just one of the collected stories in the magazine but then quickly became one of its most popular features.
Rebellion has been publishing quite a few of these alongside the 2000AD and Judge Dredd comics including Karl the Viking, The Jaume Rumeu Collection, The Tom Patterson Collection amongst others.
The stories are all about character of "Sarge" a WWI veteran and his unit that starts off in the WWII retreat from Dunkirk and then proceeds to Libya and Tobruk and then back to Europe. It does not really go into detail of the battles and the tactics involved are unconventional to say the least there always seems some insurmountable problem that the Sarge somehow works out that week.
It is different to Bill Mauldin's work with the American GIs as he was actually in the theatre of war when he was drawing them. This is many years removed but still drawn by a former veteran so they have had experience in battle.
The enemies are not really characterised as much other when they are doing really bad things and given the age of the work there are a lot of bad racial stereotypes. One of the Sarge's own men ends up becoming one of the antagonists at one point and there is an entire few stories dealing with that.
I enjoyed the part where his group is trying to cross the desert and the only way he can get his unit to stay together is to get them all to hate him, leading to "THE SARGE IS SCUM" being broadcast on a radio they find as they all get a go on it just so they can get a message out.
From what the artist's son says in the afterwards the character of "Loverboy" does seem to be based someone on him.
I would recommend this one if you like war stories or just want something you can get into and pick up and put down to read. It is getting hard to get the originals now or they are so old it is difficult to keep them in one piece.
Even if you are a fan of newer comics I would still have a look as it is worthwhile to see how the older comics were drawn and there is a lot of great artwork and pulpy, but fun storytelling in this.
Comic details
Writer: Gerry Finley-Day
Artists: Mike Western, Jim Watson
Introduction by Garth Ennis
Afterword "Memories of growing up with a comic-strip drawing dad" by Peter Western
Publisher: Rebellion
Release date: 12 May 2022
Format: Hardcover, 144 pages
ISBN: 9781786186331