Comics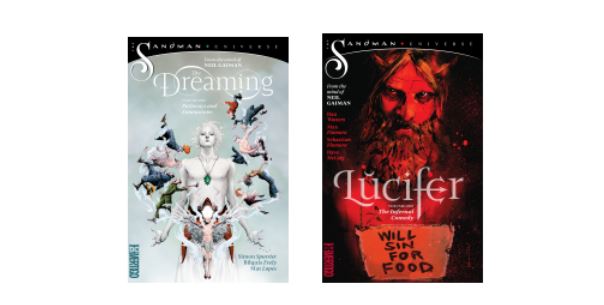 Published on May 26th, 2019 | by Admin
The Sandman Universe: The Dreaming Vol. 1 and Lucifer Vol. 1 available next month!
Next month, DC reunites with legendary author Neil Gaiman to introduce The Sandman Universe, a new line of graphic novels conjuring epic storytelling, and immersing the readers into the evolving world of the Dreaming. This expanded universe of books will introduce new, untapped corners of the Sandman world, including new characters, a new House, a Voodoo Goddess and so much more. It all begins in The Dreaming Vol. 1: Pathways and Emanations, available this June.
Twenty-three years after he was anointed as its master, the lord of Dreams has inexplicably abandoned his domain. Lord Daniel's absence triggers a series of crimes and calamities that consume the lives of those already tangled in his fate. Until he is found, his realm's residents must protect its broken borders alone.
But the most senior storytellers are tormented by invasive secrets, the warden Lucien is doubting his own mind, and beyond the gates, something horrific awaits with tooth and talon. Only Dora, the Monstress, finds opportunity in madness, stealing dreams for the highest bidder. But she has no idea how deep the danger lies.
Meanwhile, in Daniel's gallery, something new is growing…
This gorgeous new series from fan-favorite author Simon Spurrier (Motherlands, 2000AD) and artist Bilquis Evely (Batman, Wonder Woman) is available in bookstores everywhere June 11, 2019.

Then, the one true tale of what befell the Prince of Lies is told within the pages of Lucifer Vol. 1: The Infernal Comedy available late June.
The blind, destitute old man, who lives in a small boarding house in a quiet little town, where nothing is quite what it seems and no one can leave. He's trapped, you see? Trapped in a bizarre prison with no memory of how he got there or why. As the Devil soon discovers, the answers lay in wait with his estranged son, Caliban…too bad Lucifer can't find him. Meanwhile, in Los Angeles, Detective John Decker is drawn into a shadowy conspiracy whose widely varied members share a single common purpose: to kill Lucifer Morningstar.
This horrifying new tale from crime and mystery author Dan Watters (The Shadow, Deep Roots) and artists Max Fiumara and Sebastian Fiumara (The Amazing Spider-Man, All-Star Batman) is available in bookstores everywhere June 22, 2019. (no embargo)
Stay tuned for more from The Sandman Universe including:
Books of Magic Vol. 1: Moveable Type from author Kat Howard and artist Tom Fowler, following the life of a young Tim Hunter, a boy destined for greatness, as he learns the power of the magic he possesses.
Available in bookstores everywhere July 16, 2019.
House of Whispers Vol. 1: The Power Divided from author Nalo Hopkinson and artist Dominike "Domo" Stanton, the story of Erzulie, a figure from Voodoo mythology who will land right in the middle of the Dreaming realm.
Available in bookstores everywhere July 30, 2019.