Comics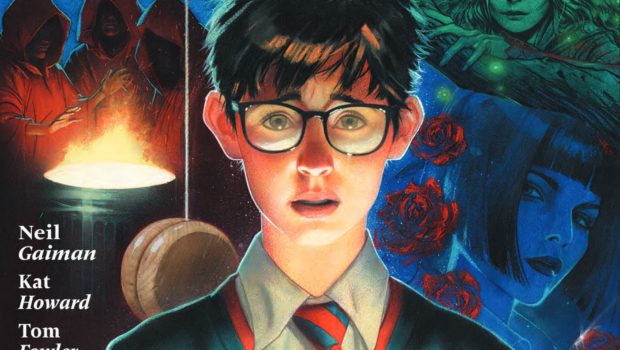 Published on July 3rd, 2019 | by Admin
The Sandman Universe: Books of Magic Vol. 1 and House of Whispers Vol. 1 available this month!
Last month, DC reunited with legendary author Neil Gaiman to introduce The Sandman Universe, a new line of graphic novels conjuring epic storytelling, and immersing the readers into the evolving world of the Dreaming. This expanded universe of books introduced new, untapped corners of the Sandman world, including new characters, a new House, a Voodoo Goddess and so much more. This month the story continues in Books of Magic Vol. 1: Moveable Type, available this July.
Sometimes magic is not the answer to all problems. In fact, sometimes it creates even more trouble. Destined to be the world's most powerful magician, Timothy Hunter faces supernatural forces that seem to have it in for him all the while dealing with teenage drama–distant parents, school bullies, and adolescent crushes. There are more than a few shadowy figures who will stop at nothing to eliminate what they see as a deadly threat to the balance of power – and those are the good guys.
In order to fulfill his destiny, Tim must survive. He must learn to harness his burgeoning powers, no easy task as he does not know who he can trust. Luckily, a new teacher named Ms. Rose is ready to take the young magician under her wing and educate him in the magical arts so that he can discover the secrets behind the Books of Magic…
This gorgeous new series from author Kat Howard (Roses and Rot, An Unkindness of Magicians) and artists Tom Fowler and Jordan Boyd is available in bookstores everywhere July 16, 2019.
Then, the dream river turns sour sending Erzulie Freda from one realm to the next, and ultimately into the Dreaming in the pages of House of Whispers Vol. 1: The Powers Divided available late July.
Something is amiss at the House of Dahomey, Erzulie Freda's houseboat where the souls of Voodoo followers go when they sleep. Erzulie scries upon the mortal realm from her bayou, discovering four human girls opening a mysterious and magical journal filled with whispers and rumors charged with the power to release Sopona, loa lord of infectious disease and cousin to Erzulie. Meanwhile, another threat infection doctors termed, "Cotard's Delusion" is looming as countless souls are trapped in the Dreaming, leaving their physical bodies yearning for death.
This mystifying new tale from author Nalo Hopkinson (Brown Girl in the Ring, Midnight Robber) and artist Dominike "Domo" Stanton is available in bookstores everywhere July 30, 2019.