Comics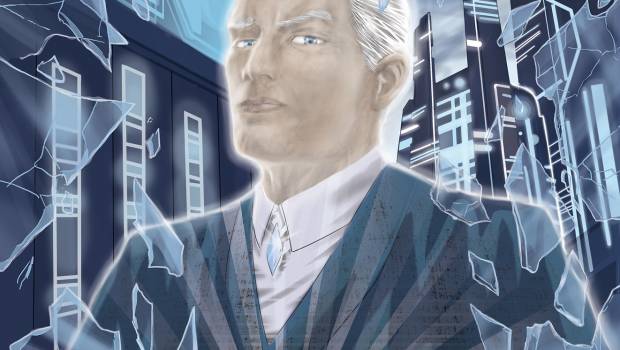 Published on August 13th, 2018 | by Dana Folkard
THE RESURRECTED #2 REVIEW
Summary: New developments and new characters.
Things are beginning to heat up in Nova Lucis as Cain and Akimi delve deeper into their murder investigation. With all signs pointing to Xander Calypse and his nanotech company, Drexler, Cain and Akimi decide that it's time to pay the man a visit, however, someone has already beat them to it.
The Resurrected #2 begins at the Kofi Annan Complex on Nova Lucis, where we see the mysterious masked woman talking to a new character named Pem. Their objective is clear, with both people fighting for the rights and freedom of Indigenous Australian's. We then see Cain, recovering in hospital after his encounter with the masked woman. Refusing any nanotech medical aid, Cain leaves with Akimi after some new leads point them in the direction of Drexler Nanotech HQ and Xander Calypse. They make their way to Drexler with the intention to question Xander, however, the masked assassin has already beat them to it, and they arrive to find her quite literally opening a can of whoop-ass on him. An intense fight ensures, but thanks to quick-thinking Cain, the assassin is stunned.  In their custody, they unmask her, revealing a shocking and unexpected truth. Just who is this woman, and what is her connection to Cain?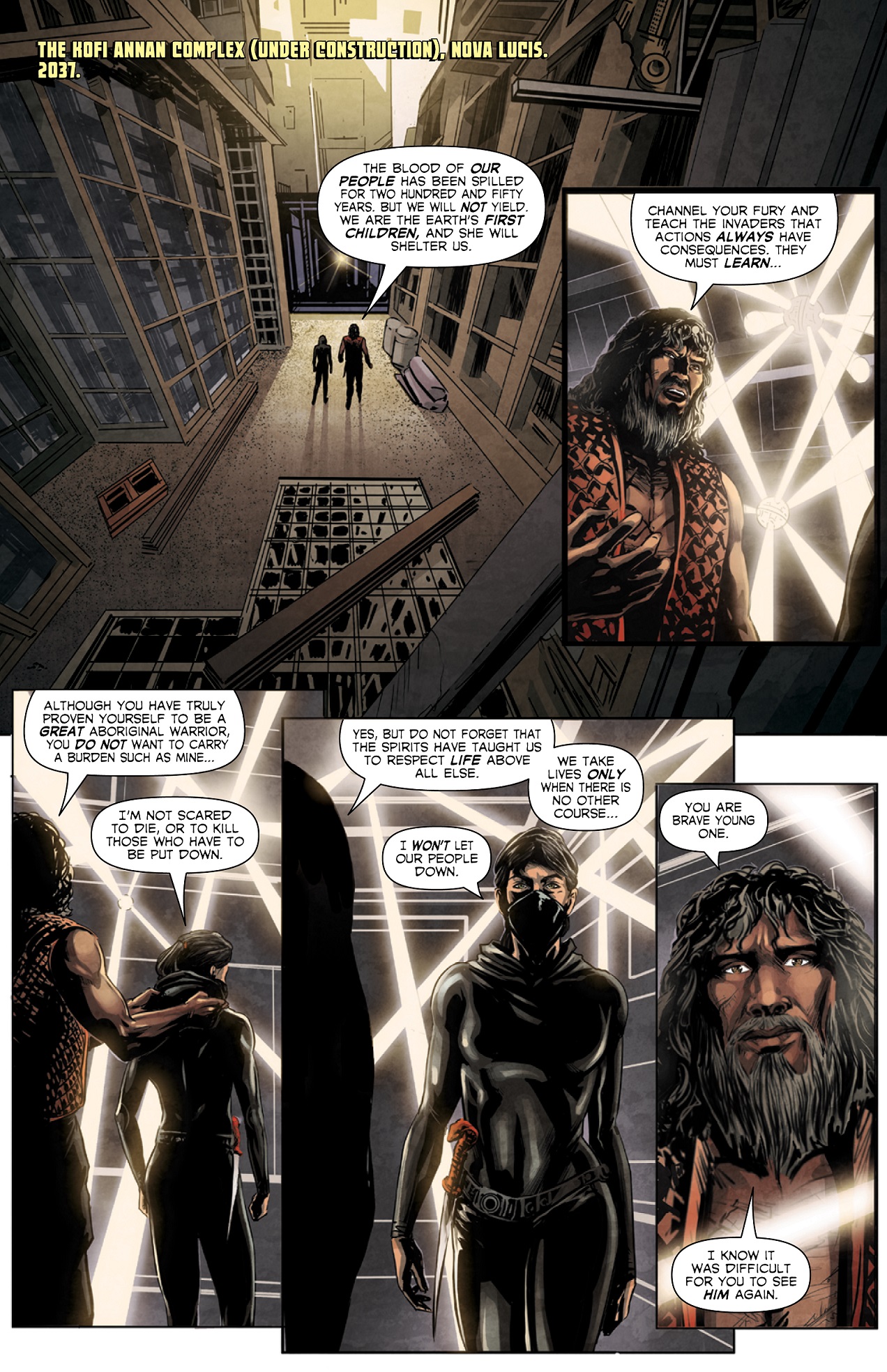 I'm going to try not reveal any spoilers with this one, so be patient with me as I tiptoe around the major plot developments in a delicate way. The story adds a whole new layer of complexity with the introduction of Pem and the reveal of the masked woman. Their arrival heralds an interesting shift in the narrative, as we now see Cain begin to question his beliefs. Cain, who has always viewed himself as a proud Australian Aboriginal, is now beginning to doubt this, as a shadow of doubt is cast over his beliefs. He appears to be going through some internal upheaval and radical character development, which makes for some compelling reading.
I also applaud Christian Carnouche for raising the question surrounding Australian indigenous cultural identity and the negative impacts that colonialisation has had on them as a people. In this issue, we see the survivors of the nanotech attack on Australia herded off to refugee camps in NZ, where the Aboriginals were separated and forcibly held so that medical experiments could be performed on them. Children would go missing, never to be seen again, just like another stolen generation. This is a story that makes you question the ethics of morality, identity and medical advancements in technology, and I like the clever layering and overlapping of these ideas and notions with the destruction of Aboriginal cultural identity at the heart of this story.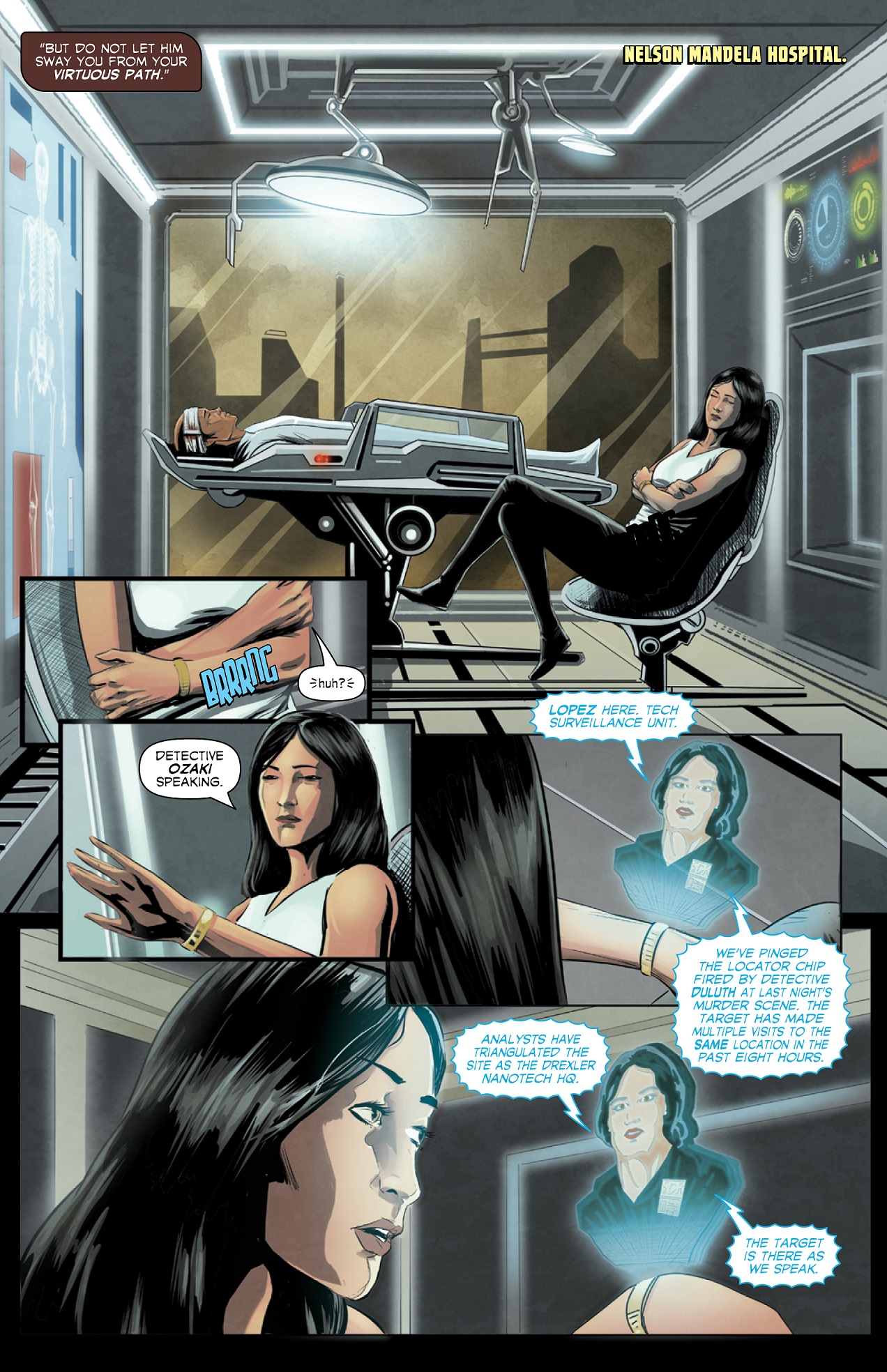 Finally, I want to mention Xander and how I find this character to be a little problematic. For me personally, he misses the mark and feels a little flat and in need of being fleshed-out more. Sometimes it feels like he has been plonked into the narrative, lacking emotional depth with his narrow perspective and predictable reactions to situations. I'm not saying that I don't like this character, I just wish we could see some kind of complexity to his character or internal conflict. It's still early days yet, so I have high hopes that we will see him fleshed-out some more, hopefully making him less one-dimensional.
The art by Crizam Zamora is dramatic and impactful. I particularly like it when Zamora draws back to reveal large and expansive landscapes. The city of Nova Lucis is a neon-drenched utopia, with interesting industrial and architectural designs, highly advanced tech, an abundance of flashy gadgets. I also like the visual diversity that the collage pages bring, helping to heighten the feeling of a faster-pace. The action sequences are tight and sharp, however, I did find that some of the movements appeared a little stiff at times. One thing that I did find distracting was the unusual sense of light that reflects off the fabric of some of the clothes the characters were wearing. I'm unsure whether they are wearing a shiny textured fabric or something velvety. The colouring by Salvatore Aiala is moody and atmospheric, helping to foster the dark and ominous tonal shift in the narrative. The colouring also helps to create the lovely neon-like glow that we see emanating from the tech and bouncing off characters and objects.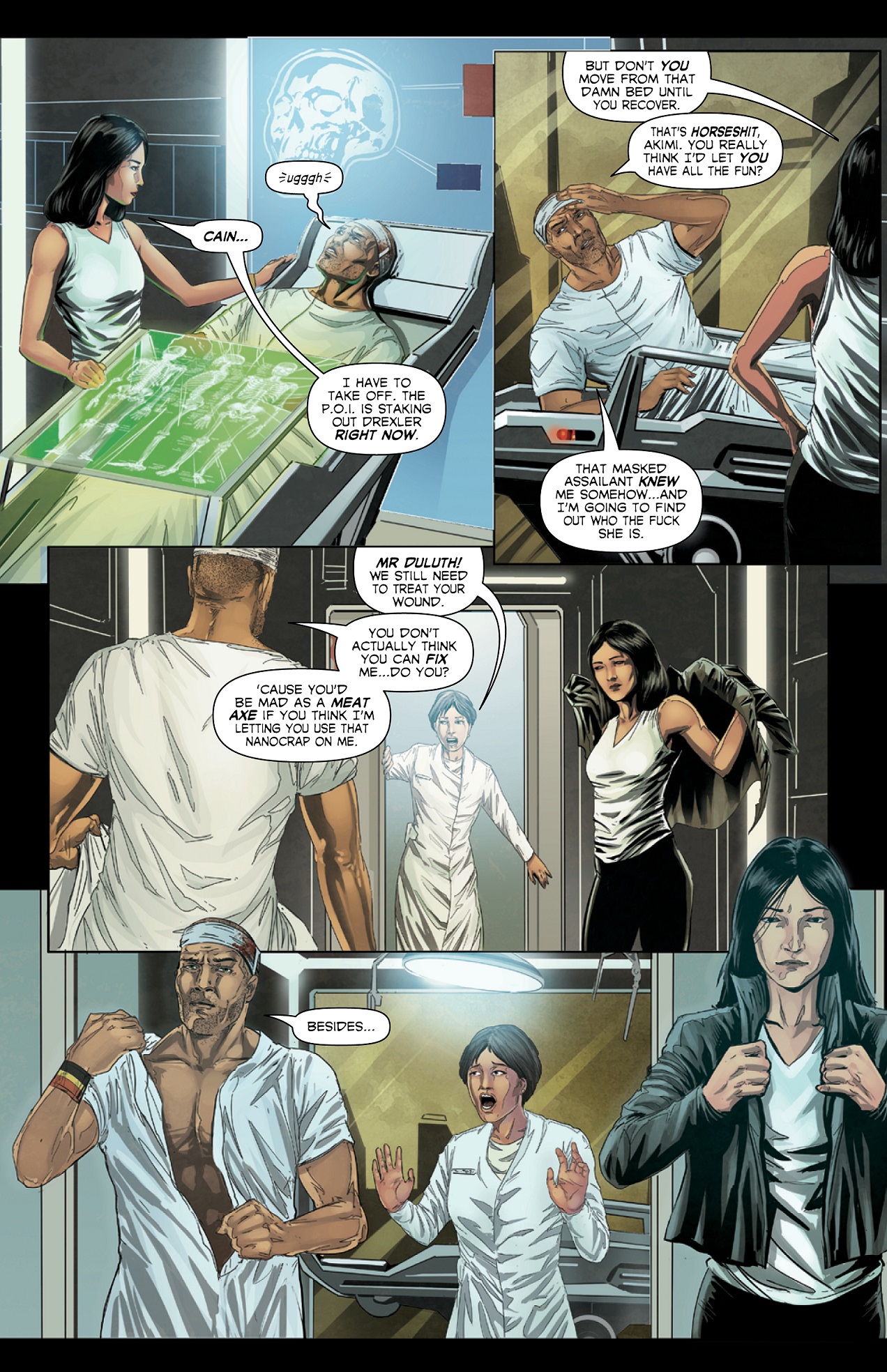 Overall, I enjoyed this issue of The Resurrected, as it delved deeper into some compelling ideas, which has added more depth to the narrative. A whole new and intriguing layer has been opened up, resulting in some interesting character development with Cain. I'm looking forward to seeing how this will impact Cain in the future and what choices he will make as a result of these new revelations.
I'm giving this issue 3.7 out of 5 stars!
---
DETAILS
CREATIVE TEAM: Christian Carnouche, Crizam Zamora, Salvatore Aiala and Cardinal Rae
PUBLISHER: Carnouche Productions
REVIEWER: Dana Folkard