Games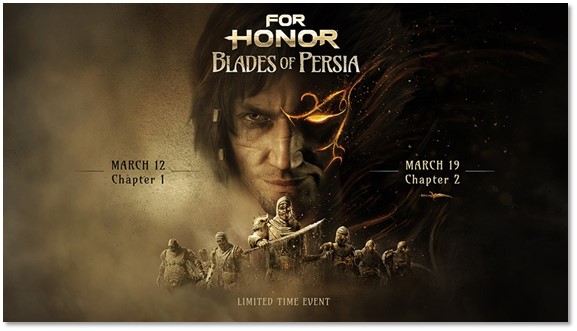 Published on March 14th, 2020 | by Andrew Bistak
The Prince Of Persia Invades For Honor
Ubisoft has announced Blades of Persia, a For Honor® cross-brand in-game event themed around Prince of Persia, playable today through April 2. Blades of Persia will transform For Honor for three weeks, bringing a limited-time game mode, a new quest for the Arcade mode as well as new Prince of Persia–inspired items for players to collect, including a free event pass available to all players.
Following a sandstorm that has descended on the lands of Heathmoor, the Prince of Persia arrives to stake his claim to the throne in For Honor. He brings an army of sand creatures in his wake for a special limited-time game mode, Ruler of Time, which tasks heroes to fight and defeat him and his sand creature minions in a variation of the Harbor Dominion map. During the match, the Prince will periodically emerge from a sand tornado and seek to destroy any heroes in his way with the legendary Dagger of Time.
In addition to the special mode, For Honor will receive Prince of Persia–themed changes including revamped in-game menus with new visuals and music from the Prince of Persia universe. The event also introduces a variety of themed customization items. As part of the free event pass, players will have access to 30 tiers of Prince of Persia–inspired gear and loot. Within the free tiers, players can obtain a new Battle Outfit, Sand Mood Effect, Emblem Outline and 26 new Ornaments, as well as Salvage, Steel and Crates along the way. Players will also be able to acquire these in-game items while the event is active:
26 new weapons are lootable on the battlefield.
Two illustrious outfits, Ratash and Sandwraith, are available via the in-game store for 20,000 Steel.
The Prince's own execution is available for purchase via the in-game store for 10,000 Steel.
As the sands of time pass in the event, the Prince will embrace his evil roots, eventually transforming into the Dark Prince and signaling a new game mode on March 19. Details about the second week's game mode will be unveiled on March 19.
Launched in February, 2017, For Honor recently entered its fourth year of post-launch support, titled Year of the Reckoning, with Year 4 Season 1: Hope. With more than 20 million players, For Honor is available on PlayStation®4 entertainment system, the Xbox One family of devices including the Xbox One X and Windows PC. For Honor is also available on UPLAY+,* the Ubisoft subscription service.
For more information about For Honor, please visit forhonorgame.com and follow us on Facebook at facebook.com/forhonorgame and on Twitter at twitter.com/forhonorgame. For the latest about For Honor and other Ubisoft games, please visit news.ubisoft.com.