Events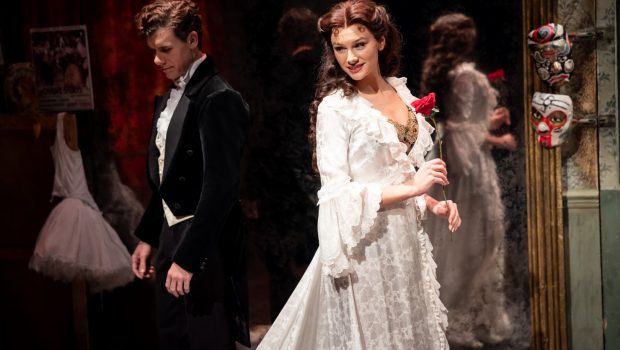 Published on January 17th, 2023 | by Adrian Gunning
THE PHANTOM OF THE OPERA Breaks records at Arts Centre Melbourne
Cameron Mackintosh's spectacular new production of Andrew Lloyd Webber's The Phantom of the Opera, currently wowing audiences and critics alike at Arts Centre Melbourne, has now become the highest selling show of all time to be staged at the iconic venue.
After its record breaking season at the Sydney Opera House last year and an extended season in Melbourne, this production has audiences flocking to experience one of the most successful and much loved musicals of all time. The season has been a critical contributor to the ongoing challenge of sector recovery from COVID-19 impacts.
One of Arts Centre Melbourne's (ACM) premiere Resident Companies, Opera Australia (OA) has, for the first time, partnered with the world's leading musical theatre producer, Cameron Mackintosh to present this new production of Andrew Lloyd Webber's The Phantom of the Opera, which has clearly resonated with audiences from around Australia.
Opera Australia CEO Fiona Allan congratulated everyone at OA and ACM on reaching such a significant milestone.
"Truly a remarkable achievement by all involved with this spectacular production. It certainly has proven to be a very successful partnership with Cameron Mackintosh and Andrew Lloyd Webber's Really Useful Group, and we look forward to many more collaborations in the future," said Ms Allan.
"I'd also like to acknowledge the long standing relationship between OA and ACM , where together we have once again made a significant contribution to Melbourne's vibrant arts and cultural calendar," said Ms Allan.
Arts Centre Melbourne Chief Executive Officer Karen Quinlan said, "It has been wonderful working closely with Opera Australia to ensure that such an iconic show was able to be presented in Melbourne for Victorians to enjoy. The live performance sector continues on a road to recovery and seeing large numbers of people back in the theatres for the season is wonderful.''
Exclusive Ticket Give-away!
To celebrate The Phantom of the Opera becoming the highest selling show of all time at Arts Centre Melbourne – and to thank Melbourne Phans for helping us achieve this milestone – the Phantom is hiding 50 notes across the Melbourne CBD, inviting audiences to the musical based upon his legend.
There are 100 tickets to win: every note will feature a unique code, allowing its finder to book two tickets to a performance on Tuesday 24 January. Clues as to the notes' locations will be revealed on the morning of Friday 20 January on Opera Australia's social media accounts.
The season must close on 18 February 2023 with no further extension possible.
State Theatre, Arts Centre Melbourne until 18 February 2023 
Ticket bookings PHANTOMOFTHEOPERA.COM.AU