Games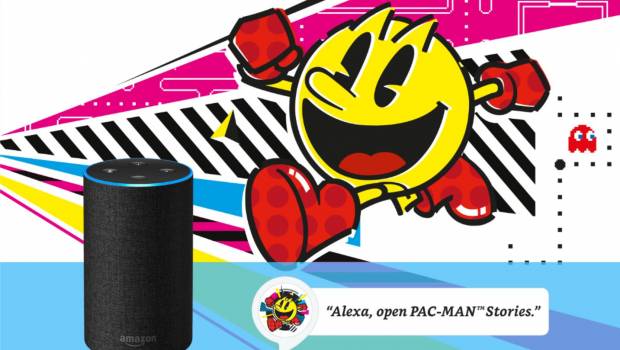 Published on July 10th, 2018 | by Admin
THE PAC-MAN™ STORIES SKILL FOR AMAZON ALEXA ARRIVES IN AUSTRALIA AND NEW ZEALAND NOW
After a successful launch in America and Europe, BANDAI NAMCO Entertainment Europe is proud to announce that the new PAC-MAN™ STORIES skill is today available in Australia and New Zealand.
This project is designed to provide a fun, engaging, interactive and educational experience via Amazon's Alexa voice service on all Alexa-enabled devices.
PAC-MAN™ STORIES is the very first announced project of the new BANDAI NAMCO Entertainment Europe Innovation Department, which aims to find and develop new areas and heights in entertainment. "Voice-controlled services are an exciting technology with this great vision of being in everyone's home and used by any family member. It just seemed natural to us to use our iconic character PAC-MAN™ to create fun interactive stories for all ages together with our company vision to provide dreams, fun and inspiration to people around the world"
– Naoki Katashima, President and COO, BANDAI NAMCO Entertainment Europe.
PAC-MAN™ STORIES is available on all Alexa-enabled devices, including Amazon Echo and Echo Dot, and features several fully interactive stories for the whole family. These stories can be enjoyed by anyone of any age and allows them to engage with PAC-MAN™ and make moral decisions that affect the ending.
The first story to launch with the skill for Amazon Alexa is PAC-MAN™ and the Ghastly Garbage, which delivers a fun engaging adventure allowing users to help save PAC-MAN™ planet from Garbage and a threat that affects everyone you meet! Along the way, you will make decisions, choose paths and win Power Pellets based on the decisions you make.
The skill features PAC-MAN™ and a range of new characters as well as well-known favorites, including Inky, Blinky, Pinky and Clyde.
"PAC-MAN™ is an iconic character and storytelling and interactive adventures allow us to work with some unique talents, writers, developers and actors to provide an innovative experience. We are incredibly excited to collaborate with Amazon Alexa and work together on this first skill and we look forward to creating many unique stories in the future."
– Lee Kirton, PAC-MAN™ Officer for Europe, BANDAI NAMCO Entertainment
PAC-MAN™ STORIES & PAC-MAN™ and the Ghastly Garbage is available in English only on all Alexa-enabled devices in the USA, UK, Ireland, Australia and New Zealand with additional stories added throughout the year.6