Comics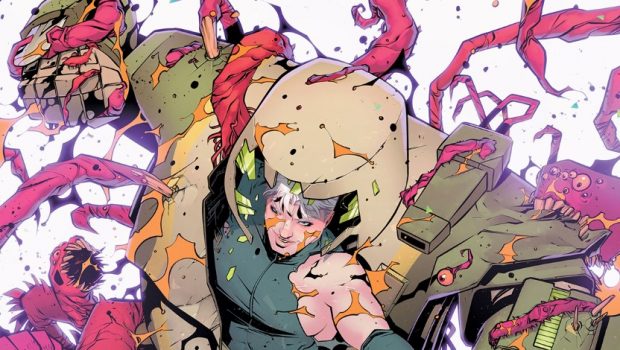 Published on December 17th, 2022 | by Andrew Bistak
THE OLD GUARD'S GREG RUCKA TEAMS WITH ERIC TRAUTMANN & NAILBITER ARTIST MIKE HENDERSON TO LAUNCH NEW SERIES FORGED IN MARCH 2023
Multiple Eisner, Harvey, and GLAAD Award winning writer Greg Rucka (The Old Guard, Stumptown) teams with writer Eric Trautmann (The Old Guard: Tales Through Time) and bestselling artist Mike Henderson (Nailbiter) to embark on an over-the-top pulp adventure in the upcoming series, Forged. Filled to the brim with violence and Conan-inspired science fiction, this new story will kick off in March 2023 from Image Comics.
"Eric Trautmann and I have been chasing this story for years now, driven by the desire to tell an over-the-top story space opera/pulp mash-up," said Rucka in an exclusive on the announcement at Popverse. "We had it all in our heads, but it wasn't until Mike came aboard and added his secret sauce that we could pin it down and make it finally happen. His storytelling is glorious, and with Nolan's inspired colors and Ariana's deft touch with the lettering, we finally have a package we're excited to share. This is meant to be fun, front to back, that's been our goal since we started."
Trautmann added: "We started batting ideas around for Forged what feels like a thousand years ago, so it's extremely gratifying to see it now. Mike's special alchemy has led to what we think is a hell of a fun project, full of pedal-to-the-floor action, exotic locations, and extremely explodey violence…fun for the whole family."
Set in the 11th Millennium of the rule of the Eternal Empress, Forged follows a squad of planet-smashing super soldiers who find their routine mission to be anything but. These are the Forged. They take no prisoners.
"There are some ideas you put everything else on hold for and when I heard what Greg and Eric had had brewing for so long in Forged, I knew it was one of them," said Henderson. "When I knew Nolan and Ariana had also come aboard to help make it what it's become, I knew it for sure. It's been so much fun to build this universe in the orbit of their idea that I hope I pass that fun on to everyone who reads it. If nothing else, I hope they hear heavy metal riffs shredding over every page."
Forged #1 (Diamond Code JAN230047) will be available at comic book shops on Wednesday, March 15.