Comics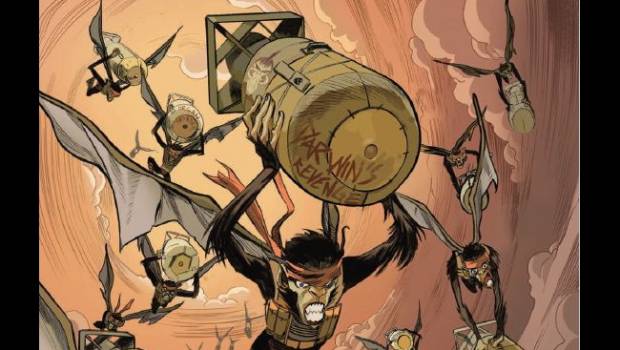 Published on December 9th, 2020 | by Tim Chuma
The O.Z. #1 (2020) Review
Summary: A dark take on the Wizard of Oz along an alternate timeline via way of the occupation of Iraq. This is not for kids.
Based on Frank L. Baum's story and even more famous movie from the 1930s, this adaptation goes down the darker route and tells what happens after the Wicked Witch of the West has been defeated and what happened in the power vacuum left from her removal.
Dorothy is in the story, but is more of a minor character as the lead is her granddaughter. The plot of the removal of a tyrant creating a greater problem also fits in with the lead character having served in Iraq and ISIS being created due to the invasion of that country.
This was originally a Kickstarter project and is still being offered via the site for sale.
I was in two minds about the tone of this when I originally read it as it was being too edgy for its own good in some scenes and this adaptation is definitely not for kids. Considering it up against other adaptations of the story such as The Wiz (1978), Return to Oz (1985)  (well known for being "dark"), Wicked (2003) and Oz Great and Powerful (2013) it does bring something new to the story which is difficult as it has been adapted so many times. The original movie only covers the events of the first book and there was an animated TV series that went on for longer I remember.
The character designs are still recognisable as the originals from the story but with a darker edge. The flying monkeys with bombs look cool but are not really the best delivery system for that ordinance.
This is only meant to be a three part story and is a bit longer than a usual comic story. I don't know how they are going to fit all of the plot into three parts but it would be interesting to see how.
I would recommend this if you have seen the Wizard of Oz before and would be up for a different take on the story. If you are expecting the normal happy story maybe this is not for you.
Comic Details:
Writer: David Pepose
Art: Ruben Rojas
Cover Artists: Rio Burton, Kenneth Wagnon, Maan House, Anna Wieszcyk
Colourist: Whitney Cogar
Lettering: DC Hopkins