Films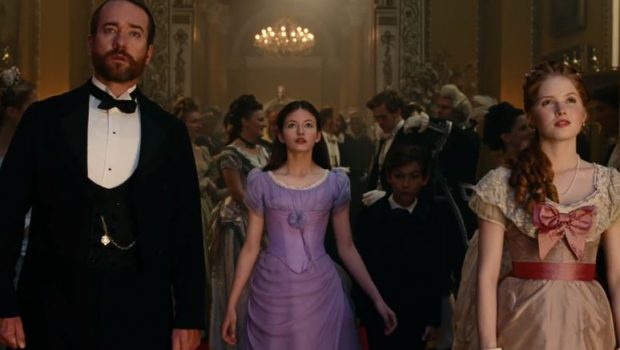 Published on November 22nd, 2018 | by Harris Dang
The Nutcracker and the Four Realms – Film Review
Reviewed by Harris Dang on the 21st of November 2018
Disney presents a film by Lasse Hallstrom and Joe Johnston
Produced by Mark Gordon and Larry Franco
Written by Ashleigh Powell suggested by the short story 'The Nutcracker and the Mouse King' by E.T.A. Hoffmann; and the Nutcracker Ballet by Marius Petipa
Starring Keira Knightley, Mackenzie Foy, Helen Mirren, Morgan Freeman, Eugenio Derbez, Richard E. Grant, Jayden Fowora-Knight, Matthew Macfadyen, Ellie Bamber, Thomas Sweet, Omid Djalili, Jack Whitehall, Misty Copeland, Sergei Polunin, Anna Madeley
Edited by Stuart Levy
Running Time: 99 minutes
Rating: PG
Release Date: 22nd of November 2018
Another year, another live-action Disney film adaptation. Every year, we have had live‑action film adaptations of beloved Walt Disney animated films. They have each received varying critical reception from critics and audiences alike. While they all have their fans who credit them for their loyalty to the source material, others have criticised the films for the very same trait, to the point where some argue that Disney is basically printing money for redoing beloved films.
However, some filmmakers have expanded beyond the confines of Disney's source material. Jon Favreau's The Jungle Book (2016), Robert Stromberg's Maleficent (2014), David Lowery's Pete's Dragon (2016) and Ava DuVernay's A Wrinkle in Time (2018) are good examples of such reinterpreted stories. Following this trend is The Nutcracker and the Four Realms, which is co-directed by Lasse Hallstrom (Dear John; A Dog's Purpose) and Joe Johnston (Captain America: The First Avenger, 2011). With a fresh spin on the source material, a talented cast and respected directors at the helm, will it have a beloved fanbase of both critics and audiences? Let us dance…
The film follows Clara (Interstellar's Mackenzie Foy), a young girl mourning the death of her mother. On Christmas Eve, Mr. Stahlbaum (Anna Karenina's Matthew Macfadyen) gives his children Christmas presents to fulfil his wife Marie's dying wish. Clara receives an egg-shaped box but without a key to open it. While drowning in sorrow over her mother and angry over her father's lack of emotional support, she grows distant from her family and travels off into the night.
She then finds a golden thread, which leads her to the coveted key, but it soon disappears into a strange and mysterious parallel world. In this world, she meets a soldier named Phillip (Jayden Fowora-Knight), a group of mice and the regents who preside over three realms. Clara and Phillip must now enter a fourth realm to obtain the key and restore peace and harmony to the land.
There have been behind-the-scenes stories about The Nutcracker and the Four Realms, saying that co-director Joe Johnston was hired to replace Lasse Hallstrom due to scheduling conflicts, and that for an entire month he orchestrated substantial reshoots. When coupled with script rewrites from the uncredited Tom McCarthy, all signs point to an incoherent film, and, unfortunately, this is exactly the result.
The film captures the look and feel of its inspirations, mainly fairy tales and ballet. Meanwhile, the lustrous cinematography by Linus Sandgren, the twinkly and majestic score by James Newton Howard and the top-notch special effects lend visual and aural pleasures to those departments. One astoundingly beautiful scene that captures these formal traits involves a dance number by talented ballet dancer Misty Copeland that provides succinct world-building for the four realms.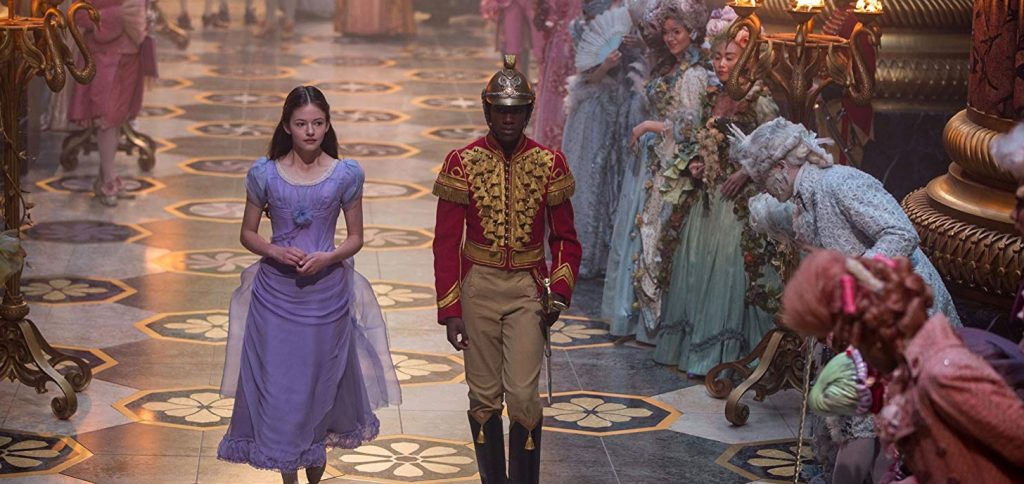 But like eating huge amounts of candy, the sugar crash kicks in, and the film sinks into vanilla monotony due to some incredibly rushed storytelling and haphazard editing by Stuart Levy. You know your film has problems when your main character does not explore the four realms in the title; only brief glimpses of those realms are in the dance number. For a film called The Nutcracker and the Four Realms, you would think that there would be more than one dance number in it, but unfortunately, you would be wrong.
The building blocks and themes of the story provide a solid foundation to explore grief, self-esteem and filial love. It is a shame that the film treats these ideas as a perfunctory checklist to be marked off. The storytelling's superficiality is particularly apparent during the climax where Clara is at her lowest ebb but receives inspiration from an unexpected source; the moment is rendered uninspired. The story also leaves questions unanswered, such as what happened to the soldiers (or nutcrackers) after they fell into the traps?
The vanilla monotony also filters into the performances of the cast. The actors range from unsurprising (Eugenio Derbez, Matthew Macfadyen, the pairing of Omid Djalili and Jack Whitehall), underutilised (Morgan Freeman, Helen Mirren) and bored/wooden (Richard E. Grant, Jayden Fowora-Knight). However, Mackenzie Foy does quite well in her second leading role, as she portrays the frustrations, anger, determination and autonomy of Clara very well, even if the script lets her down.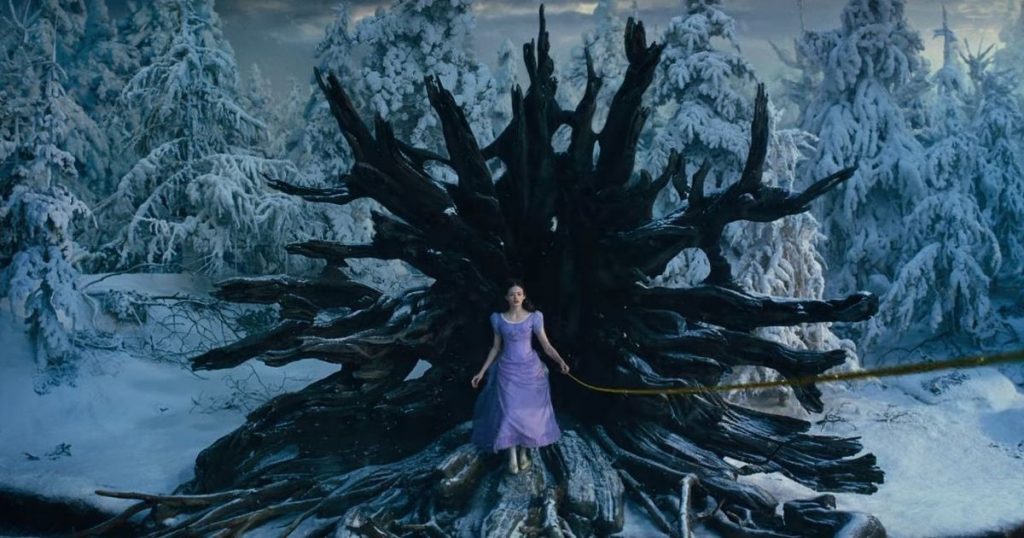 Keira Knightley's performance is the major redeeming factor that transcends the film's shortcomings. It is worth the price of admission due to how energetically bonkers it is. In interviews, Knightley said she adopted this role because she had just finished projects that required emotionally draining performances, including her theatre work in Therese Raquin. She wanted to play the part of the Sugar Plum Fairy, where she could be silly and reach new levels of a 'pantomime dame'. And boy, does she sink her teeth into the role like a hyperactive kid does with fairy floss.
She is the only person in the cast who embraces the story's childlike wonder. When the film reaches its third act, her high-pitched, vamp and extremely dedicated performance achieves levels of true sugary (and even inappropriately sensual) delight that elevate it towards cult status. It is a shame that the rest of the film does not match the gonzo craziness of Knightley's performance, despite moments of true potential, such as Helen Mirren "cracking that whip" to attack her enemies.
Overall, The Nutcracker and the Four Realms is a visual confectionery orgy that soon dissolves. Its sugar crash is attributable to its malnourished story, the vanilla performances and its uninspired storytelling. Regardless, the film is still worth watching for Mackenzie Foy's grounded performance, the eye candy of the wondrous settings and the presence of an extremely committed (in every sense of the word) and infectiously enjoyable Keira Knightley.
Choose your poison.
Summary: The Nutcracker and the Four Realms is a visual confectionery orgy that soon dissolves. However, it is still worth watching for Mackenzie Foy's grounded performance, and an extremely committed Keira Knightley.