Films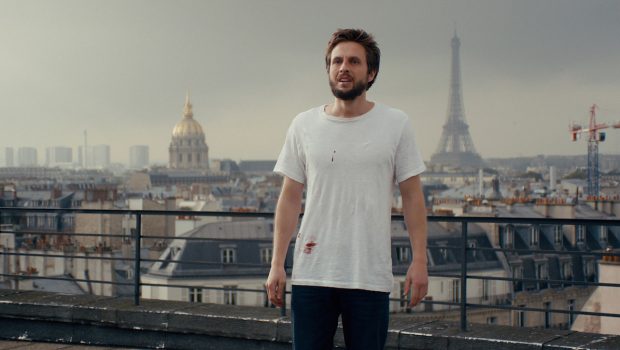 Published on May 7th, 2019 | by Curtis Mayfield
The Night Eats the World – Film Review
Reviewed by Curtis Mayfield M-H on the 4th of May 2019
FilmInk presents a film by Dominique Rocher
Written by Pit Agarmen (novel), Jérémie Guez, Guillaume Lemans and Dominique Rocher
Produced by Carole Scotta
Starring: Anders Danielsen Lie, Golshifteh Farahani and Denis Lavant
Music by David Gubitsch
Cinematography: Jordane Chouzenoux
Edited by Isabelle Manquillet
Running Time: 94 minutes
Rating: CTC
Release Date: the 9th of May 2019
The Night Eats the World is a unique project with enough ripe flesh on its bones for ravenous zombie movie fans to devour. The film not only suggests that the zombie genre can still reach new and interesting heights, but it also asks the question, is it worth surviving the undead apocalypse? Protagonist Sam (Norwegian actor Anders Danielsen Lie) asks himself this as he wakes up in a Parisian apartment building after a party to find that a deadly virus has left him as the only survivor in the City of Love.
There's nobody around, the flat is trashed and there's bucket loads of blood on the walls. It could be the scene of a Gold Coast hotel room after schoolies week but something more sinister is at play. Slack jawed zombies stalk the streets outside the second story apartment Sam where is trapped.
After using his cunning (and apparent knowledge of zombie movies) Sam makes the smallish apartment building his own fortress. It is safe from the monsters but now open to his own insanity and seclusion. Director Dominique Rocher sets his creepy one (living) man show in motion with a pretty fast roll out of the world's end. While most movies about zombies take their time setting up character and foreshadowing the eventual uprising of the dead, this movie wastes not even a nanosecond as Paris is transformed into a ghost town overnight.
There are a couple of unrealistic plot holes like this but if you are willing to go along for the ride then this is a creature feature for you. Rocher and the writing team subscribe to the 'show don't tell' aspect of character and story as we quickly learn Sam is a survivor who hasn't lost his soul. He is kind and respectful to the ones who have passed on (and come back), possibly an attempt to keep his humanity intact when, and if, this nightmare ever ends for him.
Much like a less action packed and slower version of I Am Legend (2007), The Night Eats the World does not just focus on the creatures that threaten Sam's life but also the risk of insanity from complete isolation. But Sam is not exactly alone either as he traps a zombie named Alfred (French veteran actor Denis Lavant) in a cage-door lift inside the apartment building. 'Dead is the new norm,' Sam explains to Alfred through puffs of cigar smoke, 'I'm the one that's not normal.'
Hats off to whoever's idea it was to have the zombies not make a sound when they open their gross undead mouths. They move and act like 'regular' movie zombies but the growls and snarls have been left behind to be replaced with, well nothing, which is way creepier. As Sam marks off the countless days of his remoteness, the claustrophobia begins to sink in for the viewer too.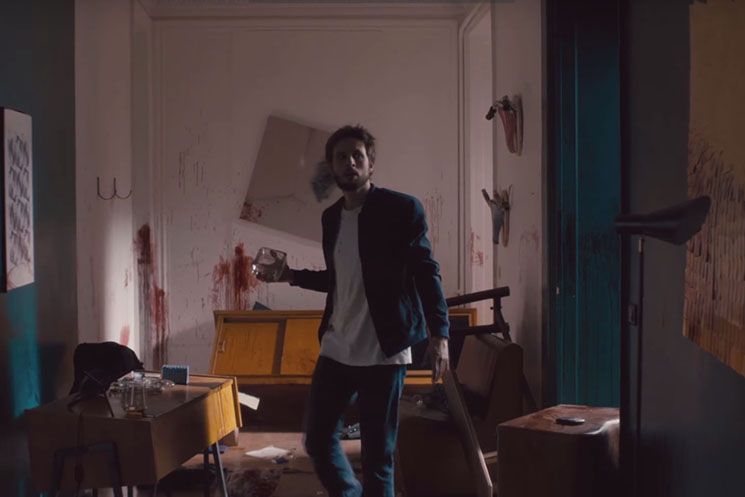 This is why we can't blame him for doing risky things like playing drums or shooting zombies from a balcony with a paintball gun. Much like the brilliant Cargo (2017), the movie's goal isn't to tell a story about the ones that have died and returned but instead it is focused on the living.
The Night Eats the World not only has one of the dopest movie titles this year but also showcases a realistic zombie movie (if there is such a thing) as Sam stays put and does not venture outside in order to survive or move the plot along.
Lie is an actor capable of keeping the audience's attention as he broods his way through this almost solo performance. Light spoilers but another survivor in the form of mysterious woman called Sarah (played by Paterson's Golshifteh Farahani) appears who might just pull Sam out of his deserted island setting (a la Passengers, 2016).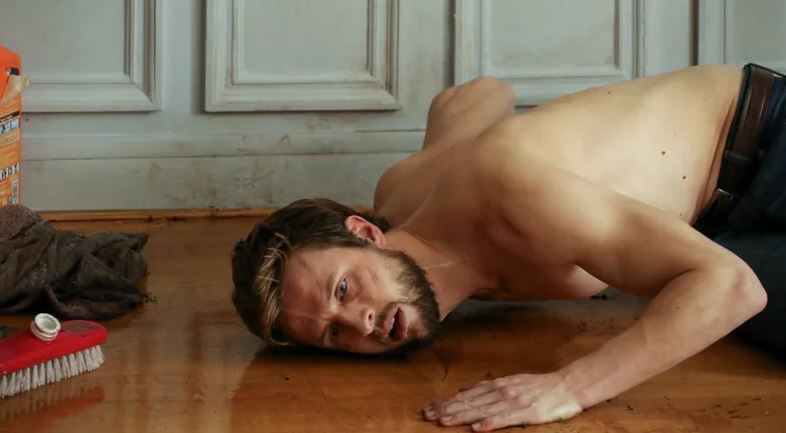 Lie is given a relatively blank slate of a character as we don't know his life before the zombie takeover but it's safe to assume that he was a musician as we see him make music out of empty wine bottles and children's toys. Fans of the fast-paced films (and literal fast-paced zombies) such as Zombieland (2009) and World War Z (2013) or might find this undead pathos movie a little too mopey to sit through.
Though the running time is a nice 90-minutes it might not be everybody's cup of tea to sit through a movie where the one person who survives a world run by flesh‑eating creatures is seen jogging inside or collecting rain water. There are a few zombie heads blown off for good measure, but this film shows the mundane in order to put the main character, and the audience, onto a path of insanity.
Summary: The Night Eats the World is a unique project with enough ripe flesh on its bones for ravenous zombie movie fans to devour.