Films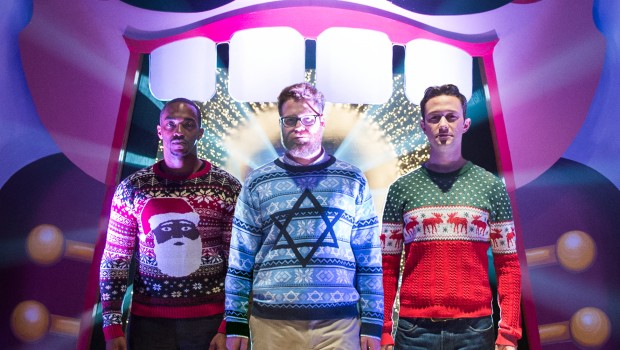 Published on December 12th, 2015 | by Debbie Zhou
The Night Before – Film Review
Reviewed by Debbie Zhou on the 12th of December 2015
Sony Pictures presents a film by Jonathan Levine
Produced by Evan Goldberg, Seth Rogen and James Weaver
Screenplay by Evan Goldberg, Kyle Hunter, Jonathan Levine and Ariel Shaffir
Starring Seth Rogen, Joseph Gordon-Levitt, Anthony Mackie, Jullian Bell, Lizzy Caplan and Michael Shannon
Music by Marco Beltrami and Gabe Hilfer
Cinematography Brandon Trost
Edited by Zene Baker
Running Time: 101 minutes
Rating: MA15+
Release Date: the 3rd of December 2015
It's a very Merry Christmas with the three buddies Ethan (Joseph Gordon-Levitt), Isaac (Seth Rogen) and Chris (Anthony Mackie)—a tradition built when a younger Ethan's parents pass away, and his best friends promise to spend Christmas Eve with him…and cue the outrageously fun rituals. But it's time to grow up, with Isaac's pre-emptive father plans and Chris' ever-growing fame, and The Night Before marks an end to their annual tradition. But they don't try to go out without a bang.
An already mark of loud entertainment when the beginning words of the film start with rhyming couplets, Ethan finds (or steals) three shiny, red invitations to a secret party. And it's here where the night of crazy shenanigans begins. Wrapping itself with references to movie tropes, such as its overt allusion to classic Christmas tales like A Christmas Carol – in which Michael Shannon appears in a drug-deal version of Ghosts of Christmas Past/Present/Future – it never avidly mocks the traditions but instead embraces its ridiculousness, alongside Rogen's trademark crass humour.
There are some incredibly hilarious moments in this film – stemming from its drug-crazed atmosphere, and amazing comedic timing by Gordon-Levitt, Rogen and Mackie. And yet, while it borderlines on being so hysterical at times, with Rogen's contrastingly Jewish star sweater, that it ensures belly laughs, Levine concurrently endeavours to maintain the heart to the story through the anxieties of adult and celebrity life through Isaac and Chris. It is here that the core of the story becomes centred towards the friendship of the trio, and this is both a touching and juxtaposing element to the insane and entertaining ride the film attempts to assemble.
However, while the constant cameos (a notable one by Miley Cyrus as she sings 'Wrecking Ball' is one of my favourite scenes) assists in the absurdity of the comedy, this along with the enlightening lessons the protagonists receive feels contrived and a little forced. It draws back from the sharpness of the humorous sequences, lingering too long on the illuminations of each of the protagonists, and the constant worrying that each of their problems entail. By recycling The Christmas Carol story structure, its main plot construction becomes easily foreseeable, causing it to feel like slots in like a neat bow on a Christmas gift box.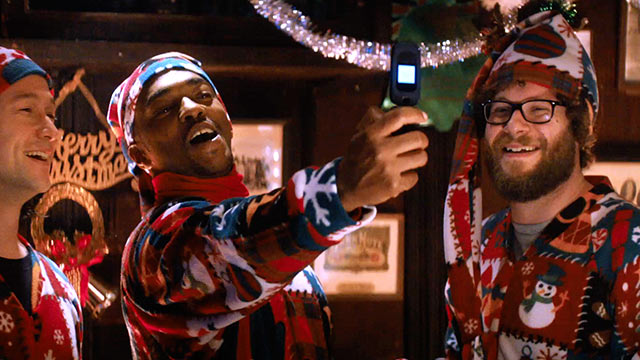 But The Night Before is a cracking and joyfully good time at the cinema, especially in a climate where most of films currently on release are drama-filled and take themselves quite seriously. While it does not reach the side-stitching humour of Rogen and Goldberg's This is The End, it pulls off the Christmas cheer well and emotive sentiment appropriate for the season.
Summary: The Night Before is a cracking and joyfully good time at the cinema.