Hardware
Published on December 10th, 2018 | by James Wright
The New Telstra Essentials Tab Plus Review (Dec 2018)
Summary: The New Telstra Essentials Tab Plus is good value for an entry level tablet on Australa's biggest mobile network.
Like Tony Stark (aka Iron Man) and anecdotally, this billionaire keeps updating his tech and in the most recent Avengers Infinity War (2018) film, he is wearing his fiftieth Iron Man suit or as it's known among fans, the Mark L Armour. So although the villain Thanos managed to defeat The Avengers and all their allies, I'm sure we haven't seen the last of Iron Man and his high-tech suits.
So while I digress a little (and there's a point to my babble), companies are always updating their technology and more importantly trying to offer their customers a better deal then their competitors. This is where the new Telstra Essentials Tab Plus comes into play (the "Mark II) which is a very affordably priced tablet that also supports a SIM card so you can take this device anywhere in Australia thanks to its largest mobile network and it's 4GX compatible for high speed data access or clear phone calls.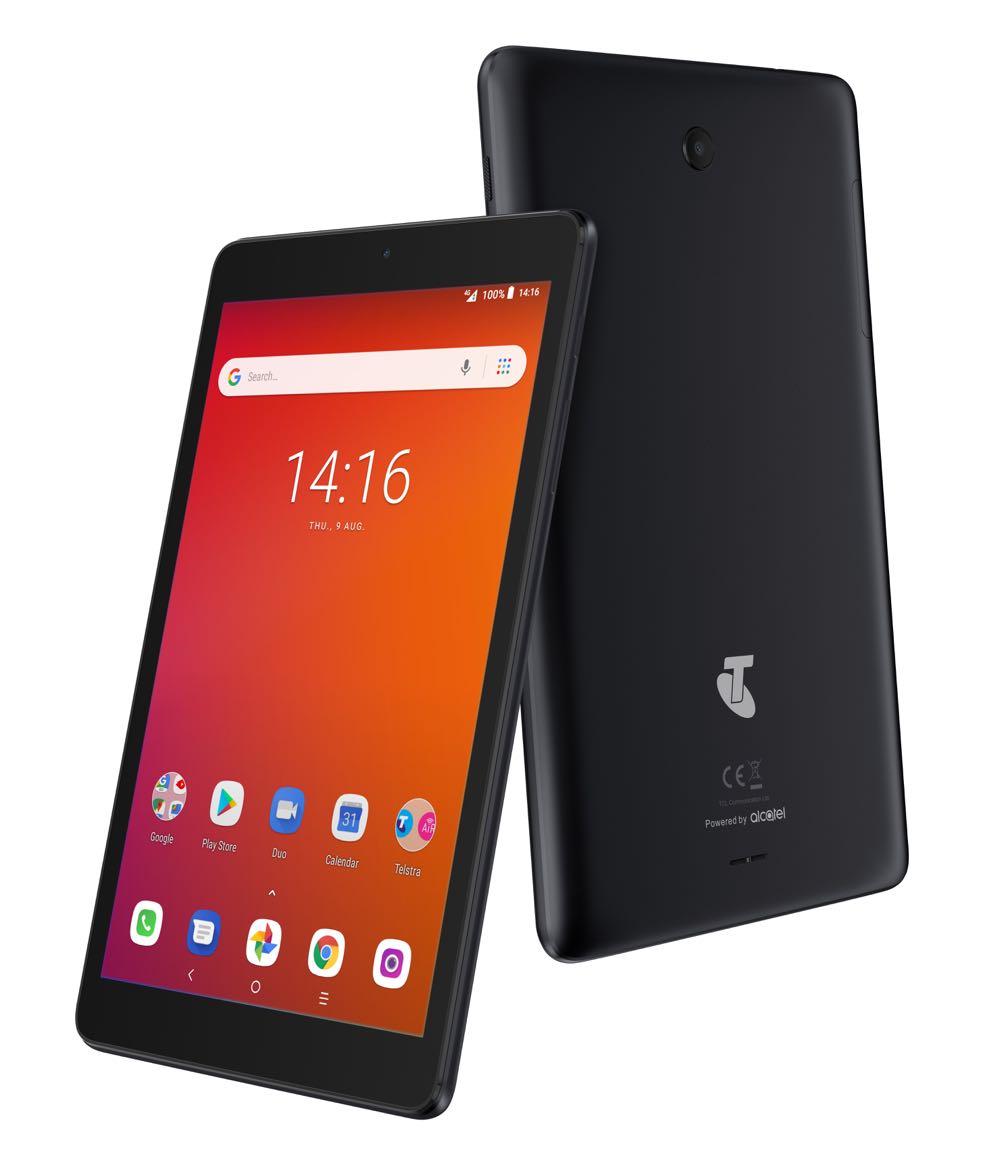 In terms of 'branding' this tablet is Telstra branded, however at its core, this product is a Alcatel tablet. The Telstra Essentials Tab Plus is also affordably priced at just $129 and comes with an 8 inch screen, is powered by a quad-core processor and has a high-grade poly-carbonate back. The operating system on this tablet uses Android Go which is a very important feature as it has been designed for entry-level smart devices to provide better storage, performance and security.
This is done by minimising the amount of apps pre-installed and the apps available on Android Go are optimised to save space on the Telstra Essentials Tab Plus. With Google Play Protect, this provides 24×7 security to ensure that your personal data and apps are safe from external tampering which does give you some additional peace of mind. So before we go, let's check out the humble specifications and features of this tablet!
Telstra Essential Tab Plus (Alcatel Essential 8″) Features
Dimensions
209.5 x 125 x 8.29mm x 279g
Display
8-inch IPS LCD1280 x 800, 189ppi, 16M colour, IPS
Processor
MediaTek MT8765WB 28nm 4 x 1.28GHz
PowerVR Rogue GE8100 GPU 58Hz
Memory
1GB RAM / 16GB storage (10.2GB free) with microSD to 128GB
Camera
Front: 5.3MP (2.1MP video) fixed focus, no flash
Rear: 8.3MP (2.1MP video) fixed focus, no flash, HDR
1920×1080@30fps (default 1280 x 720@30fps), EIS
Battery
4,080mAh
Approx charge time at 5V/2A is 4 hours
Talk-time up to 25 hours (3G)
Connectivity
Single SIM 4G (locked to Telstra)
LTE Bands B1/3/5/7/8/28/38/40
Dialler app included (use as a phone)
Wi-Fi N 2.4Ghz only
BT 4.0 SBC codec
3-axis accelerometer
No GPS chip (Assisted GPS using Wi-Fi or 4G)
OS
Android Go 8.1
Colours
Black
Plastic frame and back
No glass protection
Sound
3.5mm audio jack
rear lower back-firing speaker
Additional
Kids Mode, Eye Care, Google Lens, Face unlock
So while it may not have the specs of the high-end devices from Samsung, Apple or Microsoft, it's a great product for everyday use such as watching videos, surfing the net and using non CPU heavy apps. You can even use it like a Google Home Hub as the Telstra Essentials Tab Plus has Google Assistant Go which listens to your words in order to find a solution like how do I make a chocolate mud cake or what's the 7-day forecast.
Another thing that impressed us about the new Telstra Essentials Tab Plus was how lightweight this device was at just 279 grams which is lighter than my smartphone with its heavy duty case. The tablet is also powered by a quad-core processor and as the device is running the Android Go Edition (aka Android Oreo) operating system, it's relatively responsive, however it can slow down at times if you have too many CPU intensive apps opened and its total memory size is 8GB.
Adding to the features is the 5.3 MP (megapixels) front facing camera with a flash and a 8.3 MP rear camera with a flash. The front camera is a little ho-hum, however the back camera is far superior in terms of speed and as a result is not a device that will replace your smartphone. The screen has a resolution of 1280 x 800 and while not the highest resolution available, high-quality Youtube videos did look impressive.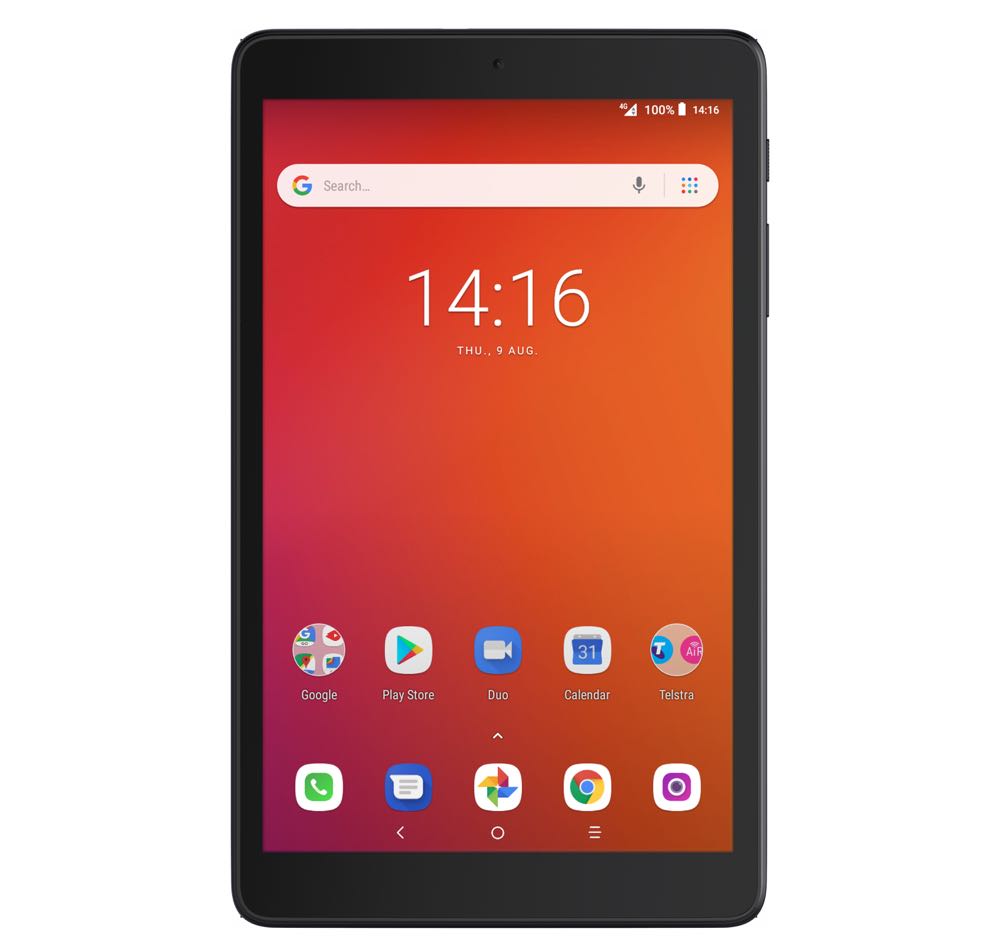 Installation is also quite easy and once your Telstra SIM card is installed and the device is powered (the battery life was at 48%), there was only a handful of inputs required from us. This included selecting the language (Australia), whether you wanted to copy information from another Android device or start fresh, connecting to your Wi-Fi network, checking for updates, adding security to it (e.g. pin code or pattern) and which Google services you want enabled such as auto-backups, location and updates. All in all, we were up and running in just a few minutes.
After using this tablet for the past two weeks, it's not the fastest device on the market but does make for a decent kid's tablet (there are parental controls available) or a tablet where you can just surf the net, explore social media, check out e-mails, read e-books, watch Youtube videos or use it like a Google Hub. Sure you can play some games on the tablet but it's not a gaming device due to its low spec as it can struggle at times.
Final Thoughts?
At just $129, the new Telstra Essentials Tab Plus makes for a good entry level tablet, particularly with the ability of using a sim card in it. Android Go definitely helps in terms of overall speed and more importantly, it's a very lightweight device that is ideal for every day use or for a children's tablet.
For more information, please visit https://www.telstra.com.au/mobile-phones/prepaid-mobiles/telstra-essential-tablet.