Events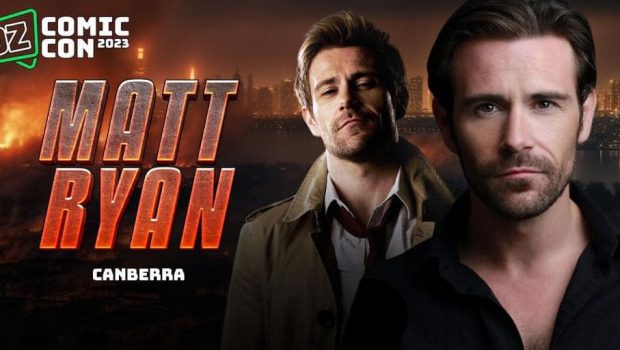 Published on July 11th, 2023 | by Adrian Gunning
The Nation's Capital Celebrates Pop Culture as Oz Comic-Con Returns to Canberra
Returning to the nation's capital for the second time, Oz Comic-Con is gearing up to celebrate the wide world of pop culture at the Exhibition Park in Canberra (EPIC) on August 5th and 6th. With a weekend bursting with entertainment, it's time to rally your super crew.
Having introduced Canberra to their growing roster last year, Oz Comic-Con was welcomed with a wide embrace by the region, deemed the perfect addition to the city that's considered to be the nation's superpower. Whilst hosting the ultimate event for pop culture fans, the Canberra event will also include special guests, local content and a show floor boasting unique opportunities ranging from panel sessions to exclusive merchandise.
Continuing their partnership with the Australian Esports League (AEL) for their gaming zone, attendees can also expect all the staple pillars such as Cosplay Central, Artist Alley, Just Dance and The District as well as the new additions in the CommUnity Space and Comics Lounge.
With a jam-packed schedule full of stalls, workshops, panels and activities, there's truly something for everyone at Oz Comic-Con Canberra. For more information, guest announcements and to purchase tickets, please visit https://ozcomiccon.com/canberra/
EVENT DETAILS:
Oz Comic-Con Canberra
WHEN: August 5th & 6th 2023
WHERE: Exhibition Park in Canberra (EPIC)
Oz Comic-Con Features:
As you weave your way through the show floor of Oz Comic-Con, keep your eyes peeled for activations from film and television, exclusive merchandise, and interactive opportunities that are only possible in a convention setting.
Below are a few highlights, or a bucket list if you wish, for Oz Comic-Con.
Stages:
Main Stage
The Main Stage is where you go to catch the Q&A panels with our Film & Television and Comic & Author guests and to catch the Cozplay Competition, Australian Championship of Cosplay and Cosplay Parades!
Community & Workshop Stage
You'll be hard-pressed to find a more passionate, engaged and thoughtful group than the fans that converge on Oz Comic-Con for each event. The community showcase is hosted at the Community & Workshop Stage. These Panels are a great way to tell or teach like-minded people about a topic you are passionate about. Panels can be Q&A style, a moderated affair, interactive or a story journey. Within this space, we can cater to many different topics including cosplay, drawing, crafts, photography, editing and more.
Comics:
A space to celebrate art in pop culture, Artist Alley is a colourful, creative district filled with original and fan art. Take the opportunity to interact with the creative geniuses behind your favourite comic books, graphic novels, literature, and artistic projects – a truly unique and authentic way to get to know local talent as they make waves in the global scene.
It's in Artist Alley that you can purchase a unique commission, designed and drawn just for you or shop for prints and artistic creations such as novels, jewellery, clothing, and homewares. No matter what you like, you'll find a creator suited to your interests, whether it be superheroes, manga, sci-fi, fantasy, horror or indie.
Comics Lounge
The Oz Comic-Con Comics Lounge supported by Kings Comics is a great spot to take a break from the busy show floor, pull up a beanbag and have a read through of some of our extensive comics and manga library.
Pick out something new to try, flick through an old favourite, discuss your favourite titles with other fans in the space.
Also happening in the Comics Lounge will be a range of industry panels and discussions with some of Australia's top comic artists, writers and publishers. Meet your favourite artists, chat with other fans, discuss your favourite titles, check out new titles on offer and learn more about comics.
Ever wanted to learn what goes into creating your very own comic? Would you like to learn from an industry professional? LOOK NO FURTHER! We've got a range of workshops in every city to cater to your creative desires for both kids and adults. Check back closer to the day to see the full schedule of events!
CommUnity Space
Welcome to the Oz Comic-Con CommUnity Space. A safe and inclusive haven for members and allies of the LGBTQIA+ community at the show.
The CommUnity Space is designed to be a place where attendees can come together to socialize and celebrate their love for all things queer pop culture. We provide a welcoming atmosphere where you can engage in activities, discussions and meetups that centre around queer representation and diversity in pop culture. Read more about the space and what's on here: https://ozcomiccon.com/comm-unity-space/
Music & Entertainment
Lip Sync Battles
It's time to LIP SYNC FOR YOUR….eternal bragging rights!
Can't sing but can absolutely nail the silent solo? Watched every season of Ru Paul and want to live out your lip-syncing fantasies live on stage? Do you miss Dubsmash? Then this is the competition for you!
Oz Comic-Con Canberra, we will be running Lip Sync Battles Sunday. Limited registration spots are available, so be sure to register asap! You can enter as an individual or as a group! Register or read more here: https://ozcomiccon.com/occ-music-entertainment-stage/
Dr Pickles Tattoo Alley
Feeling Brave? Would you trust a stranger to pick your next tattoo?
Would you put your arm into a mystery hole, where the end result is a tattoo? After a whirlwind, sell-out Mystery Tattoo tour at the Australian Tattoo Expo and Sexpo, Dr Pickles is now inviting Oz Comic-Con Patrons to try their unique Tattoo Mystery Hole experience! https://ozcomiccon.com/dr-pickles-tattoo/
Cosplay
Cosplay Central
Cosplay Central is the meeting place and undeniably the unmissable destination for all cosplayers and cosplay fans at Oz Comic-Con. Meet local cosplay talent for tips and tricks, grab your mates for the perfect photo op in front of cosplay sets and get your photo snapped by local cosplay photographers.
https://ozcomiccon.com/occ-cosplay-central/
Cosplay Parades
Oz Comic-Con hosts a variety of Cosplay offerings at the event for different skill levels. The Cosplay Parade is a great event showcasing the talent of cosplayers at Oz Comic-Con! It gives everyone the chance to get up on stage and strut their stuff without the stress of competing.
Cozplay Competition
For those not quite ready for the Championship of Cosplay but a step above the Cosplay Parade. The Cozplay Competition is the competition for mainstream competitors. This event is perfect for you to showcase your crafting, needlework or armour build talents. Entry into the Cozplay Competition is by application ahead of the show, so if this is something you're interested in being sure to check out the applications here: https://ozcomiccon.com/occ-cosplay-competitions-parades/
Kids Cosplay Parade
The kid's cosplay parade is a great way for our littlest cosplayers to get into the cosplay spirit! Kids can go on stage either on their own, in a group, or, for those who are either too little or too shy, with a guardian.
Cosplay Photographers
Coming to Oz Comic-Con in cosplay? Local cosplay photographers will be present, ready to take your photo in Cosplay Central. The best part? All photo sessions are complimentary!
The District
Cosplay Meetups
If you're dressed for the occasion (or even if you're not!) be sure to head on over to The District area and meet some like-minded fans in awesome cosplay! Take a group cosplay picture in front of our awesome photo wall to immortalise the occasion! If you want to vote for the cosplay group you would like to see a meet-up for you can make your voice heard here: https://ozcomiccon.com/occ-the-district/
Oz Comic-Con Drawing Competition
If you fancy yourself an up-and-coming artist, head over to The District to take part in our official Oz Comic-Con Drawing Competition. There are awesome prizes to be won. Entries are open all weekend until 3 pm Sunday. You can draw in any medium you like, pencil, markers etc. As long as it's drawn on an official competition entry sheet at the show you can enter! You are welcome to bring your own drawing supplies with you to the show, but we will have drawing supplies available to use.
There are several prizes to be won. There's even a kid's category for our littlest artists!
Scribble Wall
Our epic scribble wall returns to The District for 2023. For all you colouring addicts out there, it's time for you to scratch that itch to leave your mark!
Gaming
Gaming Zone and Esports Tournaments
Australian Esports League (AEL) joins forces with Oz Comic-Con bringing their free play gaming zone and esports tournaments to each show. AEL recognises the importance of building 'grassroots' esports, delivering a gaming experience like no other to the broader gaming community. The gaming zone will showcase the latest games and products, with an opportunity for attendees to battle it out against their mates and other attendees. https://ozcomiccon.com/occ-console-tabletop-gaming/
Retro Gaming Lounge
From NES to N64, Sega Mega Drive to Play Station 1, Iconic Nerd will be kickin' it old school with a mix of retro gaming consoles at Oz Comic-Con! Be sure to stop by the Retro Gaming Lounge to try your hand at an old classic and enjoy the nostalgia, or introduce it to your offspring for the very first time! https://ozcomiccon.com/occ-console-tabletop-gaming/

VR Playground Time to get immersive in the VR playground at Oz Comic-Con Canberra. The all new activation will have a range of VR games to get your blood pumping this weekend.
Cut your way through the best beats in Beat Saber! Can you survive the night at Freddy's? The playground has it all in VR! https://ozcomiccon.com/occ-console-tabletop-gaming/

Tabletop Gaming Library
Not one for console games? No problem! We got you covered with a library of tabletop games to satisfy your needs. Ticket to Ride, Pandemic, Catan. Heard of those? Maybe you like Zombie Dice, Small World, or Red Dragon Inn? Well, this year Oz Comic-Con is giving you access to all of these games, and more! We'll be using our tabletop resources to bring you a two-day gaming extravaganza.

Get along to the Tabletop Gaming Zone featuring a library of over 40 different games you can play. https://ozcomiccon.com/occ-console-tabletop-gaming/

Local TTRPG Groups – Learn to Play
From Pathfinder to D&D to Warhammer, if you're looking to play some TTRPG's at Oz Comic-Con, we have you covered! Local groups will be on hand to guide you through one shot campaigns across the weekend. Whether you are a seasoned player, or this is your first time, you are welcome to participate. Characters will be generated by DMs so players are all on the same level (1 to 5).

Campaigns will be taking place during Oz Comic-Con each day! https://ozcomiccon.com/occ-console-tabletop-gaming/
Just Dance Stage
So you think you can Just Dance? Well, you'll be able to show everyone your moves at the Just Dance stage. Open for free play all weekend. Play as a group, or individually, the party at Oz Comic-Con starts here. https://ozcomiccon.com/occ-console-tabletop-gaming/