Hardware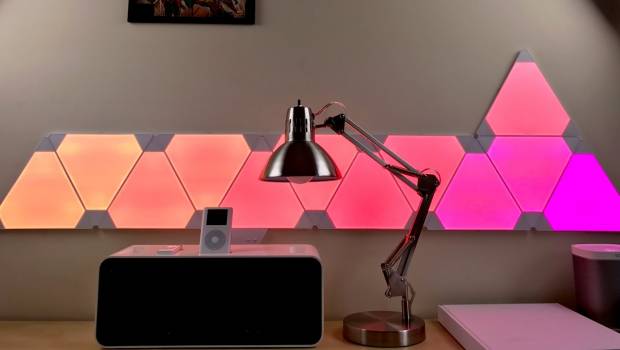 Published on July 22nd, 2018 | by James Wright
The Nanoleaf Light Panels Review
Summary: The Nanoleaf Light Panels are so impressive that they need to be seen to be believed!
Technology has comes leaps and bounds, including from an aesthetics point of view which is where the Nanoleaf Light Panels literally shine their way into the picture. So what exactly are the Nanoleaf Light Panels? At its core, they modular smart lighting panels which gives the user access to LED panels that measure at 25cm per side which can then be placed in a variety of different shapes like LEGO.
Then when powered, these panels create a variety of different colours (16.7 million to be precise), hues and special effects that visually looks very impressive and can become quite mesmerising, like a moth to the flame… speaking of flames, the fire effect is quite soothing and it almost gives the illusion that it is producing heat.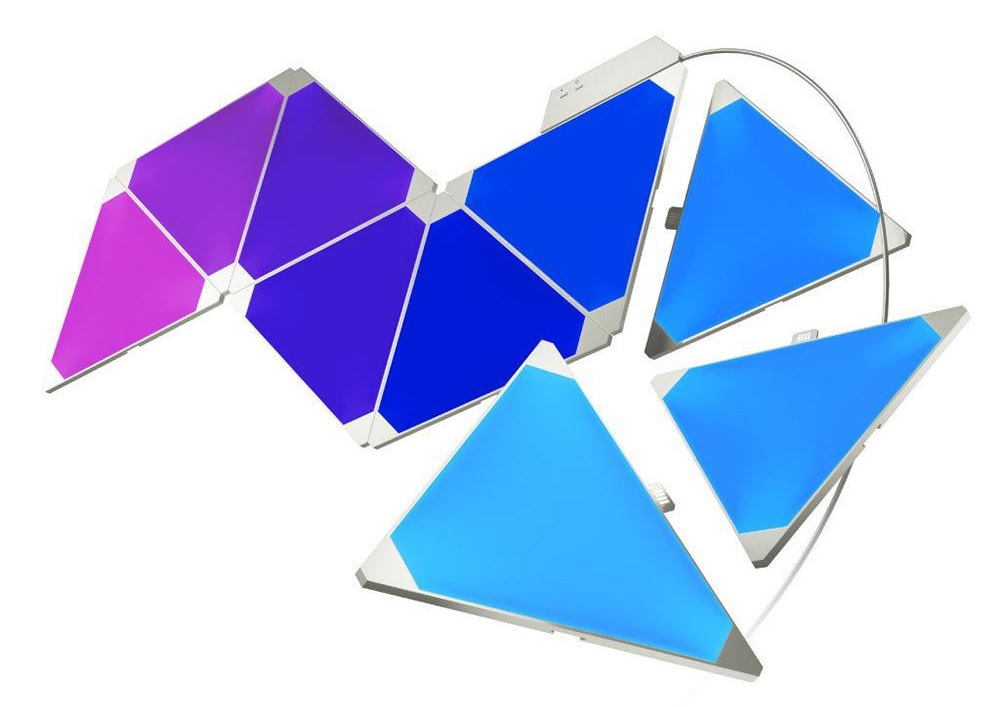 The basic configuration of the Nanoleaf Light Panels is through the "smarter" (starter) kit which includes nine triangular shaped LED panels, a controller, linkers, mounting tape and a power supply. So by using the magic of Wi-Fi (and a smartphone), you can then interact with the panels directly to create your own kaleidoscope light shows.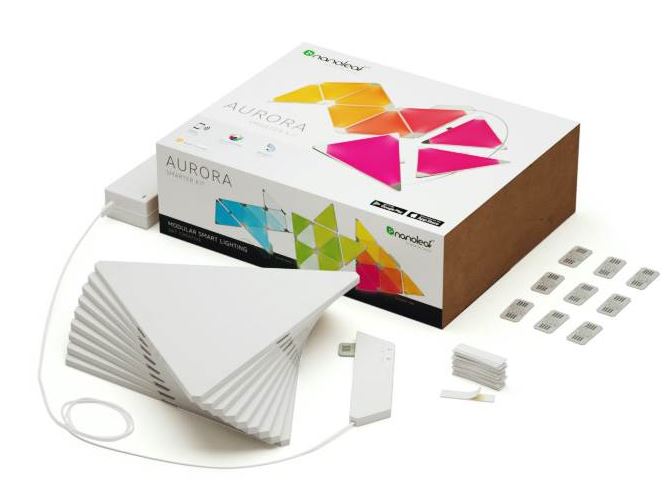 Adding to the power of this technology, you can even control these lights through other smart home integration systems such as Google Home and even the Apple Homekit plus other accessories are available like a remote control and a rhythm module to take these dynamic lights to a whole new level. In terms of how many panels you can connect, the Nanoleaf Light Panels system allows for up to 30!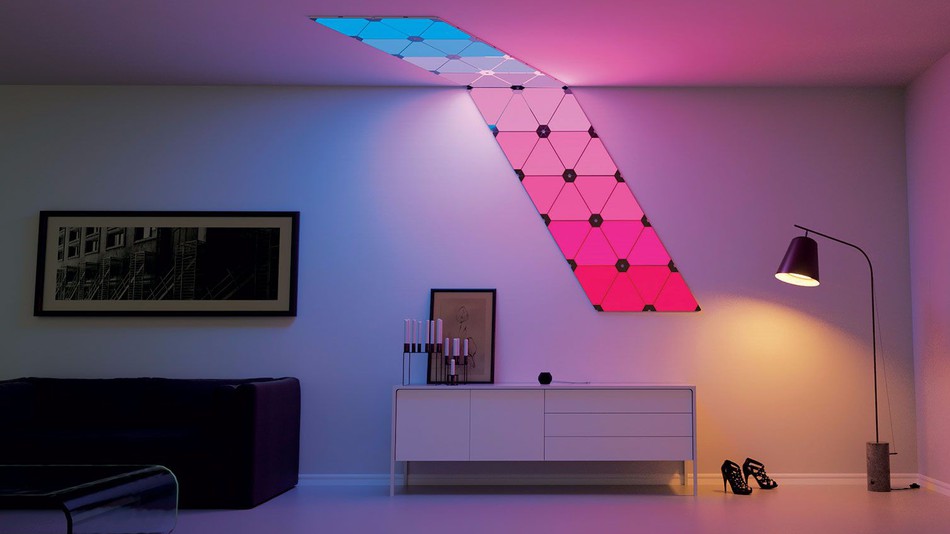 Installation is very easy and attaching the panels to the wall is done with double-sided tap which allows you to put them where you want and the only downside to the installation is the power cord. However if you are feeling a little "handy", this could be put through your plaster boards to hide it completely and more importantly, the power cable is quite long.
So while each panel powers its adjourning neighbour, the power hub and controller can be connected to any panel which definitely helps with placement. Lastly, connecting the panels to each other is done through linkers (which look like oversized SMS cards) that adds to the overall simplicity of the installation process.
So once you have set the Nanoleaf Light Panels on your wall (if you have any issues finding a configuration, there is a layout assistant), you then need to download the free Nanoleaf Smarter Series App which gives you direct access to this system, including setting up other smart devices.
Best of all, this app is quite easy to use and includes a variety of presets, including the ability to create your own lightshows, not to mention hundreds of user created scenes. I love how you can preview the theme before you download it and there are tutorials to help create your own as well.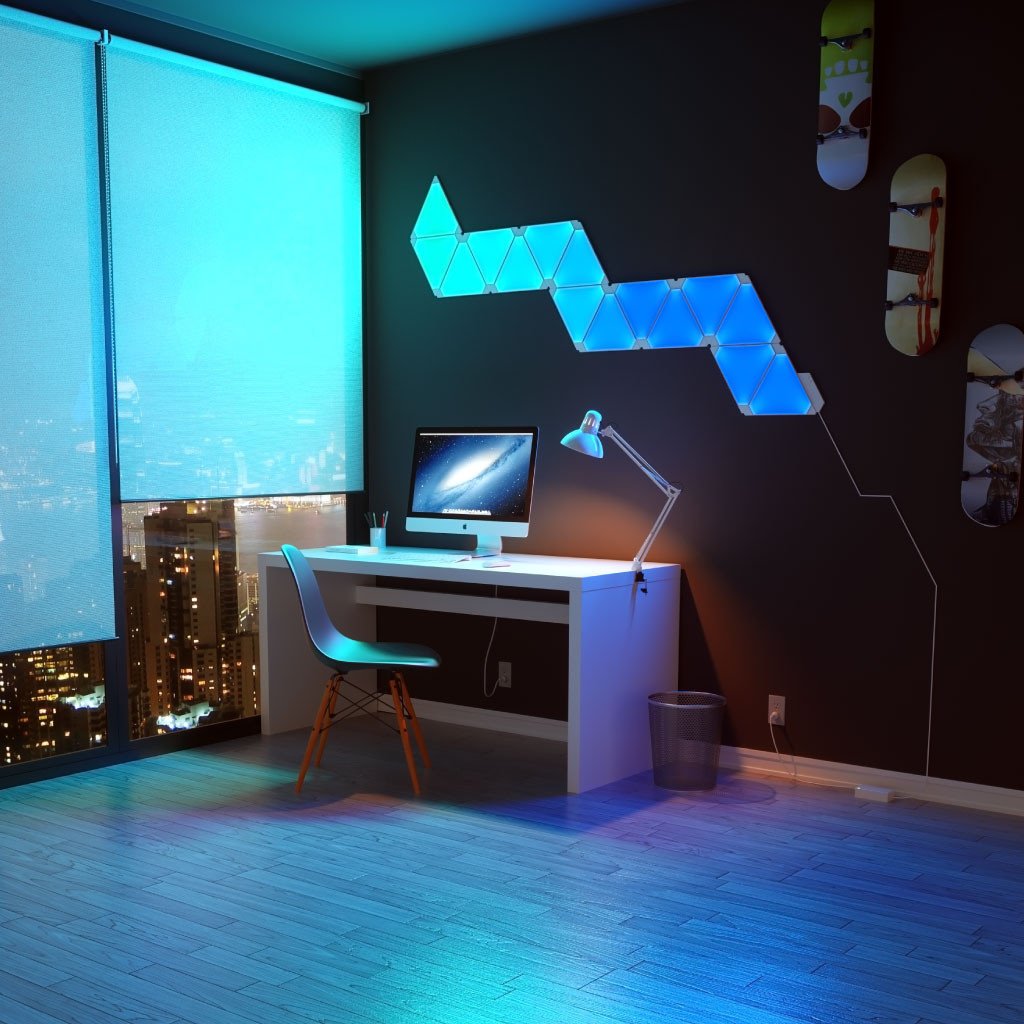 Another highlight of the Nanoleaf Light Panels is the ability to attach an external microphone (aka the Rhythm Module) which then causes the panels to interact with music. Besides using the app to interact with the panels, you also have access to the controller buttons or as mentioned, voice control through Siri or even Alexa.
With a recommended retail price of $299AUD (July 2018) for the starter kit, the Nanoleaf Light Panels are a new and smart way to change the atmosphere in your house and with so many colours and different special effects, you'll definitely be the envy of your family and friends once you get these setup in your home… or even office for that matter!
For more information, please visit https://nanoleaf.me/en/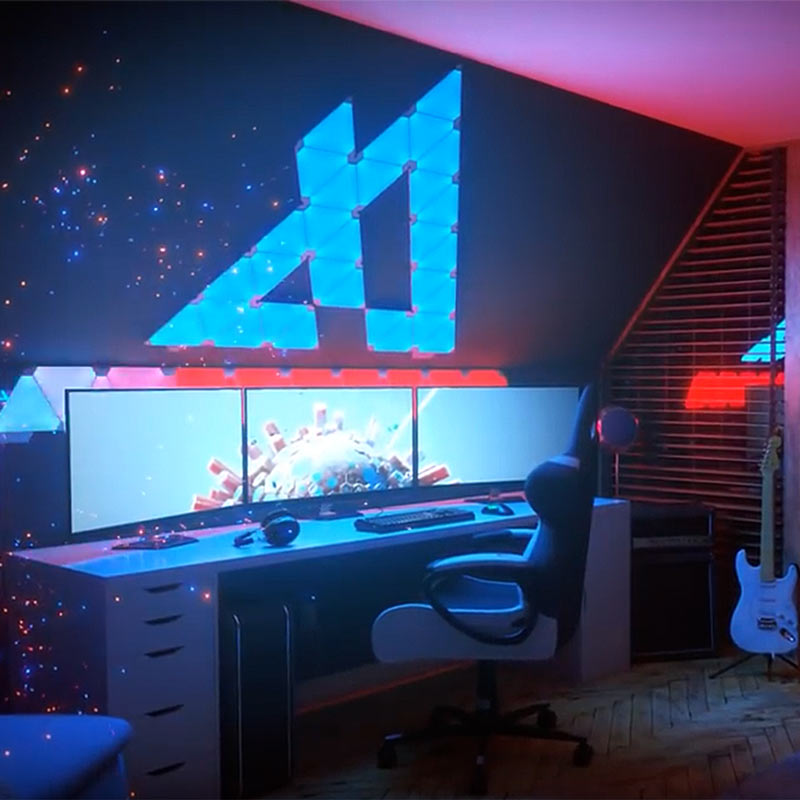 Key Features
Modular Smart Lighting Panels
Nanoleaf Modular Panels snap together like LEGO pieces
Apple Homekit Certified, Apps for iOS & Android
Colour changing (16.7 million colours) and tunable white
Quick & easy 'no hassle' installation
WiFi control, no hub or bridge needed
Smarter Kit includes 9 Panels, Controller, Mounting Tape and Power Supply