Events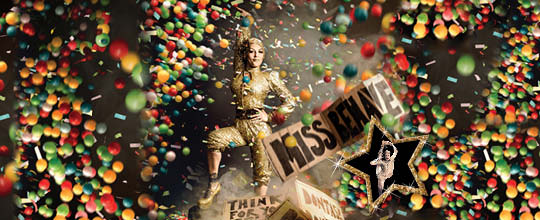 Published on November 14th, 2018 | by Admin
The Miss Behave Gameshow
Direct from Las Vegas, The Miss Behave Gameshow comes to Arts Centre Melbourne from 22 – 27 January 2019 with its chaotic brew of variety, competition and disco that has made it an international smash hit. Join Guinness World Record holder and one of the stars of Olivier Award-winning La Soirée, Miss Behave, and her glamorous assistant Tiffany, for a night of satirically subversive fun and games that have even the most conservative audience turn unruly.
In 2014, The Miss Behave Gameshow was devised in a little sideshow tent at Adelaide Fringe. Since then, it has been playing to great acclaim all around the world including Edinburgh, London, Amsterdam, Hong Kong, New York, San Francisco, Sydney, Las Vegas and now, Melbourne.
The global cult sensation divides the audience into two teams according to their mobile phone type. Already, this gets people into the competitive spirit. From there, there are no rules; it's fast and frenzied fun where, relieved of inhibitions and encouraged to let loose, the audience is the star of the show.
"I have always been fascinated with crowds, mobs, riots and groups. Gameshow, at its heart, is a social experiment to find one's own voice and expression while working together as a group. And since Trump and Brexit, to remind us all that when you boil us down, we are all the same and kindness will win out," Miss Behave said.
Audience interaction and participation is at the essence of this variety performance. It's an age-old tale but the more you get caught up in the anarchy, the more you will get from it. Both technologically savvy with a deliberately lo-fi aesthetic and production, it is razor sharp satire and a guilty pleasure all rolled into one.
"With Gameshow, I wanted to create something that was the antithesis of the red curtain and absolutely encouraged people to smash shit up. When everything seems to be glamorous, high production and airbrushed to perfection, the gameshow aesthetic represents the broken beauty of our times – obsolete analogue landfill, trash and detritus," she said.
Despite all of the silliness, the show does bring forth a resonant socio-political message; you will only get what you want if you stand up, use your voice and demand it. Miss Behave wants audiences to take these lessons out into the real world.
"In these shifting geopolitical times, I strongly believe that rigorous questioning, exploring, and poking the status quo is an artist's imperative. Everything can be decimated and revealed through the lens of truth and humour," she said.
Miss Behave last graced Arts Centre Melbourne in 2005 when La Clique toured in the Famous Spiegeltent. Her return in 2019 has been a long time coming, and she couldn't be more thrilled.
"I have been feasting on scraps of Melbourne since 2005, inhaling the gloriously funny, clever audiences with the odd guest appearance at the Melbourne International Comedy Festival. Finally, I can bring the work I am proudest of to the wonderful audiences of Melbourne," she said.
This is part gameshow, part disco, part variety show where everyone's a winner!
★★★★★ "How something this much fun hasn't been criminalised is a minor miracle." – Londonist
"No two performances will ever be the same. A cheeky, subversive and sexy breath of fresh air." – Vital Vegas
"An insane social experiment." – Las Vegas Review
"Want to laugh so hard wine comes out your nose? The Miss Behave Gameshow is for you. If I knew of a word that meant funnier than hilarious, I'd use it. Side-splittingly funny." – The AU Review
"The simple joy, extreme hilarity, friendly competition and just damn good fun makes The Miss Behave Gameshow quite simply unmissable." – Theatre People
"For all its madness, Miss Behave does send a message to her audiences – stand up, be heard and don't stop talking about what's happening in the world. It's definitely a unique take on the activist call to action." – Theatre Now
About Miss Behave
Miss Behave, the alter-ego of London cabaret artist Amy Saunders, is a professional troublemaker and London's reigning Queen of Cabaret. She is currently playing a full time residency with her Gameshow on the Las Vegas Strip while touring around the USA and internationally. She is a groundbreaking producer on the modern variety scene, and has produced shows and events for London's Roundhouse, Royal Albert Hall and Glastonbury Festival. She is an MC, sword swallower and specialty act, and is one of the original members of La Clique and La Soirée. She has appeared on The Tonight Show with Jay Leno, Graham Norton, Ripley's Believe It or Not and Guinness World Records.
"Queen of ceremonies. She has the whole crowd prepared to do anything she asks. An absolute treat." – The Guardian
"Miss Behave is quite brilliant, from the sublime to the ridiculous." – The Scotsman, UK
Awards Won
2000 Guinness World Records – Multiple Swords Swallowed by a Woman (5 swords)
2002 Guinness World Records – Multiple Swords Swallowed by a Woman (7 swords)
2009 Olivier Award Best Entertainment – La Clique
2015 Olivier Award Best Entertainment – La Soirée
2018 Best of Vegas Awards – Best Las Vegas Strip Secret
Arts Centre Melbourne presents
The Miss Behave Gameshow
22 – 27 January 2019
Tuesday, Wednesday, Sunday | 8pm
Thursday – Saturday | 7:30pm & 9:30pm
Warnings: nudity, coarse language, smoke, haze, extended standing, non-traditional seating
Age Recommendation: 18+
Duration: 80 minutes (no interval)
Arts Centre Melbourne, Fairfax Studio
Book at artscentremelbourne.com.au or 1300 182 183