Films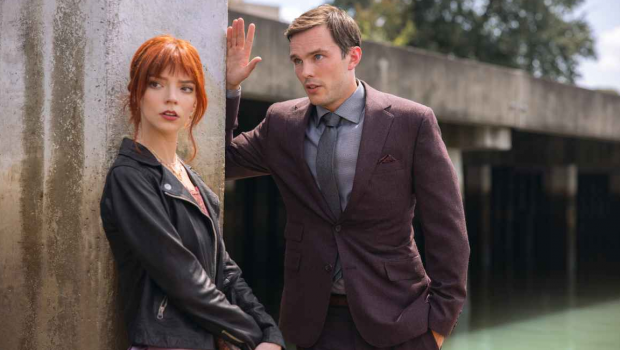 Published on November 26th, 2022 | by Damien Straker
The Menu – Film Review
Reviewed by Damien Straker on the 25th of November 2022
20th Century Studios presents a film by Mark Mylod
Written by Seth Reiss and Will Tracy
Produced by Adam McKay, Betsy Koch, and Will Ferrell
Starring Ralph Fiennes, Anya Taylor-Joy, Nicholas Hoult, Hong Chau, Janet McTeer, Reed Birney, Judith Light, and John Leguizamo
Cinematography Peter Deming
Edited by Christopher Tellefsen
Music by Colin Stetson
Rating: MA15+
Running Time: 106 minutes
Release Date: the 24th of November 2022
The Menu's strong performances and deadpan humour ensure this dark comedy is brought to the boil. Its assured mixture of humour, violence, and tension is courtesy of film and television director Mark Mylod. He replaced Alexander Payne who was originally set to shoot the film with Emma Stone in one of the lead roles. It is a tall order to cover this level of talent and experience, especially when Mylod's last feature film was the forgettable Anna Faris romantic comedy What's Your Number? (2011).
Since then, Mylod has become a successful exponent of prestige television. A longstanding partnership with HBO has seen him direct episodes of Entourage, Game of Thrones, and Succession. The dark corners of these shows, particularly Succession's acidic dialogue, have undoubtedly aided Mylod's adaptation of an endlessly clever if absurd screenplay by writers Seth Reiss and Will Tracy. It also helps that Mylod's craftsmanship is as impeccable as fine dining itself. Though it is best not to look too closely at all the ingredients defining this mostly effective concoction of horror and social satire.
The film is about a young fellow named Tyler (Mad Max: Fury Road and The Great's Nicholas Hoult) who recently split from his girlfriend. With his ex's name still on the reservation, he brings another woman, Margot (Anya Taylor-Joy from The Queen's Gambit), onto a luxury boat. The other guests include a washed-up actor (John Leguizamo), a pair of impossibly snobbish food critics named Ted and Lillian (Paul Adelstein and Janet McTeer), a group of alpha males involved in finance (one of whom is played by Rob Yang), and an older fellow (Reed Birney) and his wife (Judith Light). Everyone is ferried to an island with the intention of meeting a famous chef at his secluded restaurant.
On land, they are guided by the restaurant's captain, Elsa (Hong Chau, excellent), who shows them the eerie living quarters of the cooking team. However, she insists no one is permitted to enter the chef's home. Tyler, an unashamed sycophant, is obsessed with food, and can barely contain his excitement upon finally meeting his hero, Chef Julian Slowik (Ralph Fiennes). This supposedly brilliant but ice-cold master prepares a series of increasingly weird dishes for his guests. He is aided by his kitchen staff who operate like well-trained robots. While Tyler is dazzled, Margot is increasingly deterred by Slowik's antics. It becomes apparent he has terribly nefarious reasons for inviting everyone to his restaurant.
One cannot understate how much The Menu's deft stylistic choices enrich the story's tension and thematic goals. The setting of the mysterious restaurant is photographed by Mylor and cinematographer Peter Deming (Drag Me to Hell, 2009) with moody, low-key lighting and a hard, dark colour palette. The oppressive milieu is reinforced by containing the story to one evening of violent revelations. Similarly, there are narrow spaces leading into the main dining area. The visual choices Mylor makes, including glass panels, dark colours, and contained spatiality, are purposeful. The brutalist design infers the characters' imprisonment as Slowik forces them to reflect on the past. Their desperation to escape is intensified by reducing the story to a chamber piece where Slowik's guards block anyone from leaving and quickly punish dissenters.
The prison-esque mood is heightened by powerful sound design. Drawing from Succession's rapid-fire dialogue, The Menu employs overlapping conversations to show the guests' self-indulgence. The banter is interrupted by the violent noise of Slowik smashing his hands together to capture everyone's attention. The amplified sound effects, including the staff crying 'yes chef!' in unison, stress Slowik's God complex as he controls his staff and imprisons his guests. These dark stylistic choices are then effectively married to Mylod's comedic instincts. While the tone oscillates between horror and brutal comedy, Mylod carefully balances these moods before unloading bursts of violence. The humour influences the direction too, such as on-screen title cards outlining a meal's ingredients. The final card is particularly hilarious. Evidently, Mylor's television experience has taught him how to sharply employ 'audio-vision' to enhance the repressive setting.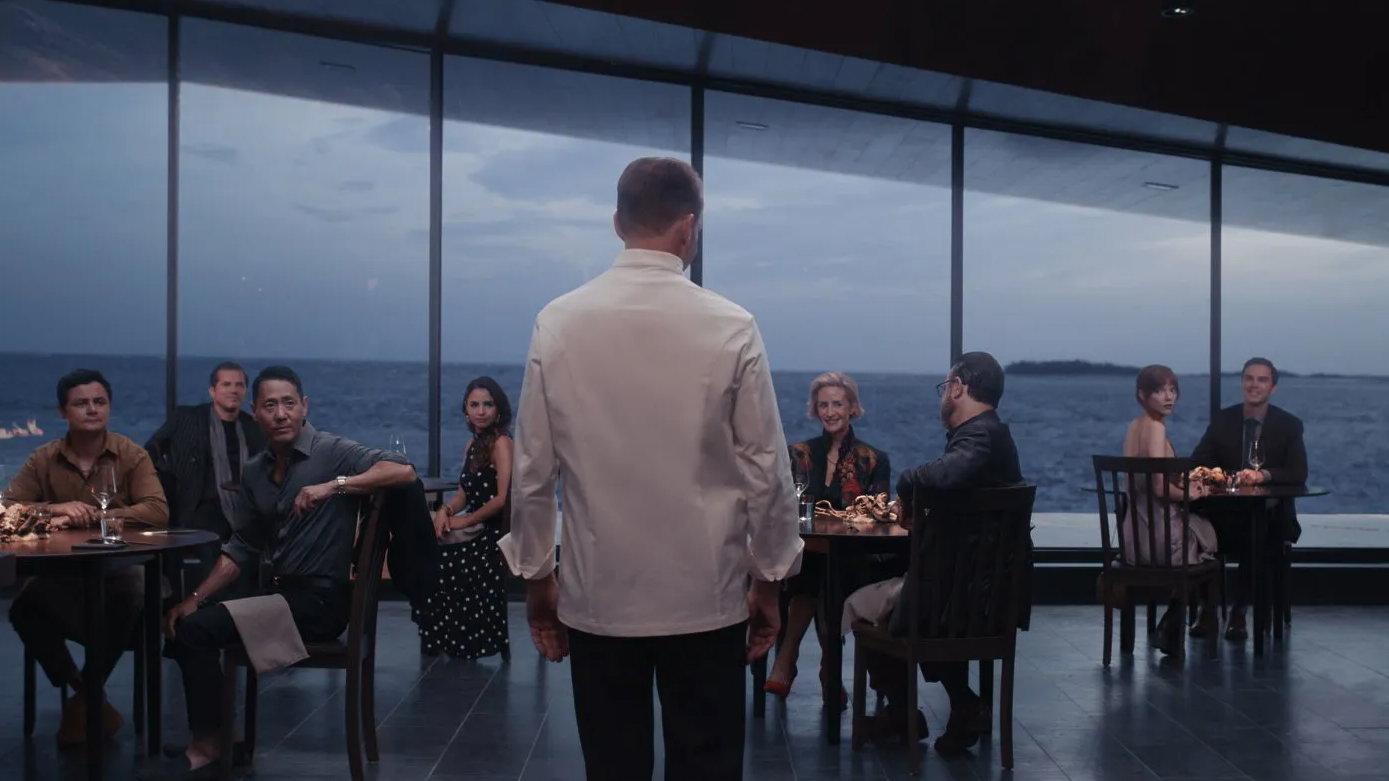 The Menu's screenplay discards realism in favour of funny caricatures and clever twists. The best gags centre around the film's protagonist. Tyler is a know-it-all sycophant who fawns over Slowik's 'genius' and the bizarre meals he receives. His infatuation sees him dismiss musicians and athletes as 'idiots' and label Slowik's cooking as 'art on the edge of the abyss'. His posturing underlines the thematic tension between high and low-brow culture and upper- and lower-class consumption, ideas further personified by Slowik himself. The chef bewilders everyone with cryptic riddles such as, 'I don't want you to eat. Taste!' He serves up pretentious meals, including rich flavours without any bread, and then tacos with a surprise printed on the back of them. Recollections of the horror series Saw (2004) emerge as the characters realise their meals are dutifully accompanied by a side order of bitterness and reprisal.
The film gently inverts the familiar 'why are we all here?' premise through humour and violence. The revelations behind each invitation or episode veer from hilarious to disturbing. One funny grievance involves Slowik's objection to a terrible movie that wasted his weekend. The only time the writers fumble their secrets is when briefly resorting to a derivative plot device where Slowik's past is neatly tucked behind a locked door. Personal history is prioritised over rationale and exposition, particularly questions around how Slowik brainwashed his staff and other world building footnotes.
A stronger story avenue involves an unexpected shift in perspective from Tyler to Margot. The obvious glances Margot receives from Slowik lead to, of all things, empathy, and a newfound appreciation of the service industry, befitting of references to COVID-19. This is not to say director Mylod, a staunch advocate of insult comedy, has softened. Rather, he ensures the unlikely duo anchor proceedings as the satirical elements, including the class and social parodies, plunge further into absurdity.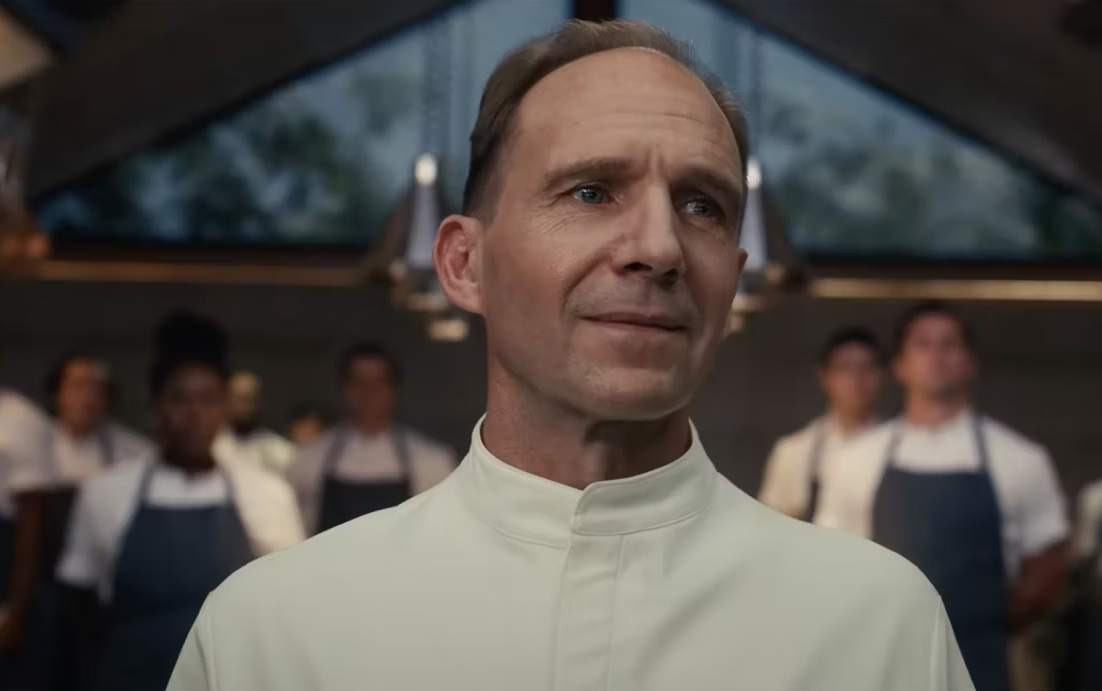 Unsurprisingly, the experienced cast deliver rich, compelling performances. Few actors today could muster the fear and intimidation of a small glance as well as Ralph Fiennes. His sinister presence and weird behaviour are tempered so the actor never overpowers the film. Instead, he opts to pepper relatable moments of humour into his twisted villain. The way Slowik rolls his eyes at Tyler's grovelling is one example of the funny human touch he applies to this monster. Nicholas Hoult captures the sycophantic personality of Tyler brilliantly. His idiocy is hysterical, and the role resembles his work in The Great where cruelty and foolishness meet. He emerges as an unexpectedly dangerous figure.
Anya Taylor-Joy's Margot is an excellent foil who counters Tyler's obsessiveness with intense scepticism. The actress's meekness proves a deft sleight of hand. It is a stealthily approach to concealing Margot's trajectory and instilling development through an unlikely but increasingly sympathetic, self-assured heroine. The supporting roles are also impressive. John Leguizamo has fun as the washed-up actor simply named the 'Movie Star' whose last project was an outright disaster. Hong Chau, from Downsizing (2017), is another standout because of the quiet intimidation she conveys as Elsa stands firm against her guests' demands. These performances ensure the film is compelling even as the backstory of Slowik's kitchen staff remains elusive.
The Menu is an enjoyable assortment of jet-black humour and mounting tension. While Slowik's plan is entirely ludicrous, the film's tonal shifts never become imbalanced. Despite lingering story questions, the reason for inviting everyone to dinner remains fascinating and the tenuous connection forged between Slowik and Margot is both foreshadowed and surprising. There is also an interesting coda about combating pretention and respecting service workers, which is a topical point of conversation. Meanwhile, the presentation is exemplary. Mark Mylod's filmic choices confirm his talents across film and television. After this effective horror-comedy, one looks forward to his next serving.
Summary: The Menu's strong performances and deadpan humour ensure this dark comedy is brought to the boil.