Films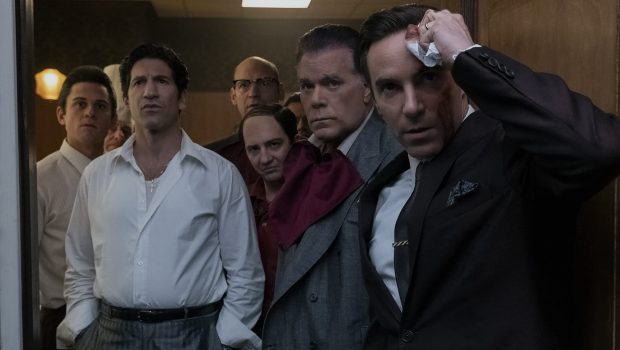 Published on November 14th, 2021 | by Damien Straker
The Many Saints of Newark – Film Review
Reviewed by Damien Straker on the 13th of November 2021
Universal presents a film by Alan Taylor
Written by David Chase and Lawrence Konner
Produced by David Chase, Lawrence Konner, and Nicole Lambert
Starring Alessandro Nivola, Leslie Odom Jr., Jon Bernthal, Corey Stoll, Michael Gandolfini, Billy Magnussen, Michela De Rossi, John Magaro, Ray Liotta, and Vera Farmiga
Cinematography Kramer Morgenthau
Edited by Christopher Tellefsen
Music by Peter Nashel
Rating: MA15+
Running Time: 120 minutes
Release Date: the 4th of November 2021
Contains spoilers for The Sopranos television series.
Terrible editing sinks The Sopranos prequel, The Many Saints of Newark. A potentially gripping exposé of the forces that shaped Tony Sopranos' youth is horribly fragmented by writers David Chase and Lawrence Konner and director Alan Taylor. Chase created the television series, which is deservedly recognised as one of the finest ever made. Having recently finished The Sopranos, I noticed countless references both obvious and subtle throughout this film. Most interestingly, Newark also explores, for better or worse, a critical point of interest the show left unresolved. Yet beyond knowing references and closing the gaps in The Sopranos' lore, Newark invites little recommendation. Some surprisingly clunky writing and an obvious hole in the casting leaves this as a shockingly forgettable attachment to an otherwise classic show.
The film is loaded with several bizarre creative decisions. The most glaring is arguably the infrequent narration from Christopher Moltisanti (Michael Imperioli). His voice from beyond the grave draws us back to 1967, where Dickie Moltisanti (Alessandro Nivola) is fighting with Christopher's grandfather, 'Hollywood Dick' (Ray Liotta). Dickie resents how abusive Hollywood is to his new young bride, an Italian immigrant named Giuseppina (Michela De Rossi). A violent argument emerges where Dickie kills his father inside his car. Without implicating himself, he visits Hollywood's twin brother, Salvatore (also played by Ray Liotta), and offers the bad news.
With his father gone, Dickie begins romancing Giuseppina himself. Yet their relationship is interrupted by a gang war with a lethal African American man called Harold (Leslie Odom Jr.). Meanwhile, young Tony Soprano (Michael Gandolfini) battles his mother, Livia (Vera Farmiga), because he is constantly in trouble at school. Since Tony's father, Johnny (Jon Bernthal), is still resettling after a stint in the joint, Dickie is tasked with straightening Tony out himself. He attempts to deter the kid from joining himself and Uncle Junior (Corey Stoll) in the family business. Summarising this messy plot starkly reminds us of how differently films operate compared to television's chapter-like form.
Crafting an engaging Sopranos film without James Gandolfini set a near-impossible mountain to climb. Before his death in 2013, the actor gave an all-time great performance as Tony, the head of the Italian mafia in New Jersey. Tony was compelling because of the complex facets of his personality. He was violent, jealous, funny, lazy, and troubled by Freudian complexities. He could murder someone in cold blood and then quietly settle down for a plate of ziti and a Gary Cooper movie. Without a compelling lead, Newark is a shambles.
It flails for a good hour attempting to decide who is at the core of its muddled story. As a result, scenes and plotlines are awkwardly lumped together as we cut between Hollywood and Giuseppina, Dickie and the racial war, Tony and his mother, and various side characters. A pivotal bit of family conflict is poorly shoehorned into the narrative and resembles an afterthought. The story's unfocused nature and lousy cutting suggest Chase and company were dumbfounded about shaping Newark into a coherent narrative with the right lead.
As the director, Alan Taylor proves again why he is better equipped for television than blockbusters. He stumbled shooting Thor: The Dark World (2013), Terminator Genisys (2015), and now Newark. Yet he is obviously talented. He successfully helmed nine episodes of The Sopranos, seven episodes of Game of Thrones, and countless other shows. His stylistic choices here lack the finesse needed for a visually compelling cinematic experience. The fragmented composition of Newark dilutes the story's tension. Only short bursts of explosive ultra-violence jolt us awake. They are realistic and difficult to watch. If Alan made the rest as striking it would have justified a cinema release. In the US, Newark has been released on HBO Max much to Chase's disapproval.
However, the film's confined spaces mean nothing would be lost from watching it at home. It might also improve the languid pacing. Most scenes are staged in smoky dens and dank nightclubs, and the actors are framed in dull close-ups. One of the few cinematic images is when Dickie's car is caught in a riot and swarmed by soldiers marching through the street. Meanwhile, an involving climax is pitched on a beach. The waves add much-needed intensity to the scene and echo when Tony dumped a body or three in the ocean. However, as is typical with Newark, the scene is undermined by Chase and Konner's contrived writing, which derails the story.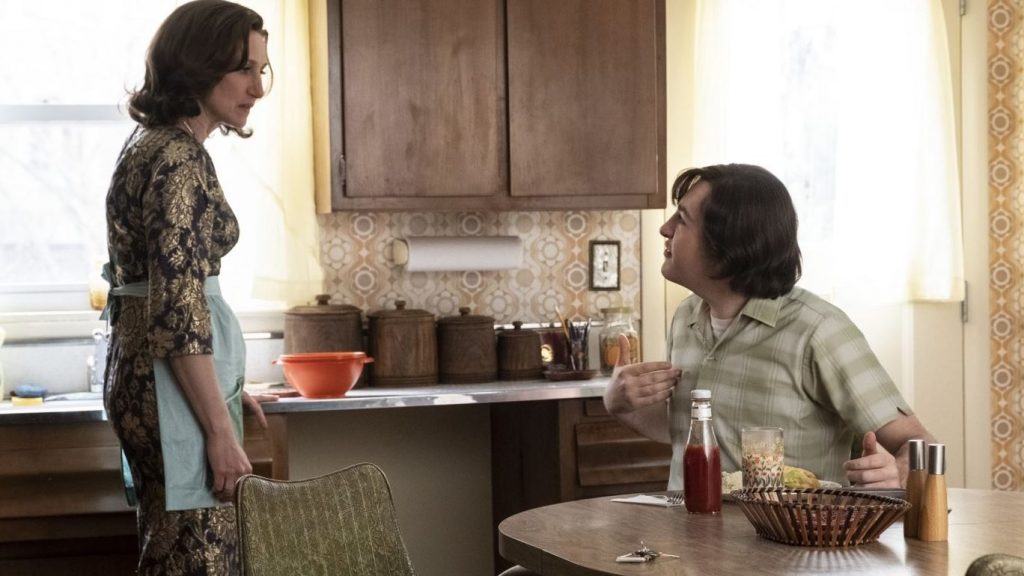 The most fascinating scenes throughout The Sopranos intertwined family, violence, and dreamscapes. One particularly interesting example was when Tony pressed Christopher to murder a policeman who supposedly killed Dickie when Christopher was only a baby. Was Tony telling the truth or testing Christopher's loyalty? Until now, the answer was ambiguous. It is fascinating seeing the screenplay build up and squander this gripping mystery. The revelation is frankly terrible. It emerges from a single faint grievance and fails to justify the surprise climax. Dickie's death is a pivotal through‑line because his absence led to Tony's mob appointment. The thematic idea stresses the importance of fathers and sons, a major fixture throughout The Sopranos world.
Dickie's relationship with Tony could have been Newark's emotional core, which begs to ask why Chase drifted from this gripping centre and sidelined young Tony. Furthermore, his attempts to bridge Newark to the series are poor. For example, Tony collects a pamphlet about healthcare as if signposting with a flare gun his future therapy sessions. In another clumsy moment, Tony holds baby Christopher who starts crying. Someone then quips how babies can tell when something bad will occur in the future. These moments are painfully on the nose and leave us longing for the show's most complex writing. A predictable Varsity athlete quip from Uncle Junior invites a chuckle but much of the film is a missed opportunity rather than a solid homerun.
Gauging some of the performances is difficult when Newark is heavily fragmented. Michael Gandolfini, the late actor's son, does not appear for roughly half the film. Since Taylor frequently cuts away from him, it is difficult for the young actor to impose himself or complement his father's iconic performance. In the lead, Alessandro Nivola's performance as Dickie is solid but unremarkable. He portrays him as another crim purporting to uphold a set of morals before unveiling himself as a violent psychopath. The role lacks the complex dimensions of Tony and Christopher. Christopher was many terrible things: an abusive partner, a hopeless drug addict, and a fantasist. Yet his ambition of being a screenwriter held our interest.
Attempts at similar empathy levels are frivolous, including a baffling moment where Dickie imagines himself coaching a blind baseball team. What? Meanwhile, his relationship with Giuseppina only catches fire at the end and climaxes with a horribly contrived conversation. Fortunately, Vera Farmiga makes a strong impression as Tony's unhinged mother and nails Livia's acidic demeanour. It is a shame there are only glimpses of the domestic conflict between her and Johnny Soprano. The latter barely features and could have added further insight to Tony's fractured upbringing. In a small role, Ray Liotta effortlessly makes the weathered Salvatore a highly intimidating fellow.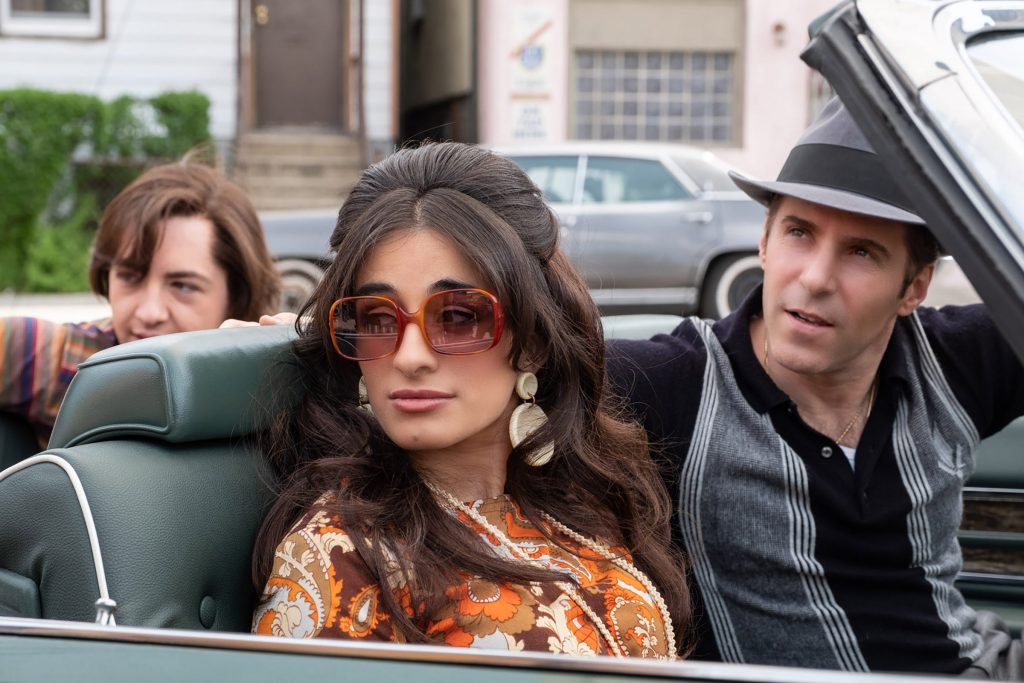 It is hard to determine why The Many Saints of Newark was made. Some amusing moments will invite hardcore fans to spot various references and homages. It is passable as a superficial example of nostalgia. Yet most will be expecting to see how Michael Gandolfini dramatises Tony's youth. On that level, the film is a complete bust. It is too fragmented to put the young actor at the story's centre and leaves him relegated to a subplot. As a film about Dickie Moltisanti's demise it is equally unsatisfying.
His narrative is too removed from Tony's story to amplify the thematic idea of doomed fatalism. If it were not for the novelty of re-entering The Sopranos world and the fun references, Newark would be a write‑off. Chase is apparently keen to make another film while HBO is eager to develop a complete prequel series. If Newark is any indication, Chase would be better served developing a full-length Cleaver movie instead.
Summary: Some surprisingly clunky writing and an obvious hole in the casting leaves this as a shockingly forgettable attachment to an otherwise classic show.