Comics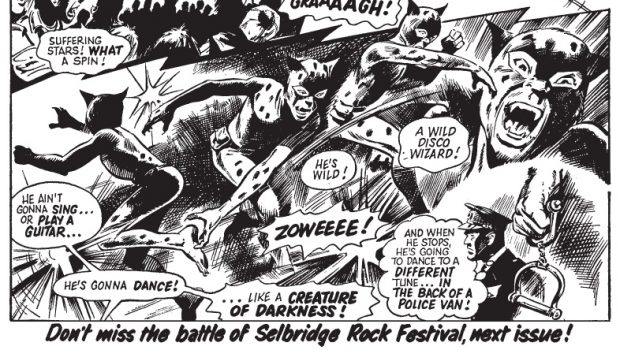 Published on March 19th, 2023 | by Tim Chuma
The Leopard From Lime Street Vol.3 (2023) Review
Summary: A blast from the past if you are into that sort of thing and still remember, jeez you're old! Hahahahaha! If you haven't heard of it still worth having a look at
An anthology of stories of the Leopard of Lime Street that appeared in Buster comics from 1977 to 1978. We follow Billy Farmer who was scratched by a radioactive leopard and now has the power of jungle cat. Even though he can easily do things he feels he has to hide his powers as he feels using them as himself would be "cheating".
In this anthology there are several different stories including the usual crooks in Selbridge, but this time there are new dangers such as the band the Jaguars doing a publicity stunt dressed as leopards, the Snow Beast robbing houses, having to deal with the local media and even one threat that looks like it will ruin the Leopard of Lime Street's reputation for good.
It is good having all these collected as originally the stories were spread out over many weeks and you would have to keep buying the comic each week to find out. Given that the original comic is no longer being published and long out of print it would be hard to find these days.
This seems to be aimed at people who would remember reading this when they were younger but they would be getting on a bit these days to be honest, it is also happening in the retro gaming scene nothing to hide or anything. Hopefully there will be a new audience who picks up on this series and gets to enjoy it from the re-release.
For those of you who are coming into this new and are worried as it was published in the 1970s it might have some issues with the content I would not say it had that many. There is some child endangerment but Billy/the Leopard can look after himself and his uncle does tend to slap him about for "insolence" (Billy gets his own back).
The artwork is interesting and has a lot of stuff to look at which keeps the story moving along. The characters seem to be very broad "ere 'guvnor!" types which you would expect from this type of story but as long as you do not expect something too advanced you will be fine.
Well worth a look if you remember this character from back in the day or even if you don't and want something different from the usual Marvel/DC fare.
Comic details:
Writer: Tom Tully
Artist: Eric Bradbury, Mike Western
Format: Paperback, 192 pages
Publisher: Rebellion
Published Date: 16 March 2023