Films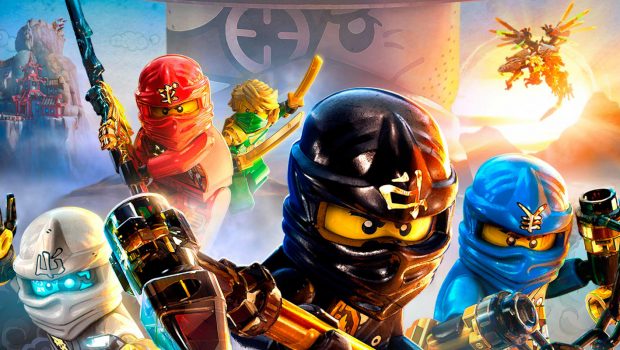 Published on September 21st, 2017 | by Curtis Mayfield
The LEGO Ninjago Movie – Film Review
Reviewed by Curtis Mayfield M-H on the 17th of September 2017
Roadshow presents a film by Charlie Bean, Paul Fisher and Bob Logan
Written by Bob Logan, Paul Fisher, William Wheeler, Tom Wheeler, Jared Stern, John Whittington, Hilary Winston, Dan Hageman and Kevin Hageman
Produced by Dan Lin, Phil Lord, Christopher Miller, Chris McKay, Maryann Garger and Roy Lee
Starring: Jackie Chan, Dave Franco, Abbi Jacobson, Olivia Munn, Justin Theroux, Kumail Nanjiani and Fred Armisen
Music by Mark Mothersbaugh
Edited by David Burrows, Garret Elkins, Ryan Fosley, Julie Rogers and John Venzon
Running Time: 101 minutes
Rating: PG
Release Date: the 21st of September 21 2017
Whoever said that third times the charm clearly wasn't considering the latest Lego movie, The LEGO Ninjago Movie, which offers zero story and even less interesting characters than before. Its colourfulness its only capability of entertaining an audience of under 10s. How nine screenwriters are credited to this underdeveloped movie is a massive head scratcher. There are some funny moments during this hour and a half crap-fest but the movie doesn't even come close to its predecessors, The Lego Movie (2014) and The LEGO Batman Movie (2017). Congratulations Warner Bros., it's only been three years and you've already managed to drive a movie franchise right into the ground. Tearing apart a kid's movie isn't something fun to do but what can they expect when they raised our hopes and expectations up with the first two movies? It's obvious that it's a cash grab and it's every (Lego) man for themselves.
Let's move onto the "plot". Dave Franco voices Lloyd, a teenager who's hated by an entire city because of his estranged father, the evil but funny Garmadon (voiced by Justin Theroux), who is constantly trying to take over the city with his many robots and minions. What the public doesn't know is that Lloyd is secretly a ninja who fights against his dad every time he attacks the city. Lloyd and his crew of other teenage ninja pals ride upon dragon-like robots that fire missiles and other cool junk. If this doesn't sound interesting to you it probably means you're not an eight-year-old riding a nice 7-Eleven Slurpee high. Look, there's a whole lesson about family and not taking people for granted that tail ends this movie, which comes off as a corny after-school special that would have been better off used in an episode of Degrassi.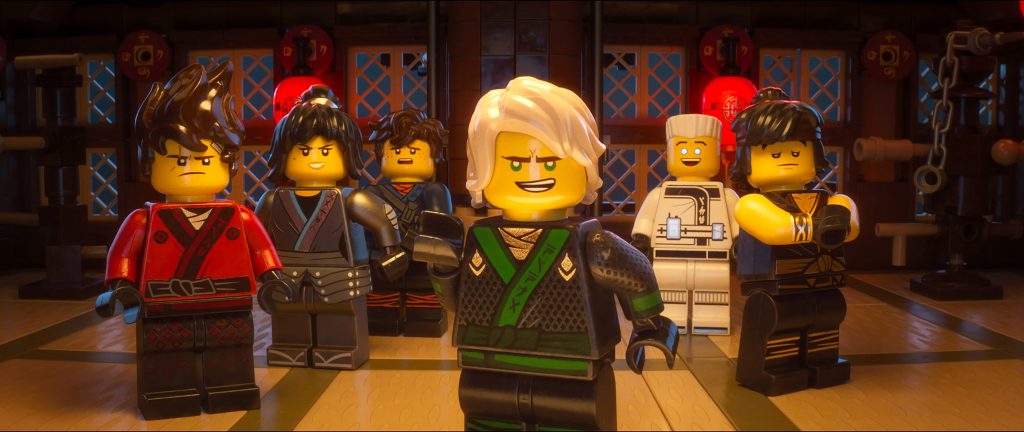 On IMDB, the cast looks amazing. There's Abbbi Jacobson (of Broad City fame) playing the kick-ass female role of Nya. The only problem? Her character is clearly just there to be a kick-ass female role as an attempt to even out the male dominated cast. On top of that there's the criminally underused voices of talented people who are frankly too good to be in this movie. It only becomes clear that Fred Armisen, Michael Peña, Ali Wong and Zach Woods were even in this film when the end credits begin to roll up. At least Kumail Nanjiani gets more than a few lines to give his character some actual effing presence. But of course the big dog, the boss, the master himself, Jackie Chan gets a prominent role as Master Wu, a satirical version of every old wise kung-fu master that cinema has ever produced. However, it's still not enough to push this movie past a level of steady crapness.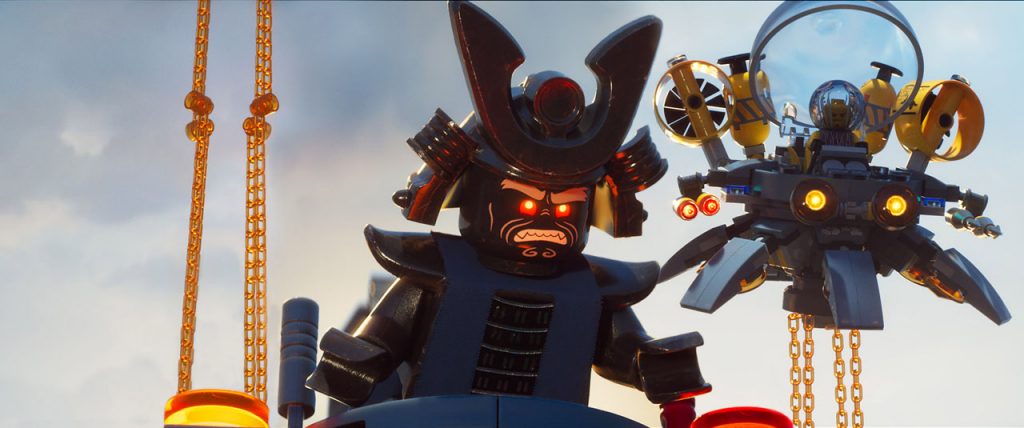 On the upside, it's nice to see that the quality of animation hasn't deteroirated since the movie has some scenes that are quite hypnotising. The one problem is that when the teen Power Ranger rip-offs assemble to fight evil, it just looks like we're watching a very confusing fight scene from Transformers…yuck right? If it's not obvious already, Ninjago doesn't have a lot going for it. The jokes aren't strong enough to land, the plot is paper-thin and the entertainment factor is super low. A gag about cats and laser pointers is funny but the joke soon becomes a crutch to carry the movie's third act. You'd be more entertained dusting off your old Lego sets and creating your own adventure, which is probably what the tiny brick toy company wants you to do since this pretty much comes off as an hour and half long commercial for Lego. Take your kids, nieces, nephews, younger siblings to this movie and you'll be the coolest person ever. Just don't go into this one expecting to be entertained like the last two times.
Summary: Ninjago doesn't have a lot going for it. The jokes aren't strong enough to land, the plot is paper-thin and the entertainment factor is super low.