Films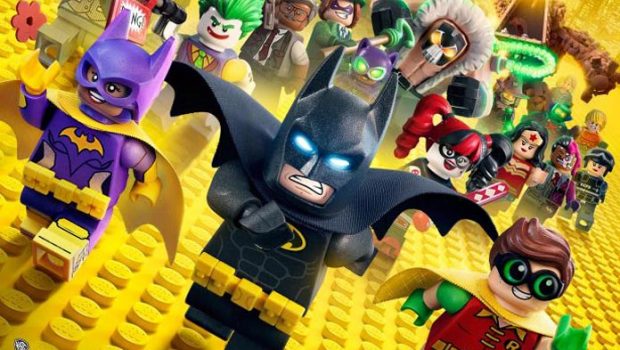 Published on March 31st, 2017 | by Curtis Mayfield
The Lego Batman Movie – Film Review
Reviewed by Curtis Mayfield M-H on the 13th of March 2017
Roadshow Films presents a film by Chris McKay
Written by Seth Grahame-Smith, Chris McKenna, Erik Sommers, Jared Stern & John Whittington
Produced by Dan Lin, Roy Lee, Phil Lord & Christopher Miller
Starring: Will Arnett, Zach Galifianakis, Michael Cera, Rosario Dawson & Ralph Fiennes
Music by Lorne Balfe
Edited by David Burrows, Matt Villa & John Venzon
Running Time: 104 minutes
Rating: PG
Release Date: the 30th of March 2017
It seems like every generation and a half has their own version of Batman. The baby boomers witnessed Adam West's campy Batman "pow!" and "bam!" his way across TV screens while Gen X had Michael Keaton follow Tim Burton's visually stunning and slightly darker edition of the B-Man. Gen Y could claim Christian Bale's brooding version of the cape crusader but the verdict is still out on Ben Affleck's attempts at being the Dark Knight. So who could have predicted that a Batman based on your favourite childhood building blocks would do such an amazing job at exploring this complex character while making you laugh? Well the suits at Warner Brothers thought this could work and they were totally right.
Will Arnett (Arrested Development, Bojack Horseman) uses that husky voice of his perfectly to bring the toy version of Batman to life in the hilarious and super meta The LEGO Batman Movie. Arnett first appeared as Batman in 2014's mega-successful The Lego Movie where he played a douchey, over-compensating Batman that was lost in his own legacy and ego. This go around nothing has changed and thank god for that. How many more times do we have to see the dark, moody version of Batman where we witness his parents die and hear monologues about being a true hero? Sure these themes are lightly touched on here but for the most part this is just a fun tongue in cheek adventure that has no age limit.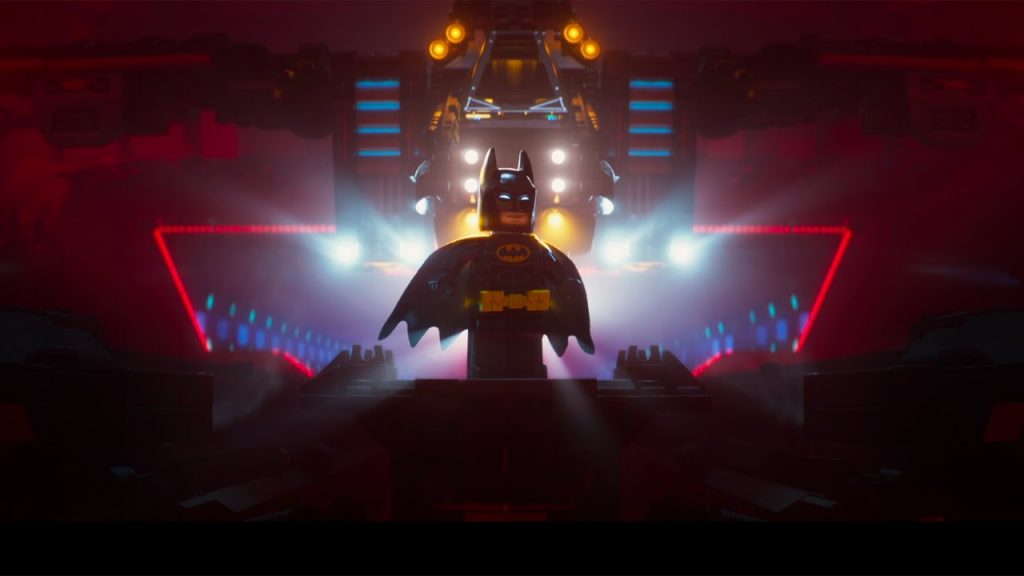 The humour is what allows this movie to jump from one audience to another. There's enough slapstick and colourful visuals to keep the younglings entertained and hopefully squirm-free while the adults who grew up with Bruce Wayne as their heroes will enjoy the jokes that poke holes in Batman's stoic character. Director Chris McKay does a good job of accomplishing this partial parody which isn't too surprising considering he's directed a fair few episodes of the pop culture spoofing TV series Robot Chicken. It's the parody of Batman's character that turns out to be this movie's biggest and funniest asset.
So if it's not obvious already this instalment of Batman is played out entirely in animated Lego bricks and characters. Batman is the toast of Gotham and all its citizens love the gravelly voiced hero. He can do no wrong. He's a master builder (which means he can create pretty much anything from Lego bricks) and puts away criminals like they're popcorn. But there's something lacking in this superhero's life and if you already know the Batman origin story it's probably pretty obvious what that is….it's lack of family for anyone who didn't know. But Bats won't admit it no matter how often the topic is forced upon him by his pseudo father figure and butler Alfred (Ralph Fiennes). Locking up criminals is too easy for him now and watching Jerry Maquire alone isn't fulfilling enough for Bruce Wayne. Even his arch nemesis The Joker (played by a wonderfully camp and playful Zach Galifianakis) is feeling left out of the Batman's life.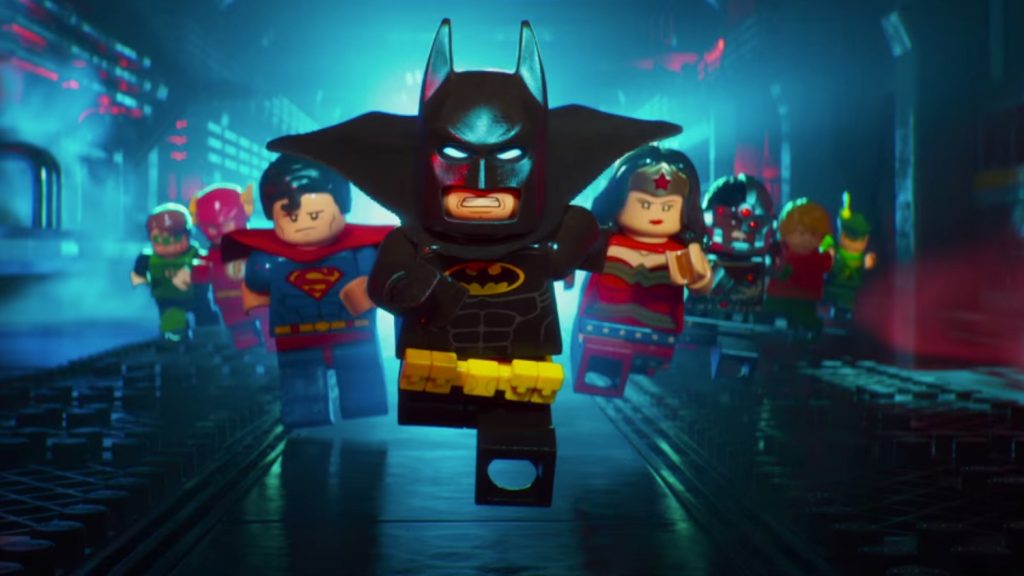 One of the largest and best jokes of the movie is the one-sided relationship between Joker and Batman where the former considers the latter his greatest foe while Batman just feels like he's "fighting around" with other master criminals. Joker is so hurt by this lack of mutual respect that he gives up himself and his crew (Bane, Catwoman, Scarecrow, The Riddler) to the new commissioner of Gotham, Barbara Gordon (Rosario Dawson). Barbara also wants to step into Batman's comfort zone by forming an alliance with the lone wolf hero. Finding himself purposeless and alone Batman accidently adopts an orphaned Dick Grayson a.k.a. Robin (a brilliant Michael Cera). Robin is wide-eyed and ambitious to become Batman's newest sidekick while the man in black does all he can to avoid creating a new family for himself. This aspect of family and friendship does get a tiny bit sappy but it's still really nice to see an idea of Batman where the grittiness is left out (and made fun of) and some sentimentality is injected into this grownup friendly animated movie.
The greatest thing about Lego Batman is how visually stunning things play out on screen. The fighting scenes for example look chaotic and silly as if a child was really playing with their Lego, and that works just fine. The mash of colours and madness and comedy and sound and combat makes this not only one of the best animated movies of 2017 out of the gate but also one of the best actions we'll see this year. Even Batman's tiny Lego suit is awesome to watch as it takes on Iron Man like features with a computerised voice and visuals aiding Batman while he kicks toy villains in the face. The comparison between one of DC's biggest stars and Marvel's ironclad hero wasn't lost on the makers of this as we hear Batman say "Iron Man sucks!" as his password to get into the bat cave.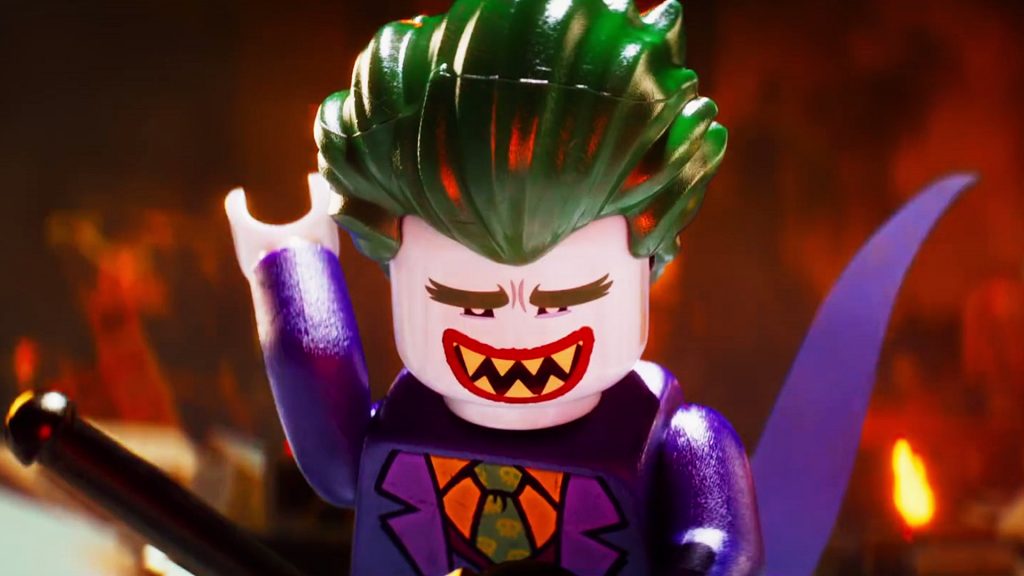 All the voice actors are perfectly cast from Batman's gravelly tone to Cera playing the joyfully naïve Robin to Conan O'Brien and Jenny Slate making cameos as The Riddler and Harley Quinn, respectively. What worked for The Lego Movie was the mash up of characters from other franchises meeting in one collective world and that wasn't changed here. There will be no spoilers on who pops up in Gotham but all that will be said is that some pretty iconic villains from other movies make noteworthy appearances here. Everything about this movie is delicious and easy to digest. Everything from the clicks and clanks of Lego pieces going together to the self deprecating jokes to the stimulating action scenes to the well packaged storyline makes this movie pretty close to perfect. This is no mediocre Batman v Superman or Suicide Squad so don't be a chump by missing out on seeing this one on the big screen. DC Comics may not have the best track record so far in the movie world but this playful diddy should satisfy superhero fans and animation geeks, as well as everybody in between.
Summary: his is no mediocre Batman v Superman or Suicide Squad so don't be a chump by missing out on seeing this one on the big screen.