Comics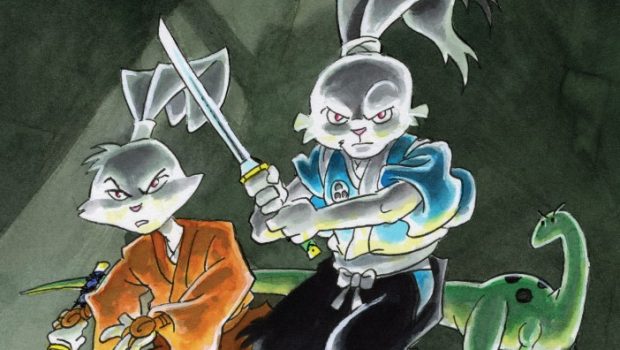 Published on June 21st, 2023 | by Adrian Gunning
THE LEGENDARY RABBIT RŌNIN IS BACK AT DARK HORSE IN "USAGI YOJIMBO: ICE AND SNOW"
Dark Horse Comics partners with Dogu Publishing and renowned creator Stan Sakai for the return of the legendary rabbit rōnin in Usagi Yojimbo: Ice and Snow! The new series features Usagi's new-found cousin Yukichi, as well as the return of fan-favorite villain, Jei. Along with writing, art, and lettering by Sakai, the series also features colors by HiFi Colour Design.
Usagi and Yukichi are still in the snowy mountaintops of Northern Japan, following Stan Sakai's Usagi Yojimbo story arc, "The Green Dragon." They are led to the hut of a strange hermit who allows them to spend the night at her home to shelter from the snow storm. Meanwhile, the maniacal Jei and his familiar, Keiko, are on Usagi's trail when they stumble upon a bandit lair and subdue a band of cutthroats and thieves.
Along with the main cover A by Stan Sakai, fans can also collect two other variant covers for issue #1. Variant cover B is provided by artist Skottie Young, available for standard order (UPC 7 61568 01096 1). Artist Paolo Rivera provides a third cover C (UPC 7 61568 01096 1), which comics retailers can order one copy for every 25 copies ordered of Cover A or B.
Usagi Yojimbo: Ice and Snow #1 (of 5) will be in comic shops September 27, 2023. All three of the listed variant cover options are available for pre-order now at your local comic shop for $4.99.
Praise for Usagi Yojimbo:
"Stan Sakai has been delighting people and fans around the world since first creating Usagi Yojimbo and his world in 1984. Once again, Stan brings readers back into Usagi's world, where more adventures await all who pick up a copy of this first issue [Usagi Yojimbo: The Hidden] and dive in." —PopCultHQ
"The mystery thickens and a new antagonist is revealed, all told with beautiful visuals. You can never go wrong with a book by Stan Sakai. Usagi Yojimbo: The Hidden is something you should find as soon as possible. Highest possible recommendation."—SciFiPulse
"Usagi Yojimbo has been consistently great for decades, but there hasn't been a standout story for some time now. That all changes, as we jump 20 years into the future, for a story of war, sacrifice, family great honor and" aliens?"—Newsarama on Usagi Yojimbo: Senso