Blu-ray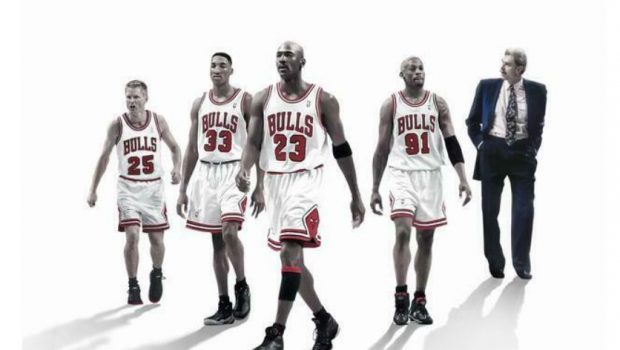 Published on June 21st, 2021 | by James Wright
The Last Dance Blu-ray Review (Limited Time Blu-ray Gift Set)
Summary: The Last Dance on Blu-ray is an amazing release that is jam packed of basketball goodness! Recommended!
THE LAST DANCE A 10-PART DOCUMENTARY EXPERIENCE
Limited Edition 3-Disc Set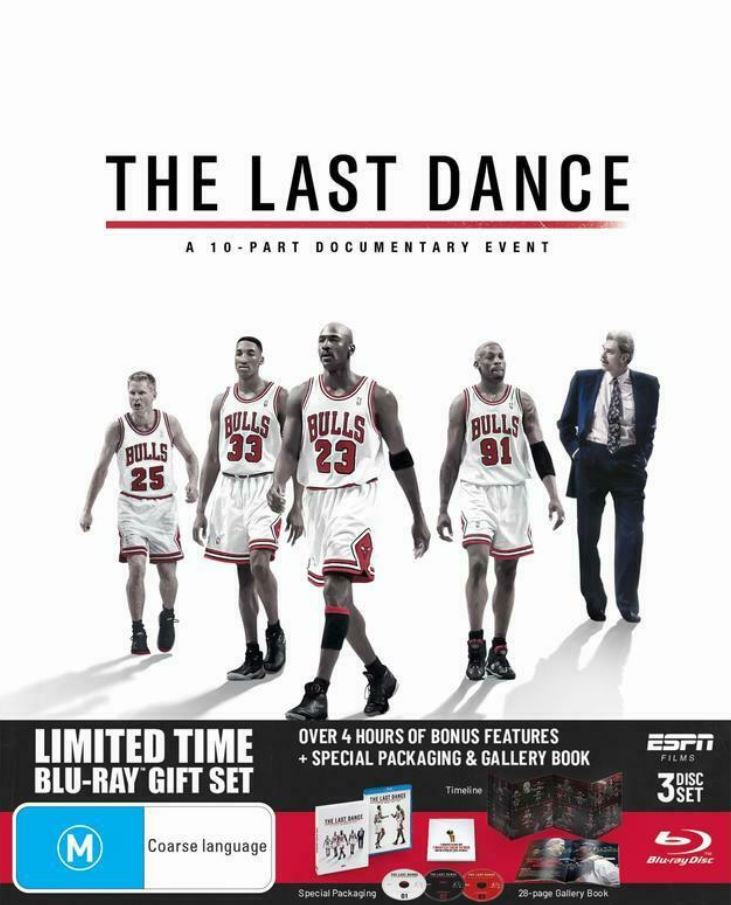 In the fall of 1997, Michael Jordan and the Chicago Bulls allowed a film crew to follow them as they went for their sixth NBA title in eight seasons. That resulted in a stunning portrait of one of the sport's most iconic athletes and a celebrated team. "The Last Dance" follows the Bulls' 1997-98 season from start to finish, while also covering the rest of the chapters in Jordan's remarkable career. The 10-part docuseries follows the Jordan timeline from when he was an emerging star on his high school team to becoming a worldwide marketing force and cultural figure. The series takes its name from a phrase coined by then-Bulls coach Phil Jackson, who knew that the season would likely be the final run for the core members of that 1990s Bulls dynasty.
The Review
If you're a fan of NBA or more importantly the legendary basketball player Michael Jordan who won six NBA Championships for the Chicago Bulls, then this documentary series is a must have for you, especially if you like the drama from these larger than life sporting personalities. Further, this Blu-ray features all 10-episodes of this acclaimed documentary series and comes beautifully presented with a wealth of special features to accompany it.
Best of all this documentary has something for everyone, including those expressing mild curiosity on the NBA and while it is an accessible series, it also goes into some depth of this amazing sporting empire. This includes archival footage, behind the scenes information, interviews with over 100 people, including basketball greats such as Scottie Pippen, Dennis Rodman, Phil Jackson and The Last Dance is jam packed with content. Equally, the people who ran these teams from owners to managers is another fascinating look at how things ticked from behind the scenes.
Furthermore, it's beautifully presented (particularly its bonuses) on Blu-ray that really helps immerse you into the teams and people that this documentary follows. At times, it even feels like a playbook as it discusses the success of the Chicago Bulls and that of Michael Jordan, including key elements and strategies, not to mention that this sporting empire is worth a lot of money. However there are heartbreaks along the way, such as a tell-all book damning Jordan to his father's death that eventually led him to retire in 1993, only to make a comeback 2-years later.
Director Jason Hehir also cleverly showcases the highlights of Michael Jordan's career that stems back to the 80's, including the late 90's and it's interesting to see the interactions and key individuals who were around at this time, not to mention Jordan's last win in 1998. Given that, basketball can be a ruthless sport, particularly when money and egos are involved such as the feud between Isiah Thomas and Michael Jordan that went to a new level when the Bulls defeated the Pistons. Then you have the equally legendary Dennis Rodman who caused his own stir. Needless to say, three very prolific and dominant personalities in the NBA.
Interestingly in a candid interview with Michael Jordan, he notes how he uses the negative energy from others to his advantage in order to drive him to excel even more and given his success, it definitely makes sense. In other words, he is literally rubbing it in their faces. Adding to that, it was quite insightful seeing the Chicago Bulls evolve over time to coming from behind to becoming one of the greats. So once you have watched all 10 episodes, you can get your additional Last Dance fix that include additional highlights of the making of this documentary to more basketball facts.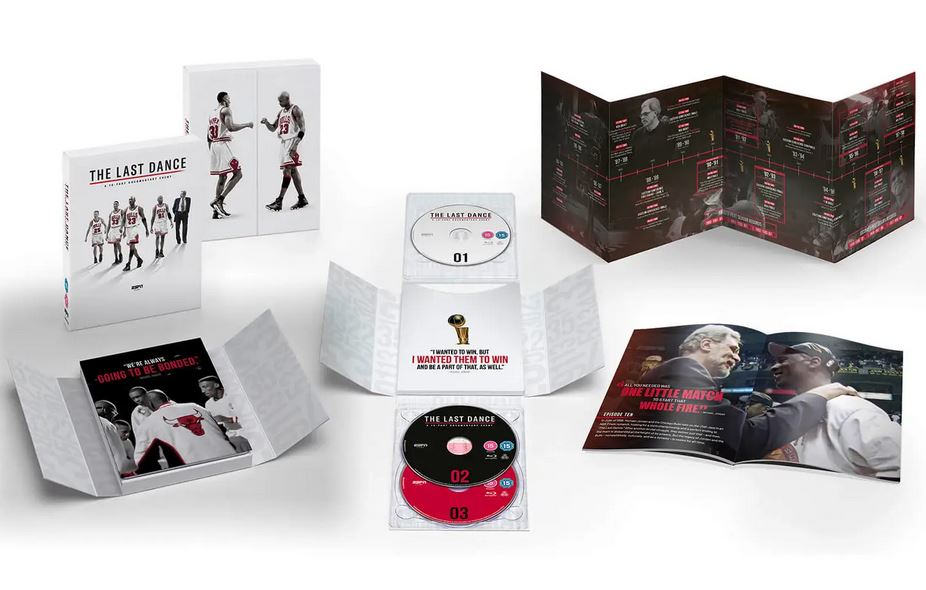 Special Features
Exclusive Never-Before-Seen
The Last Dance Bonus Interviews
Game 6: THE MOVIE
Stuart Scott & Michael Jordan Sunday Conversation,June 1988
-Never-Before-Seen-Uncut Version
"In -The-Moment"Archival Material
Sportscenter with Scott Van Pelt Roundtables
The Jalen & Jacoby Aftershow with Jason Hehir
Final Thoughts?
All in all, The Last Dance is a brilliant 20-year snapshot of basketball, more so Michael Jordan and the Chicago Bulls that is engaging, enjoyable and a documentary that makes itself stand out from the crowd.
Highly Recommended!
Episode Listing
Episode I
Flashbacks chronicle Michael Jordan's college and early NBA days. The Bulls make a preseason trip to Paris amid tension with GM Jerry Krause.
Episode II
Scottie Pippen rises to become one of the NBA's best players. An injury early in Jordan's career shows distrust with Bulls management.
Episode III
Dennis Rodman's attitude and energy help the team win, but bring the drama off the court. The Bulls struggle to overcome the Pistons in the late '80s.
Episode IV
Phil Jackson's unique philosophy and demeanor take the Bulls to the next level. The team finally gets past Detroit and earns a shot at an NBA title, which is a dream matchup against Magic Johnson and the Lakers.
Episode V
From Air Jordan and Be Like Mike to the 1992 NBA Finals and the Olympic dream team, Jordan becomes a global cultural icon unlike any other.
Episode VI
A revealing book and scrutiny of his gambling put a dent in Jordan's reputation, but he remains focused on winning a third straight title in 1993.
Episode VII
Crushed by the death of his father, a mentally exhausted Jordan retires in 1993 – to play baseball. The Bulls move on with Pippen in the lead role.
Episode VIII
Jordan's return energizes the Bulls, the city and the NBA, but a playoff loss in 1995 fuels him to work harder than ever to get back on top; this is rewarded with their fourth NBA championship over Seattle in 1996, after a record-breaking 72-win season.
Episode IX
The Bulls face stiff challenges to their reign in 1997 against Utah and in 1998 versus Indiana. Role player Steve Kerr makes his mark on the dynasty.
Episode X
Battered and exhausted, the Bulls conclude their "Last Dance" with a sixth championship. Jordan, Jackson, and others reflect on the end of their dynasty.