Films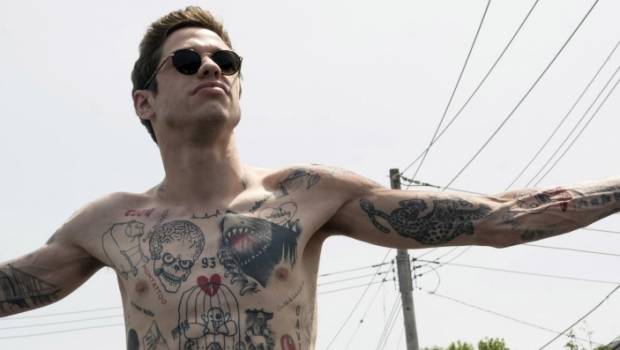 Published on July 16th, 2020 | by Harris Dang
The King of Staten Island – Film Review
Reviewed by Harris Dang on the 15th of July 2020
Universal Pictures present a film by Judd Apatow
Produced by Judd Apatow and Barry Mendel
Written by Judd Apatow, Pete Davidson, and Dave Sirus
Starring Pete Davidson, Bill Burr, Marisa Tomei, Maude Apatow, Bel Powley, Steve Buscemi, Pamela Adlon, Jimmy Tatro, Ricky Velez, Kevin Corrigan, Moises Arias, and Lou Wilson
Edited by Jay Cassidy, William Kerr, and Brian Scott Olds
Running Time: 136 minutes
Rating: MA15+
Release Date: the 16th of July 2020
Over the past two decades, writer/director Judd Apatow had made many great comedies. Aside from his television contributions, namely the underrated show Freaks and Geeks, 2001, his filmography has ventured into various rites of passage, including adulthood, marriage, mid-life crises, and sexual exploration. The body of this work, including The 40 Year Old Virgin (2005), has earned critical success by delivering laughs and humour that rings true, while also offering emotionally stirring drama.
Apatow's latest film, The King of Staten Island, sees him return to semi-autobiographical territory in the same way that Trainwreck (2015) was partially based on comedian Amy Schumer's life. Island delves through the slice-of-life episodes of Pete Davidson, a comedian best known for his work on the long-running US comedy show Saturday Night Live. Using these autobiographical elements, will the film bring the laughs and the emotional highs of Apatow's best work?
The film opens grimly as Scott Carlin (Davidson) is driving home. As he closes his eyes and contemplates his dark thoughts, it is apparent that he in a state of unease. The moment leads him to almost hitting the oncoming traffic. Scott, a slacker in his early twenties, is an unemployed high school dropout and currently living with his mother, Margie (Marisa Tomei) and sister, Claire (Maude Apatow). He drowns in his own mind when struggling to accept the death of his father, Stan, a firefighter who died at a hotel fire, and is combating his medical afflictions, including Crohn's Disease and ADHD.
He holds his head up due to his dark, self-depreciating humour and his dream of becoming a tattoo artist. He practices on his friends, including his childhood buddy, Kelsey (Bel Powley), and his slacker mates, Oscar, Ignore, and Richie (played by Ricky Velez, Moises Arias, and Lou Wilson, respectively). His life is further complicated when Claire leaves for college and Margie replaces her with a suitor, Ray Bishop (Bill Burr). He is not only a firefighter like Stan but has also previously been involved in an altercation with Scott.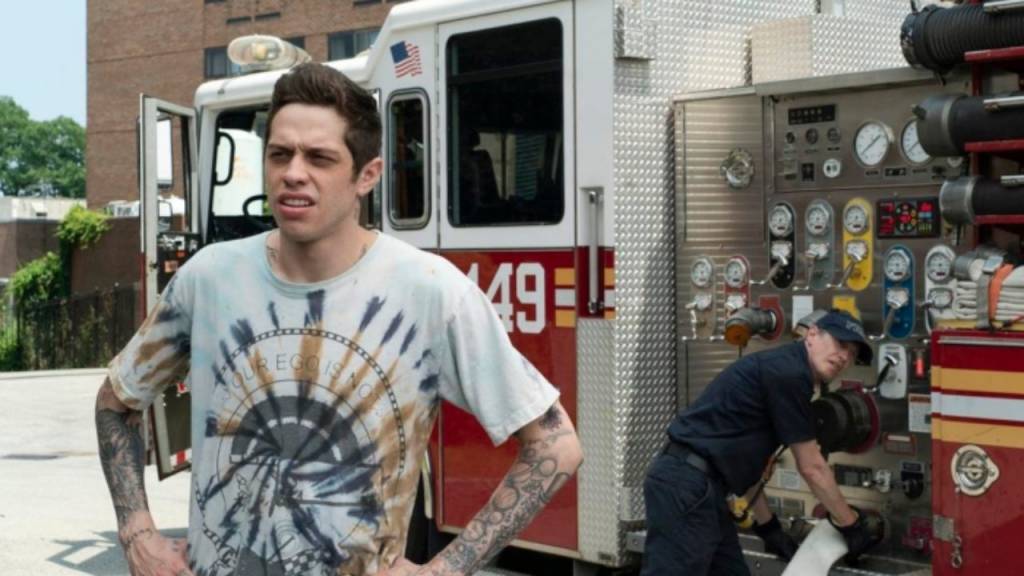 The movie's most noticeable flaws, the overlength and abrupt tonal shifts, are typical of an Apatow film. 136 minutes is daunting with a plot like this and scenes that exist to enrich the comedy not the story could have been cut. A moment where Scott 'fights' for tips at his workplace is one example. The comedy and drama in moments like this do not mesh and dilute the potential of emotional crescendos and epiphanies.
Nonetheless, the film has enough positives to compensate for its flaws. One would rather watch a good, overlong film than a bad, concise one. Apart from Robert Elswit's stellar cinematography and the immersive score by Michael Andrews (both of which vividly complement the world's verisimilitude and the story's dramatic stakes), the biggest positive is the wonderful cast. Davidson gives a surprisingly deep, nuanced performance. He is unafraid of portraying Scott's flaws and knows the difference between delivering a joke that is meant to be funny and delivering a joke that is a defence mechanism.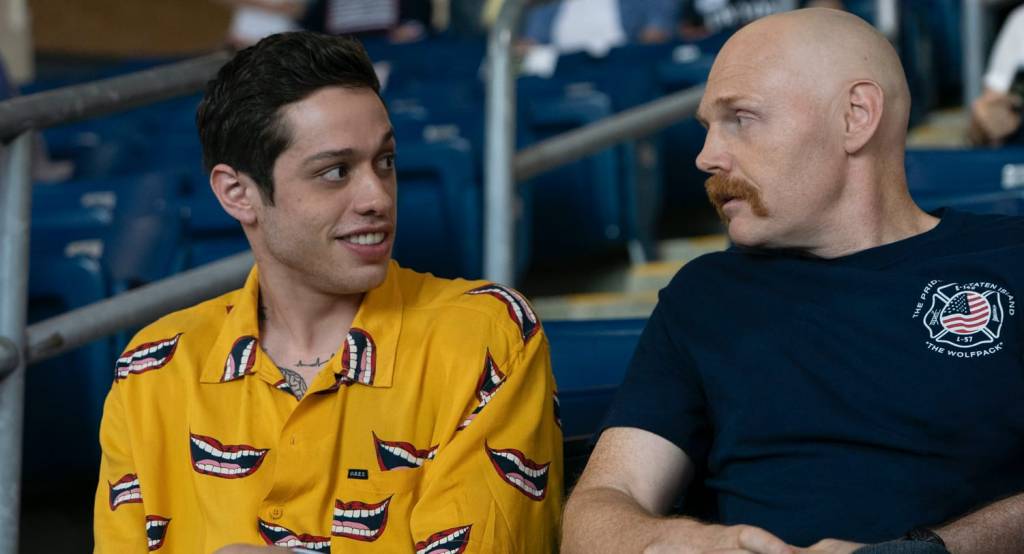 Most will say that his performance looks easy because he is playing himself. However, they do not realise that Davidson is not only the lead but has drawn from his dark past. He is portraying his experiences on film and in the script for which he is credited as a co-writer. Furthermore, he must act alongside and keep pace with established actors, including a slyly cast Steve Buscemi as a fireman. On those notes, Davidson effectively handles the challenges.
The vast support cast contribute to the fun with Burr, Tomei, and Powley emerging as standouts. Burr is charismatic and believably gruff as Ray. He provides a great dramatic and comedic counterpoint to Davidson. Tomei, whose talents have been underutilised recently, is compelling as Margie. She vividly conveys the rickety position of balancing her character's wants and needs with her obligations towards Scott. Powley (fantastic since her breakout role in the dramedy The Diary of a Teenage Girl, 2015), is a comedic dynamo as Kelsey. She steals scenes from Davidson while the humanity she imbues ensures the role resists becoming a cartoon.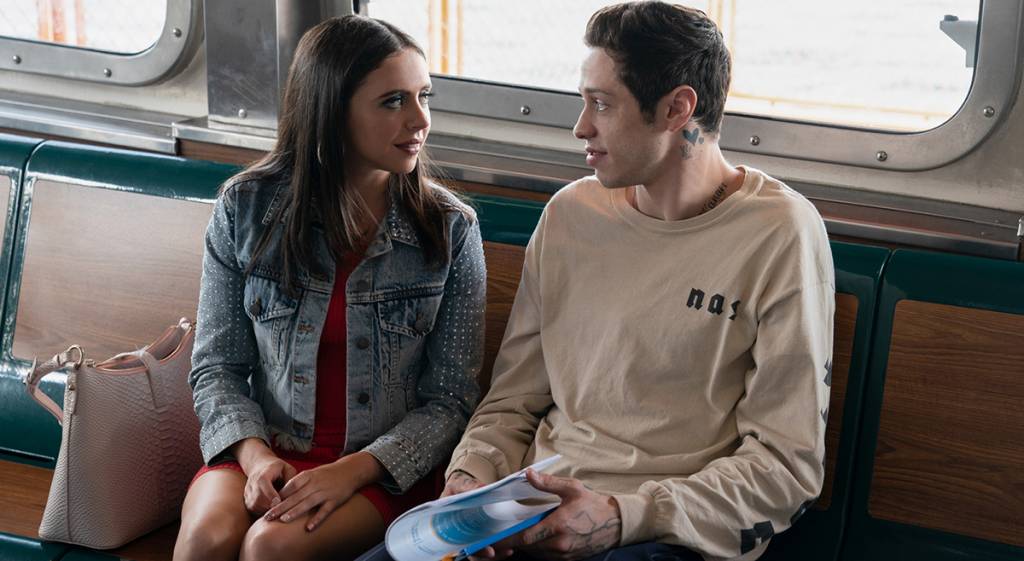 Much like Scott himself, Island struggles to find its feet and flounders most of its time. Once it lifts, it manages to be a funny, heartwarming piece of work. Recommended.
Summary: Mostly due to Pete Davidson's performance, The King of Staten Island manages to be a funny, heartwarming piece of work.