Comics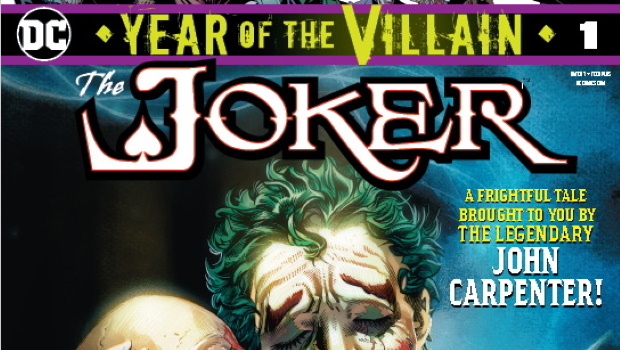 Published on October 24th, 2019 | by Chris O'Connor
The Joker: Year of the Villain #1 Comic Review
Summary: Like a mini operetta of madness, The Joker: Year of the Villain #1 is a bumper car ride with Joker at the wheel... buckle in and prepare to have your psyche bumped!
John Carpenter… the man who jumped out of the shadows an into our pop culture all those years ago with horror movies that to this day send shivers down viewers backs, takes a stab at The Joker! Written as essentially a day in the life of The Joker, via Jeremy aka Six Of Hearts, the story takes place in a batman free world… The Joker is left to do more or less what he wants and that scenario leads to chaos and a seemingly continual escalation of madness.
Writing
Mr Carpenter has brought that constant sense of tension from his films to this work. There's an ever present notion that as much as what you have just seen is "crazy"… what's just around the corner is likely to be even more so. There's a feeling that nothing is safe, everything is fair game to the Clown Prince of Crime. While it appears he may be trying to appeal to his sidekick… ultimately The Joker only cares about himself and creating the most chaos he can. It's all captured in this short "day in the life".
Artwork
Whether it's the choice of colours to elicit a subconscious sense of nausea or being unwell, the off kilter framing or the maniacal expressions flashing over The Joker's face… the artwork does not let you ever feel comfortable through the whole issue. There's a lot going on in many of the panels but the clarity is kept so it's not a mess… it's arguably overwhelming at times, but completely in control, you are meant to feel overwhelmed… like you are being swamped by the images before you.
Final Thoughts?
As a one shot this works really well for anyone who wants to feel ill at ease. I guess with Halloween around the corner, now is indeed the perfect time for this story (and no doubt a big part of why Mr Carpenter's stab the the Clown Prince was released now). If you like The Joker or a bit of trauma to your comics, this should be right up your (crime) alley. If you are a bit squeamish however I'd suggest avoiding this issue as it's pretty full on in parts. Also animal lovers be forewarned there is a scene you might find traumatic.
Comic Details
Publisher: DC
Writer: John Carpenter, Anthony Burch
Artist: Marc Deering, Philip Tan
Genre: Superhero, Crime
Format: 34pgs, FC, Oneshot
Release Date: 9th October, 2019