Comics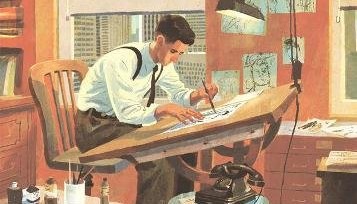 Published on May 3rd, 2018 | by Dana Folkard
THE JOE SHUSTER STORY – Preview
On May 15, 2018, almost 80 years to the day that writer Jerry Siegel and artist Joe Shuster introduced Superman in the pages of ACTION COMICS' first issue and transformed pop culture, Super Genius will publish THE JOE SHUSTER STORY, The Artist Behind Superman. The award-winning writer of GHETTO BROTHER, Julian Voloj, and acclaimed artist Thomas Campi have collaborated on an original graphic novel about America, ambition, the intersection of art and commerce, and the friendship of two young men from Cleveland, whose lives were changed forever following the unexpected and unprecedented success of their iconic creation.
The publication of The Joe Shuster Story is a major literary event that showcases the worst and the best of comic book history: from legal disputes, Frederick Wertheim and the comics code, to the unbridled burst of creativity and collaboration that brought forth one of our greatest heroes. With beautiful artwork and moving storytelling, The Joe Shuster Story is primed to spark conversation and major review attention.  Here's what people are saying about the book: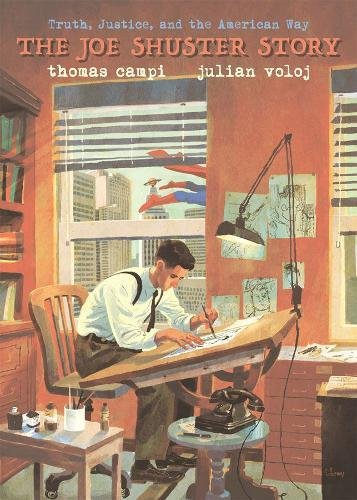 "Amazing…. Each panel is a beautiful painting." — Paolo Rivera, artist of Mythos
"A tender graphic history with empathic prose from Julian Voloj and sensuous painting from Thomas Campi…. Should be required reading." — VULTURE
"I highly recommend The Joe Shuster Story. I'm happy that Joe, like Bill Finger not long ago, is finally getting his chance to be the hero, or at least the heart, of the story." — Marc Nobleman, author of Boys of Steel
"A superb and emotional graphic novel…. Eye-opening" — COMICS BEAT
"The art lends warmth and beauty to this elegy to two kids chewed up by a system that sees dollar signs and goes in for the kill." — PUBLISHERS WEEKLY
"With The Artist Behind Superman: The Joe Shuster Story, Julian Voloj and Thomas Campi have brought forth a fever dream of an all-too-true story of what happens when art and commerce explosively collide. Drawing on immersive research and unrestrained passion, Voloj and Campi bring to life a bygone era whose ghosts still haunt us. This saga of the flesh-and-blood creators of the Man of Steel is simultaneously inspiring and chilling. What a triumph!" — Danny Fingeroth, author of Disguised as Clark Kent: Jews, Comics and the Creation of the Superhero
About the creators:
Julian Voloj, Writer
Born in Germany to Colombian parents, writer and photographer JULIAN VOLOJ explores identity and heritage in his work. He is the author of GHETTO BROTHER from NBM, which was named one of BOOKLIST's top 10 graphic novels of 2016. He lives in New York City.
Thomas Campi, Artist
Thomas Campi is the artist of the Magritte biography published by Self Made Hero, and an award-winning Italian graphic novelist who has been making comics for over 18 years. He has been published across the world by various publishers. The graphic novels Les Larmes De Seigneur Afghan, script by the RTBF (National Belgian Television) reporter Pascale Bourgaoux and Vincent Zabus, and Macaroni!, script by Zabus, published by Dupuis, have both been awarded the Cognito Prize as Best Documentary Graphic Novel at the Belgium Book Fair in Brussels in 2014 and 2016. In 2014 Thomas received the International Spectrum Fantastic Art 21 Gold Comic Award and in 2015 has been also recognized with a Bronze Ledger Award in Australia. He is currently working in collaboration with Vincent Zabus on "L'Eveille" (The Awakening), a graphic novel to be published by Delcourt.
About SUPER GENIUS
Super Genius is the teen+ imprint of Papercutz, the #1 Kids' Graphic Novel publisher. We love comics of all sorts and we wanted to create a brand aimed at older readers and adults. Something that would complement our strong kids' presence while still offering the variety and diversity that has made Papercutz so successful.