Films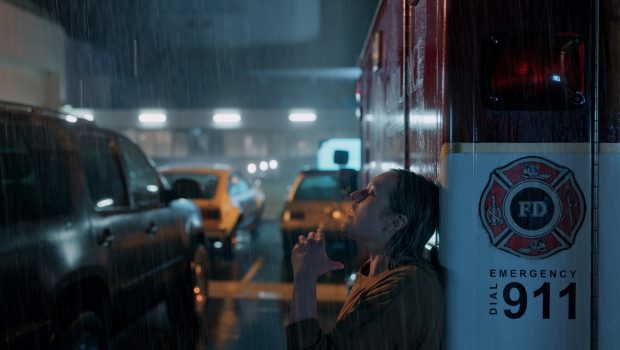 Published on February 28th, 2020 | by Harris Dang
The Invisible Man – Film Review
Reviewed by Harris Dang on the 26th of February 2020
Universal Pictures presents a film by Leigh Whannell
Produced by Jason Blum and Kylie du Fresne
Written by Leigh Whannell
Starring Elisabeth Moss, Aldis Hodge, Oliver Jackson-Cohen, Harriet Dyer, Storm Reid, Michael Dorman, and Benedict Hardie
Edited by Andy Canny
Running Time: 124 minutes
Rating: MA15+
Release Date: the 27th of February 2020
There was a highly mixed response to Universal's announcement of the Dark Universe. This was to be a collection of overlapping films, ala the Marvel Cinematic Universal (MCU), but instead of superheroes it was to feature classic monster figures, such as the Invisible Man and Frankenstein's monster.
Some argued it was a desperate attempt to counter Disney and Marvel's MCU. While others said it was a refreshing alternative to comic book narratives and an opportunity to explore the nostalgia of the Universal Classic Monsters.
The Dark Universe was initially loaded with talent. Tom Cruise, Sofia Boutella, Johnny Depp, Javier Bardem, and Russell Crowe were attached to star. Unfortunately, that ship crashed and sunk to the bottom of the ocean when The Mummy (2017) was slaughtered by both critics and audiences. It was criticised for its leaden filmmaking and desperate attempts to build a universe instead of a compelling narrative.
Thankfully, the wreckage has not stopped talented filmmakers, including Australian writer and director Leigh Whannell, from adapting said monsters. Since working as a film critic and reporter on the ABC show Recovery and the breakout hit, Saw (2004), Whannell has become a renowned horror genre fixture. His collaborations with fellow director James Wan have included not only the Saw franchise but also Insidious. The latter included Whannell's directorial debut, Insidious: Chapter 3 (2015).
Whannell made an even bigger splash with his sophomore effort, the sci-fi revenge flick Upgrade (2018). It displayed his improved directorial chops and love of genre cinema. Now we have his latest project, The Invisible Man (2020). Will Whannell adapt the Universal Classic Monster successfully into the modern age?
Elisabeth Moss plays Cecilia Kass, a woman trapped in an abusive relationship with her husband, Adrian Griffin (a menacing Oliver Jackson-Cohen). Adrian is a wealthy and talented scientist who specialises in ophthalmology. The film opens with Cecilia sneaking out of Adrian's cliffside mansion and escaping with support from her sister, Emily (a headstrong Harriet Dyer).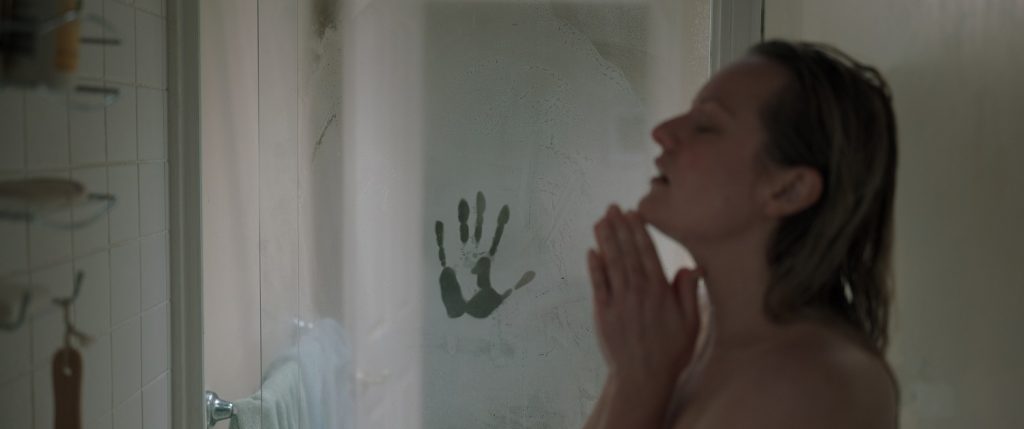 Time passes while Cecilia tries reconstructing her life. She stays with her friend, James Lanier (a genial Aldis Hodge), who is a dedicated policeman, and his bright daughter, Sydney (a resourceful Storm Reid). It is a grueling yet gradual process for Cecilia as she struggles with extreme agoraphobia and anxiety that Adrian could be out there. In a fortunate and odd stroke of luck, doubts begin to crumble when news strikes that Adrian has committed suicide.
Adrian's brother, Tom (an enigmatic Michael Dorman), is a lawyer. He reluctantly informs Cecilia that she has inherited a vast fortune. Through a string of events that are far too targeted to be coincidental, Cecilia thinks that Adrian's death was a hoax. With very little support from her friends, family, and her own fragile and possibly delusional mind, Cecilia desperately tries proving she is being hunted by someone nobody can see.
It is great to report that Whannell has succeeded with flying colours. The Invisible Man is a fantastic horror thriller that ensures that Whannell is a genre director worth following. He delivers brilliant scares and instills ideas in the character mythology that are prescient and terrifying.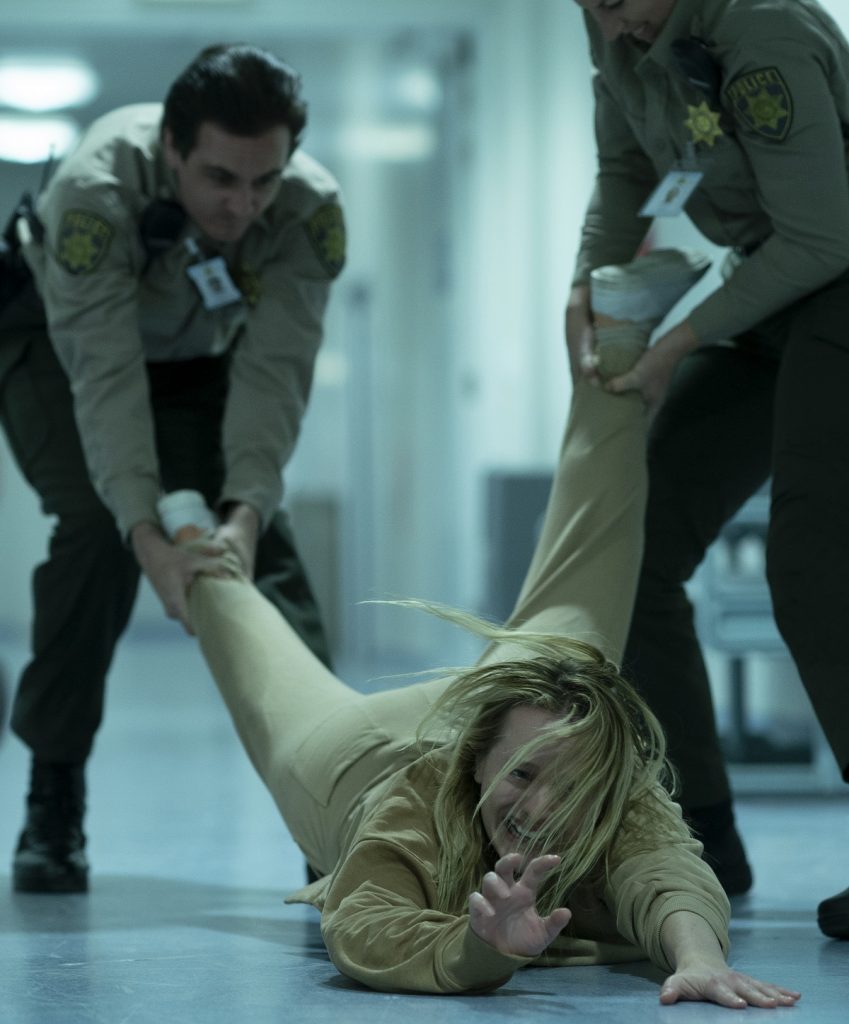 Whannell has said in interviews that he fashioned his take on The Invisible Man on the potboiler thrillers of the 1980s and 1990s, such as Dead Calm (1989) and The Hand That Rocks the Cradle (1992). In his film, Whannell injects a modern sensibility into the mythology by making The Invisible Man a credible threat and a palpable metaphor for women's experiences of abusive men. The gaslighting, manipulation, lack of support, and the psychological ingraining of abuse are fears to which people can relate. It makes the mythology of the titular role accessible and fresh again.
Whannell has said in interviews that he thought the iconic look for the titular character was silly because if the character wanted to be unseen, he would not be wearing anything to reveal himself. Due to smart details like this, Whannell's own direction has over time become more confident and assured. He conjures a brooding atmosphere that utilises the amount of negative space and makes it appear malicious.
The restrained music and sound telegraph the tension and add to the power of suggestion. When the threat is clear, the payoff rewards with maximum impact. It is aided by a brilliant score by Benjamin Wallfisch. His mixture of orchestral and the electronic fits the genre molds of thriller and sci-fi.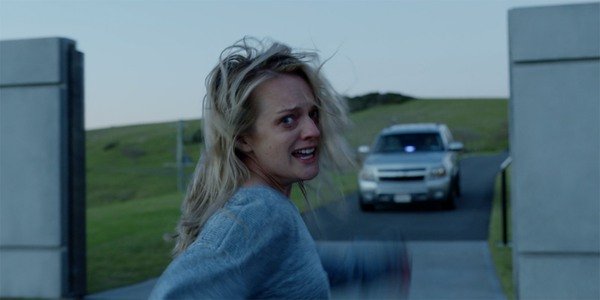 Thankfully, the film deters from the exploitation expected from the implications of a male invisible assailant. There are no desperate attempts to make the titular villain monstrous with moments of perversion and prurience that veer towards bad taste. This is an improvement over the scenes of sexual violence in Paul Verhoeven's Hollow Man (2001).
It helps that Cecilia is well developed and not a cipher established for punishing audiences. The moments where Cecilia escapes and begins the process of rebuilding her life are efficient and inform her characterisation. It gives the story a feeling of verisimilitude that would not exist in other iterations of the classic monster.
The film is essentially a one-woman show against an unseen threat and Elisabeth Moss is more than up to the task. She is best known for giving psychologically demanding performances in complex roles across film and television, including Top of the Lake (2013), Queen of Earth (2015), Her Smell (2018), and The Handmaid's Tale (2018).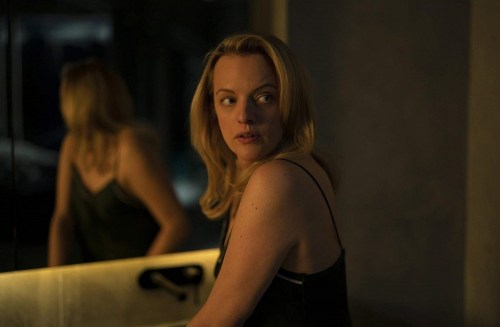 She is utterly convincing as Cecilia. Facing dangerous circumstances, her sanity hangs by a thread but is preserved by her resilience and resourcefulness. She combats both psychological and physical turmoil. For example, a set piece where she takes on the titular character in the kitchen would be strenuous for any actor. Moss dramatises it with aplomb, especially when thrown across the room like a ragdoll.
The third act is shambolic and presents story problems, particularly the lack of ramifications for some actions and lapses in logic. However, it amusingly reflects the nature of what domestic thrillers and potboilers of yore were like with their dogged pursuit of tension and payoff. The throwback feels amiably nostalgic.
The Invisible Man is a reinterpretation of a classic character done right. By combining scares and thrills with a remarkable story that is timely and relatable, Whannell and Moss have brought the goods. Highly recommended.
Summary: By combining scares and thrills with a remarkable story that is timely and relatable, Whannell and Moss have brought the goods. Highly recommended.