PC Games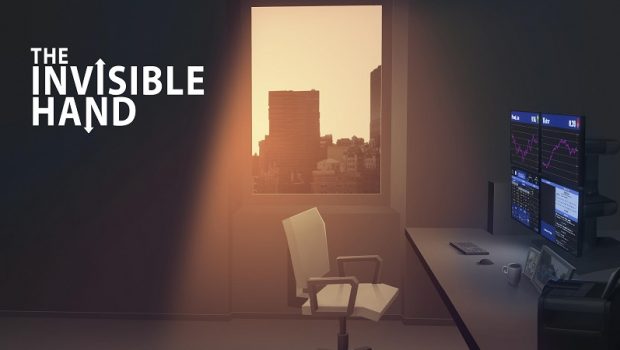 Published on May 14th, 2021 | by Scott De Lacy
The Invisible Hand PC Review
Ever wanted to be in the drivers' seat of the world economy? Perhaps feel, even if just for a moment, the power that the 1% and elites wield with their huge investment portfolios?
Now you can with The Invisible Hand!
Role-playing as the recently accepted intern into Ferios Capital Investment, it is your job to meet all of your targets each and every day, whilst building up your weekly overall profit. Pitted against your very own co-workers, you must out-perform, out-wit and outlast your competitors to secure your position and promotions within the company.
The game starts out with a prelude in the hot seat at your computer, where you are exposed to the fast paced reality of a stock market going insane. Before you know it, you are in the board room in front of a laptop, where you must pass your entrance examination to ensure you are compliant and able to invest in the stock market. Luckily, all of the tough and pesky answers are pre-selected to ensure your success!
It is here you can pick a difficulty level of the game, including an easier story mode and a more difficult mode that hides some of the goals you need to meet. In this review we played at the normal play mode.
The game is RIGGED! That is the first reality-shattering encounter, as you find out that the colleague who recommended you, has access to the Giest network, which offers insider trading information to a select few, and guess what – this includes you. The Giest network is always right, but not always available and the player has the choice to follow it, or not.
But it is a dog eat dog world and if you don't meet your targets, somebody else will and you will be discarded from Ferios before you can say BUY!
So what would you do? Use the information to ensure you don't lose your job, or ignore it and let the stock price fall where it falls?
The Invisible Hand comes complete with the aggressive and borderline abusive boss, intimidating co-workers and a coffee machine. The Coffee machine is a rather clever inclusion by the developers, it controls the rate time passes in the game, depending on the beverage and its strength. A full strength coffee will increase the rate of time by three, and full strength tea will decrease the rate of time by three.
As a stock broker simulator, The Invisible Hand provides a simplified, yet realistic interface. The core functionality of Buying and Selling is in place; and the game walks you through every part of the process. You won't need to have any experience with any brokerage software to play this game.
That being said, weekend eToro, Robinhood, Naga Trader, Trading 212… et al guru's will perhaps find this game lacking in some familiar features they might expect to see, such as stop-loss and take-profit, but these tools are really not needed in The Invisible Hand.
Just like any stock market, there is a large element of unpredictability, resources to guide you to selecting the most optimal stocks, and just a great deal of luck required.
The Invisible Hand also adds lobbyists that allow the player to manipulate a countries fiat currencies values, and influence supply chains and industry confidence both positively and negatively. The effects are only temporary, but that is all that is needed to ride the wave in a SHORT and then switch to a BUY whilst the stocks are low!
As an employee, Ferios Capital Investment give you access to a special broker service that you can access from your workstation after the market closes. By buying and selling property, cars and art within the service, you can earn millions of dollars within a week. You should do this. Although, perhaps don't go overboard, as each time you get a property you also get a framed photo of it and after a while, it might even push the limits of the graphics engine!
Graphics
The office space is laid out logically like an office of that size would be, and each workstation is a standardised environment with four screens. It looks quite realistic.
Each of the broker NPC's are almost scary in appearance, with their dark 'Terminator' style glasses and vacant expression. This helps build the subtext of the mindless and soul-less drone that they represent.
Most of the game takes place between the two computer screens on your assigned terminal. The interface and in turn the graphics of the broker system is exceptional and well thought out.
Audio
There is no recorded dialogue for the NPC's, which in place of this there is a 'murmur' or 'mumbling' sound as dialogue is presented. At first, this seems a bit disappointing but it actually fits rather well with the style of game. This game inst really about the interactions as such.
But you will hear great sound effects such as the coffee machine, clock ticking, typing on the keyboard and of course the stock buzzer and broker software alerts.
There is also a music track which is not too distracting; it is dismissable as a kind of 'elevator' background music.
The audio responds well to direction and location. The developers overall did an outstanding job here.
Final thoughts
Power Struggle Games have really made an interesting and delightful stock market sim-game.
There is enough variability for a challenge and different outcomes based on the players decisions, which influence the story, allowing for a few play throughs to keep it interesting. A few player decisions along the way can change and influence how the game offers up challenges.
There is a bit more to this game however. There is a slightly hinted political angle, but it is done in such a way that lets you decide what that angle is. For example, a quick search through the waste basket by the bookshelf reveals a Marxist book. Why is the book in the game? But also why is it in the game in waste basket? The theme of Capitalism vs Socialism and morality of greed vs fair gains is explored throughout the game in both an active and subtext yet subtle way.
By this, The Invisible Hand is actually quite brilliant in the delivery, as political agenda is not forced down the players throat, but it is silently there to allow the player to perhaps take pause and think about things. The invisible Hand is a reference perhaps not just to the title, but the political undertones being delivered throughout the game.
The Invisible Hand hits all the reward centers of the brain as you play it, so naturally, it is purely addictive. It is far too easy to lose a few hours playing this game and it is unfortunately bitter sweet when the millions of dollars in your account is only paper money.
The Invisible Hand is elegant, well made and well worth a look if this genre interests you.
Summary: A well put together, and politically clever role playing stock broker simulator. This game can provide a few play throughs possibly offering something fresh each time. Well worth a look if this genre interests you.