Comics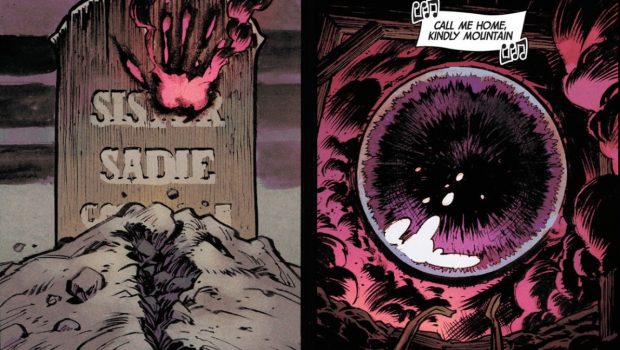 Published on August 3rd, 2023 | by Howard Smith
THE INCREDIBLE HULK #2 REVIEW
Summary: This era of Hulk seems to dive more into the supernatural side of things and it's getting good.
Wayward Path
In the new Hulk adventure, Banner finds himself accompanied by a young girl named Charlie. In The Incredible Hulk #2, Banner wants nothing to do with her, but she insists on tagging along. Warning her to keep a far enough distance away from him, Banner explains to her that she shouldn't be near him and to go home. The pair have a chat in the woods as they sit around a fire, but the conversation ends when Charlie accidentally reveals her disfigurement. Strange events happen as the dead seem to gather at an old church in Red Creek where they worship the one called Brother Deep. Found in the clutches of these worshippers, Banner calls upon Hulk for help, but Hulk keeps his grudge against Banner intact.
Written by Phillip Kennedy Johnson (007, Marvel Zombies: Resurrection, Smoketown), The Incredible Hulk #2 explores more of the unknown connection between Hulk and the supernatural. Readers witness the side of Hulk as they've never seen him before. What's fascinating about Johnson's take on this new Hulk is how dark and eerie it is. Also, the inclusion of a human girl who is more interested in the Hulk than Banner raises some questions. Charlie is a bit of a rebel who is stubborn to get rid of despite how many times she has been told Hulk isn't a friendly fellow. Instead of the Hulk just coming through when he feels like it, Johnson paces the story with Banner and Charlie being the focal point of this comic book. However, since the events of the last run for The Incredible Hulk, Johnson has continued to emphasize that the Hulk is beyond the point of reasoning with Banner. Johnson makes it clear Hulk has no interest in helping Banner, but in fact, making Banner suffer as much as he can. Hulk is unforgiving and is clearly making his vendetta known in Banner's life.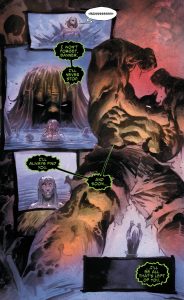 In terms of the artwork, a few pages are colored, and the cover for the comic book, Nic Klein (Olympus, Thor, Zinnober) strikes with stunning visuals. Klein's work makes The Incredible Hulk #2 a fantastic read. It's dark and shrouded in uncharted territory. It's nowhere near as light-hearted and vibrant as readers are normally used to in older comic books. However, Klein's cover art shouts straight out of a horror movie scene. The cover gives off that depiction of zombies closing in on human survivors. The work put into creating this comic book from the mind of Johnson and Klein visually bringing those images to life is continuously entertaining. Klein's specific art style elevates the atmosphere, and it doesn't stop without a moment wasted. If readers thought Hulk was a monster before, then this series will confirm those suspicions.
Speaking of the artwork, Matthew Wilson (Fantastic Four, Firestar, Heroes Return) gives The Incredible Hulk #2 immense enjoyment to read page after page thanks to his exquisite coloring. Despite Klein having a hand in the coloring process with a few pages, Wilson ceases to amaze the overall mood of the comic book itself. It's hard to imagine how this could be the same Hulk, but based on the way the comic book is colored by Wilson there is a clear observation that he is not presently. The other aspect of the comic book is how well Cory Petit's (Doctor Doom, Guardians of the Galaxy, The Immortal Hulk) letters throughout the story. The most interesting range of lettering that may bring a shiver to a reader's spin is near the end of the book where Petit really captures what horror sounds like as if the reader were watching a movie. The experience becomes intense almost unexpectedly as Petit could recognize that moment required an ominous ambiance.
As Johnson continues to unravel the supernatural aura wrapped around the Hulk, The Incredible Hulk #2 is but another step into finding out what exactly is going on in this series. Readers don't want to miss out on never seen path for Hulk in the supernatural side of the world. To find where copies are sold, check with your local comic book store or online to pick up your copy.
Comic Details
Writer: Phillip Kennedy Johnson
Artist: Nic Klein
Color Artists: Matthew Wilson, Nic Klein
Letterer: VC's Cory Petit
Cover Artist: Nic Klein
Editor: Wil Moss
Publisher: Marvel Entertainment