Comics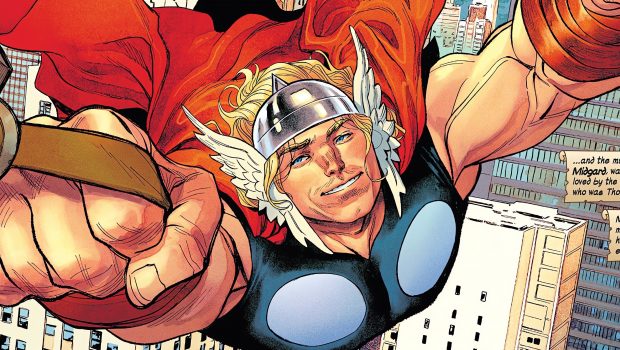 Published on September 1st, 2023 | by Howard Smith
The Immortal Thor #1 REVIEW @Al_Ewing @coccolo_martin
Summary: Thor is in high spirits as a new adventure begins!
New Beginnings, New Challenges
Odin has passed onto Valhalla and leaves behind his son, Thor. As the new ruler of the Ten Realms, Thor has been given the title and powers of the All-Father. The Immortal Thor #1 sees a renewed Thor coming into absolute Godhood. The only problem with this decree is foes of the past who seek to challenge Thor's seat of power. Thor gives them fair warning to vacate Asgardian land only to be given no choice but to settle the squabble with his might. Meanwhile, Loki seems to be up to her old tricks but decides to provide Thor with a gift that may just make him forgive all her past transgressions against him. Despite their sibling rivalry, Loki does something good for a change and then suddenly disappears without warning. This kind gesture from Loki allows Thor to travel across the Team Realms once more and visit his other home other than Asgard; Earth where the Avengers live. Finding solace in being in his other home, Thor unexpectedly is greeted with extreme prejudice by his uncle, Toranos the Utgard-Thor.
Written by the incredibly talented comic book writer, Al Ewing (The Immortal Hulk, Jennifer Blood, Fury) picks up where Thor Annual #1 left off. Ewing sets up a new stage for Thor in The Immortal Thor #1. This time around, Thor is tasked with more responsibility than he usually is to protect the realms as a king should. While Thor may be king of Asgard, Thor is still himself right down to his very core in this comic book. Thor is written as someone who readers can feel right at home with. His character is true and just and doesn't stray away from his well-known warm disposition. While Thor has been through many changes in his life, this moment becomes a new starting point. Ewing writes this comic book with an understanding that this may be a new avenue that new fans could hop into or veteran fans continue to see what Thor will do next. Without a doubt, Thor is back and in greater spirits than ever before.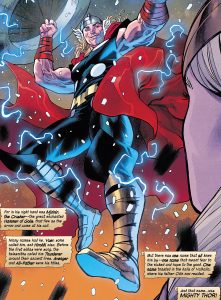 Of course, the story wouldn't be as prevailing without the astounding work of Martín Cóccolo (X-Force, Possessive, Deadpool) as the artist of The Immortal Thor #1. The work of this comic book is one to admire. Cóccolo's artwork and Matthew Wilson's (A-Force, Cry Havoc, Daredevil) coloring work give this comic book the best it could have in terms of coloring and linework. The blend of artistry between these two brings together visual entertainment that's hard to ignore through the first read. The exciting view about their work is how well they tell a story and provide art that matches their writing prowess. On equal footing, both Wilson and Cóccolo accomplish a fascinating wealth of satisfying imagery.
Comparatively, Joe Sabino (Blade, Beta Ray Bill, Battle Scars) on lettering set the tone for the story. Captions are fashioned in letters that add otherworldly adventure and alluring narration that works perfectly for a character such as Thor.
As for the cover of The Immortal Thor #1, Alex Ross (Astro City, Action Comics, Champions) showcases the aura of the All-Father's powers being used by Thor. This is an excellent cover with action, entices the reader, and a cool pose for good measure. As a veteran comic book artist, Ross understands a cover must be bold to stand out.
Regarding being bold, The Immortal Thor #1 is worth going out or ordering online to read or add to a collection of Thor comics. This new series works for newcomers and older fans alike as it is a way to reintroduce Thor and bring those adventures back into exploring. Thor is just getting started and there is nowhere to tell where he will be met with. The only choice is to pick this one up and prepare for the next issue in the new series. Not the best idea to get left behind, so don't miss out!
Comic Details
Writer: Al Ewing
Artist: Martín Cóccolo
Color Artist: Matthew Wilson
Cover Artist: Alex Ross
Letterer: VC's Joe Sabino
Editor: Wil Moss
Publisher: Marvel Entertainment