Comics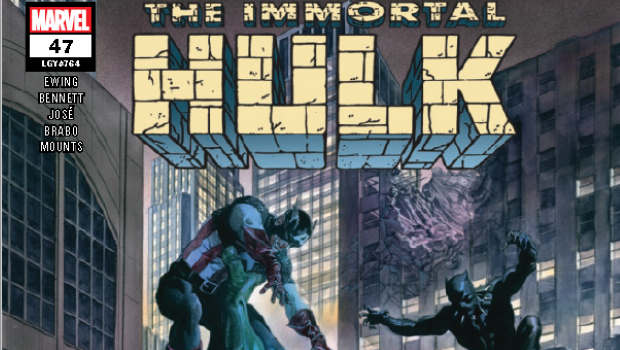 Published on June 13th, 2021 | by Chris O'Connor
The Immortal Hulk #47 Review
Summary: The Immortal Hulk faces the Avengers, but he isn't alone... Gamma Flight join the fight and things get messy.
I'm going to come right out and say it… Alex Ross' cover is what drew me to this issue! I'll return to that later. This issue sees the Immortal Hulk battling the Avengers… but he isn't alone, Gamma Flight join the fight and things don't go well… for either side. There's plenty of action and some fairly intimate character moments… it's a lot to pack into a handful of pages so take a deep breath and dive in.
Writing
It's an interesting challenge to go from intraspection to wide scale action… but Al Ewing does so here with great skill. We get some fantastic character development and then we get Hulk mayhem! What's perhaps most impressive though is how we go back and forth between the high energy conflict between characters and then to the internal conflict of Jen Walters who finds herself torn between her two worlds, she's an Avenger… but she's also a Hulk! What can she do? What does she do? Who will she side with? They are big questions with hulk size consequences and they add a great deal of emotional tension to the physical chaos.
Artwork
For the most part the art is fine but I do have a bit of an issue with the way Immortal Hulk looks, kind of like he is always doing his best to keep a set of false teeth from flying out of his mouth at any moment. But as mentioned at the start of this review… that Alex Ross cover is the real star of the show here in my view. What a way to draw readers in, showing Captain America effortlessly held at arms length, his shield in Hulk's opposing hand, while other Avengers lie scattered around the street or do their best (and largely apparently failing) to subdue the Immortal Hulk. How could you not want to grab this comic right away and find out what is going on?
Final Thoughts?
Over all I think this is a great issue for fans of action and for story. If you like one but not the other, I still think you'll be pleased with the content here as plenty of both have been packed between the pages. I'm not a huge fan of the stylistic choice with Immortal Hulk's face… but that's just my own opinion and I'm sure other readers will love it's more grotesque/horror styling.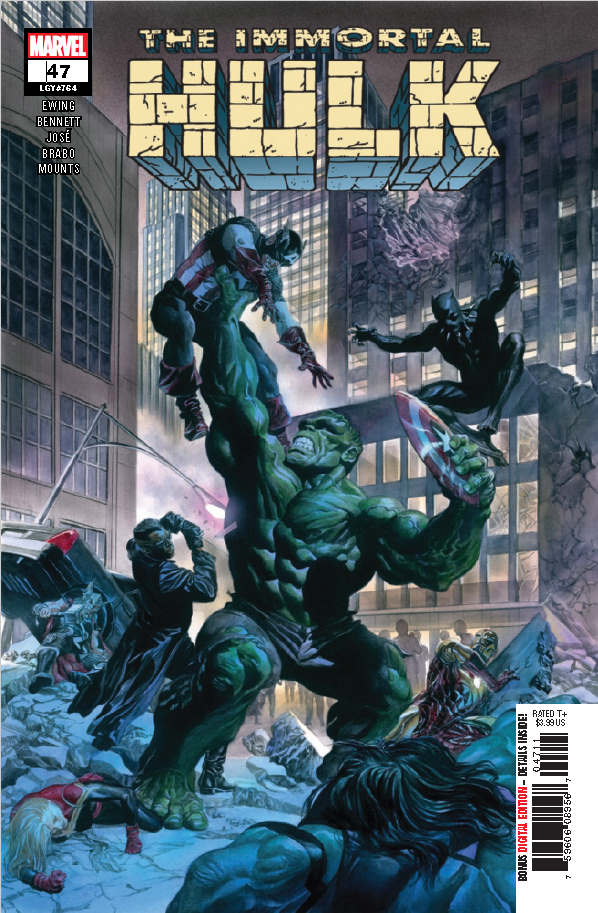 Publisher: Marvel
Writer: Al Ewing
Artist: Joe Bennett, Ruy Jose, Belardino Brabo
Colourist: Paul Mounts
Cover Artist: Alex Ross
Genre: Superhero, Action/Adventure
Format: 24pgs, FC, Ongoing.
Release Date: 2nd June, 2021